No forcible Rohingya repatriation: visiting US official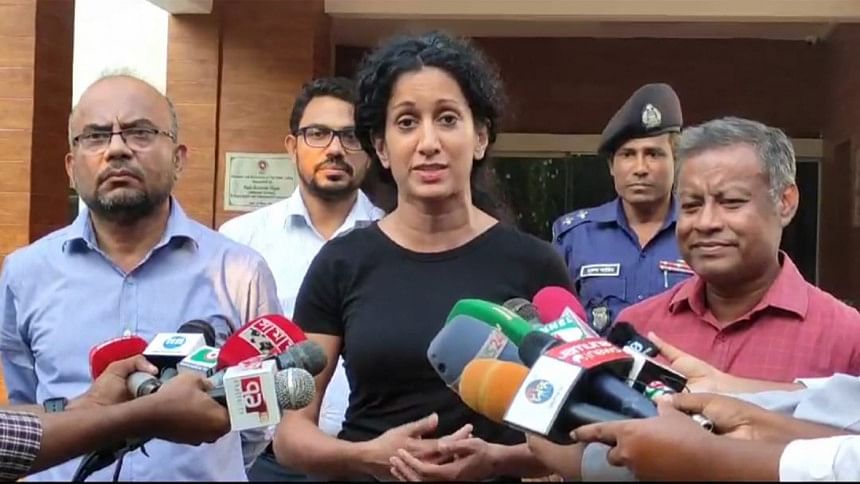 There should not be any forcible repatriation of Rohingyas as the conditions in Myanmar are not conducive for their return yet, a visiting US government official said today.
"The Burmese government has not agreed to allow humanitarian access to the camps [in Rakhine state of Myanmar]," said US Deputy Assistant Secretary in the Bureau of South and Central Asian Affairs Afreen Akhter.
"They have not allowed Rohingyas to settle in the villages of their choice or in their homes. So we really don't think the conditions there are ripe [for repatriation]," she told journalists after a meeting with Refugee Relief and Repatriation Commissioner (RRRC) Mohammad Mizanur Rahman in Cox's Bazar today.
Earlier in the day, she visited the Rohingya camps.
She thanked Bangladesh for hosting a million refugees and showing incredible generosity to them.
She said the US is the single largest donor by far when it comes to supporting the Rohingya community. It has so far provided $2.2 billion since 2017.
Earlier, the RRRC and the US official discussed on the repatriation issues, stressing that it should be voluntary, dignified, and safe.
Though repatriation of Rohingyas are not feasible now, the US will continue to work with Bangladesh and the international community to find a long-term solution, said Afreen Akhter.
For the near term, she said, the US will continue to provide humanitarian support.
Talking about her meeting with Foreign Secretary Masud Bin Momen in Dhaka yesterday, Afreen Akhter said she stressed the importance of free and fair and peaceful elections in Bangladesh.
"We believe that it is incredibly important that the elections are conducted in a free, fair, and peaceful manner in support of Prime Minister Hasina's stated commitment to this goal," she said.
She said they also talked about how free and fair elections are not just about the voting day. It is also abut allowing space for civil society, for media, and all of the actors to engage freely in the democratic process in the months leading to the elections.