Extend support to Bangladesh in addressing Rohingya crisis
2 US Congressmen urge int'l community, visit refugee camp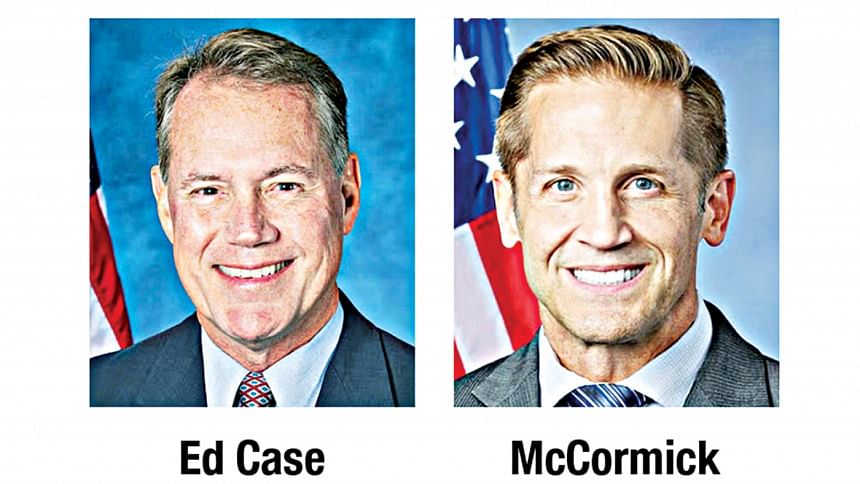 The two visiting US Congressmen have urged the international community to stand with Bangladesh in addressing the Rohingya crisis.
Following a trip to the Rohingya camps in Cox's Bazar yesterday, the Congressmen assured of increasing humanitarian aid for the refugees, whose food bill was recently cut from $12 to $8 per month.
"We spoke with the Rohingya refugees, and they informed us about the reductions in food aid as well as the poor state of their education and living conditions in the camps. They demanded that they be returned to their homeland in Myanmar," said US Congressman Ed Case.
Democratic Congressman Ed Case and Republican Congressman Rich McCormick and other US officials had a meeting with the representatives of different UN agencies at the office of the Inter-Sector Coordination Group after landing in Cox's Bazar in the morning, said Shamsud Dauza, additional commissioner of the office of the Refugee, Relief, and Repatriation Commissioner (RRRC).
They visited the registration activities of the refugees at Camp 12, a learning centre and e-voucher centre run by the World Food Programme at Camp 11 and met a group of refugees at Kutupalong Registered Camp and interacted with them.
Before flying back to Dhaka in the evening, the Congressmen called on the officials of the RRRC.
After the meeting, Ed Case told reporters they thanked the Bangladesh government and people for hosting over one million Rohingyas, creating a unique example of humanity.
Republican Richard McCormick said, "The US government will be informed of what information we got after meeting with the officials involved in Rohingya management."
He also urged the international community to stand by Bangladesh as it deals with and overcomes the Rohingya crisis.
So far, the US has provided the most humanitarian aid to the Rohingyas.