Why are political parties trying to woo the Prince of Calcutta?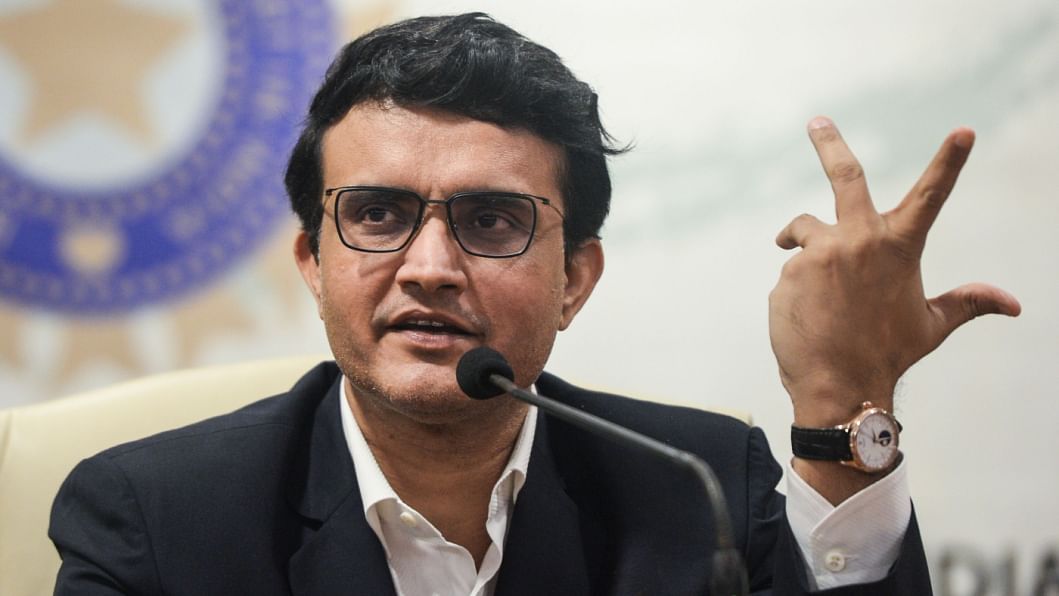 When former Indian cricket team captain Sourav Ganguly exits as president of the Board of Control for Cricket in India (BCCI) after a three-year tenure leaving behind a mixed track record, the last thing one should expect is that he will cease to be in media focus. No. That is just not going to happen. And Sourav himself has made that amply clear.
Between October 13 and 15, the 50-year-old former cricketer made two remarks which are a clear pointer to his future plans. First, he said not remaining BCCI chief is not the end of the road for him and secondly, he said he would contest for the post of Cricket Association of Bengal (CAB) president. As BCCI president, he had the entire country's cricket administration and interaction with international cricket organisations as his mandate. As CAB president, his area of activities will be much smaller but familiar because he had held that post for four years earlier.
Sourav's stints as cricket administrator in Bengal and BCCI have ensured he remains in the media focus and consequently the public domain. And controversies and media speculations have only added spices to that. The media in India has come up with all sorts of theories without any authenticity as it groped in the dark to understand why Sourav did not get an extension as BCCI chief. But none asked the question: is there a sense of entitlement in either getting or not getting an extension?
Sourav's stint as an administrator has had its own share of setbacks – uncertainty over the Indian Premier League (IPL) due to Covid-19, lack of firming up of India's domestic cricket structure and departure of a few sulking players from Bengal to other states including wicket-keeper Wriddhiman Saha looking for greener pastures.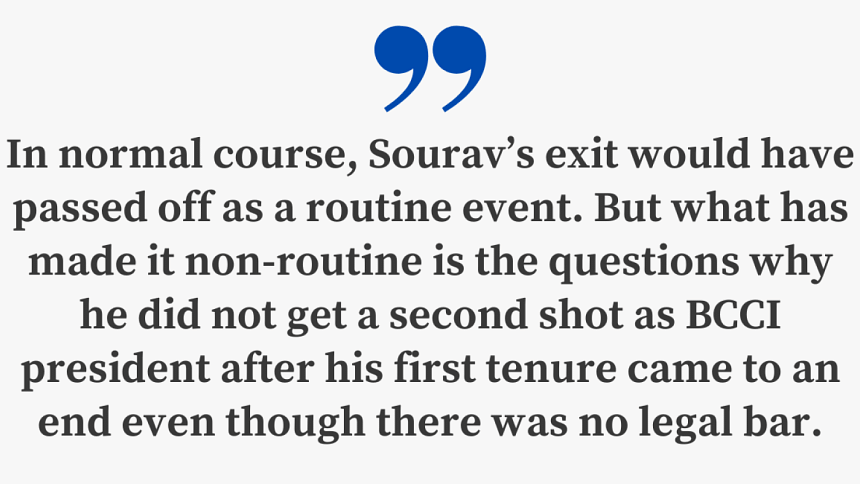 On and off the field, Sourav always had a set of admirers as a player and cricket administrator. But as an administrator, he also has his critics. Some of his former colleagues in the national team rate him highly for grooming and backing them to the hilt even in the toughest phases of their cricketing careers.
In normal course, Sourav's exit would have passed off as a routine event. But what has made it non-routine is the questions why he did not get a second shot as BCCI president after his first tenure came to an end even though there was no legal bar. What had raised the expectations of Sourav supporters was that in September this year, the Supreme Court allowed a person to have two consecutive tenures as president and secretary, overturning to a considerable extent the 2018 recommendations of a judicial commission. Ironically, many had thought the apex court ruling would facilitate a fresh stint of Sourav as BCCI president.
The question agitating a section of the pro-Sourav media as well as the public is while he did not get an extension, BCCI Secretary Jay Shah, son of senior BJP leader and Indian Home Minister Amit Shah, got it. The comparison would not have found traction had it been anyone other than Jay. This has not only polarised the Indian media but also entered the political minefield in West Bengal where the BJP has been accused by ruling Trinamool Congress and opposition Congress and CPI(M) of "humiliating" the popular "Prince of Calcutta". The common refrain of TMC, Congress and CPI(M) is that the BJP is cut up with Sourav after failing to make him join the saffron party. TMC spokesman Kunal Ghosh claimed that it is an example of "political vendetta" that Amit Shah's son would continue as BCCI secretary, but not Sourav as its president.
However, Ghosh was evasive when asked about his comments on Sourav hosting Amit Shah and other BJP leaders to a dinner at his south Kolkata residence in May this year. That event had no doubt left TMC squirming for a response.
Sourav, for his part, has so far done a delicate balancing act when it comes to politics. If he hosted Shah to a dinner, the very next day he also shared dais with TMC leaders, including Chief Minister Mamata Banerjee and Mayor Firhad Hakim, at separate public events. He has so far refrained from joining any political party. Now that he is going to be out of the BCCI, will he exercise his political options? When Sourav had become CAB president for the first time in September 2015 following the death of Jagmohan Dalmiya, it was thought he had the backing of Mamata who however went on record to reject any suggestion of interference in a sporting body. It remains to be seen how the coming CAB presidential race pans out.
The question is: why would political parties fall over each other to woo Sourav who has no standing as a political heavyweight and is not known for articulation or giving fiery speeches. Given his popularity as a cricketer, Sourav's only value addition could be to the electoral plank of Bengali sub-nationalism which TMC had used so successfully in 2021. It is a different matter that TMC had later tried to live down a bit of that sub-nationalism post-Bengal assembly poll by inducting a number of non-Bengali politicians from other states as it had unsuccessfully tried to be a national party by contesting assembly elections in Goa, and prior to that, in Tripura municipal polls. It certainly did not help TMC which put up a disastrous show in Goa and Tripura.
True, Mamata herself is TMC's biggest vote-catcher in Bengal. But the party has built up a formidable grassroot machinery and mobilisation across the state, which BJP cannot match. On the other hand, BJP's main electoral mascot is Prime Minister Narendra Modi. It is in this perspective that one has to see Sourav's relevance in Bengal politics and how much value addition he can bring to any party he decides to join. For BJP, the induction of Sourav cannot make up for its lack of adequate ground-level presence in Bengal to counter TMC. Sourav must carefully assess his political relevance, if any.
Pallab Bhattacharya is a special correspondent for The Daily Star. He writes from New Delhi, India.