Putting an end to modern-day slavery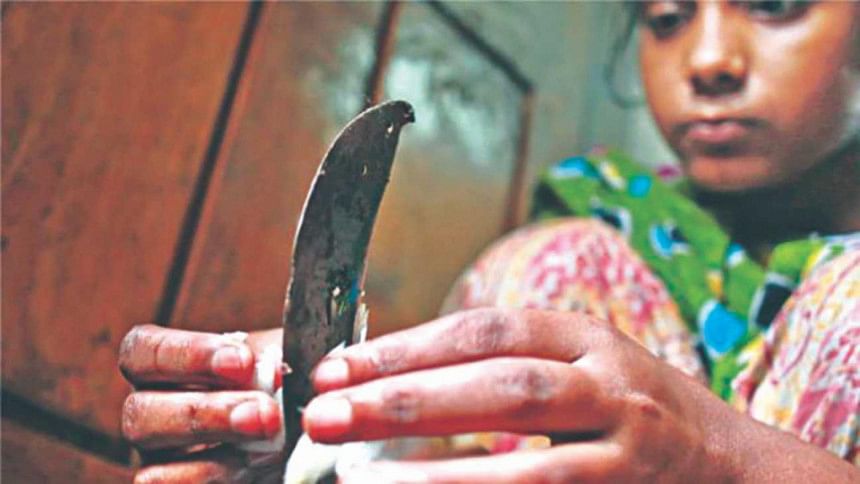 I must have been 15 years old when I heard my mother say, at a family gathering, that one of the biggest reasons why she missed Bangladesh was the existence of "buas" who would do all the housework while she took a break. Growing up in Kuwait, I did not understand the significance of her comment then. It took me seven years of living in Bangladesh and another three outside the country to call this institution a form of modern-day slavery.
One form of modern-day slavery
Rashida, a 30-year-old domestic worker who has worked in Moghbazar (Dhaka) for the last 15 years, says that if she could go back, she would have tried to finish her studies and find a job.
The legal age of employment in Bangladesh is 14. However, 12 and 13-year-old children are permitted to do "light work". The definition of light work is kept vague and children can easily be exploited as the law does not prohibit their employment in informal economic sectors or specify the number of hours that they can be made to work. It is common practice in a big city like Dhaka for people to ask their relatives in small towns and villages if there is a little boy or girl from a "poor family" who they can bring to their house and train as full-time "help".
In the face of extreme poverty, parents give up their children so that they can go to the big city and at least have a roof over their heads and some food. However, these children are left completely at the mercy of their "owners". According to a study conducted by Ain o Salish Kendra (ASK), between 2008 and 2011, there were 2,709 reported incidents involving violence against domestic workers, 729 of which led to the death of the child domestic worker.
Physical abuse is not the only form of violence that they face; mental and verbal abuse of children reportedly is also rampant. These children have no access to education which limits their career opportunities and cripples them economically for life. This system can be looked at as tantamount to being a form of modern-day "slave trade".
According to the Bangladesh Labour Force Survey (2013), there are 10.5 million domestic workers in the country. Ninety percent of them are girls and young children (Bangladesh Free Trade Union Congress).
Dehumanisation of domestic workers
Khadeja came to Dhaka in search of a better life from a small town in Jessore and ended up becoming a domestic worker. Her husband has remarried and she is now the sole earner in her family which comprises her mother and son. She wants to send her son to a school but has been forced to enrol him in a madrasa because she cannot take care of him all day, and since madrasas have accommodation facilities. She works from 7am till 4pm, runs back home, cooks for her mother and then goes to work again from 6pm to 9pm. She works for five households and on average, does three chores in each house, namely, mopping and sweeping floors, washing clothes and cooking. She earns Tk 8,000 every month, and struggles to make ends meet after paying Tk 4,000 for the tiny room that she rents in a slum.
In most houses where she works as a cook, they check to see if her nails are dirty, asks her if she washes herself properly after going to the restroom and at times, accuses her of stealing food while cooking. Incidents such as these are common and have been normalised in the Bangladeshi "master-slave" relationship.
Nahar, another domestic help who works regularly for 11 hours, says that when she first started working as a domestic worker, she didn't like it. However, over time she has accepted it and learnt to like her work despite her gruelling schedule.
The "buas", as they are commonly referred to, are mostly made to use separate cutlery for eating/drinking, a separate bathroom, and in case there is only one bathroom, are asked if they cleaned it properly after using it. The "maids" are usually never allowed to sit and eat with the "malik" (owner), and if they live inside the house, sleep on the kitchen floor.
On average, a domestic worker works 10-12 hours per day and earns a monthly wage of Tk 1,000, which is less than USD 12 (Bangladesh Free Trade Unions Congress).
When the system fails
Sarah Habib has two "maids" in her house; one has been living in her house for the last nine years and the other comes every morning and works for 1.5 hours. She believes that in a literal sense, "buas" are not modern-day slaves as there are laws to protect the rights of citizens in general and as such, one cannot crudely impose ownership rights upon them. But one cannot overlook the circumstances in which house helps become vulnerable and victims of violence. Their wages are often withheld, and they don't have the agency to report wrongdoings. The class disparity between the help and the "owner" feeds into the power-play involved in their subjugation.
In 2015, the cabinet adopted the Domestic Workers Protection and Welfare Policy to improve the working conditions of domestic labours and address the issues of child labour. Even if there is a law in place, it wouldn't help in improving the conditions of domestic workers if it is not enforced by the government and most importantly, if the mindset of the general populace does not change. They have to recognise that "buas" are not slaves who they can treat any way they want. They are a part of the workforce and their rights have to be respected.
We can start by addressing domestic workers by their name and with proper respect. While the word "bua" means sister and was originally used as a term of endearment, it has come to describe an occupation that carries a derogatory connotation. Maybe we can begin our fight against this modern-day "slavery" by referring to our domestic workers by a term/name which puts them on an equal footing with us.
Tausif Sanzum is a US-based Bangladeshi journalist.