Reflections on the Pope's visit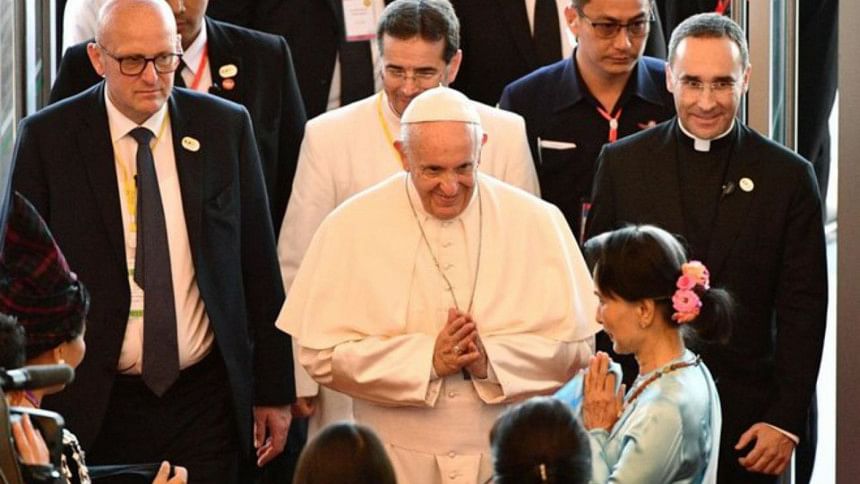 As the impressions of Pope Francis' back-to-back visits to Myanmar and Bangladesh sink in, some self-evident truths glare through the mists of Naypyidaw, the new Burmese capital.
The viciousness and tyranny of the military junta were writ large on their manipulative dictation of terms to a venerated visitor like the Pope. On the other hand, the pontiff, the leader of the world's 1.2 billion Catholics, was expected to wield moral influence on perpetrators of nothing short of genocide and ethnic cleansing.
The predators are degraded further by their disdain for civilised conduct consistent with values of a rule-based society. 
Much as the pontiff was walking a diplomatic tightrope and his hosts hell-bent on using the opportunity of his high-profile visit to repeat their untenable, assailable and pariah-like positions on basic human rights of a section of its nationals, the Pope couldn't afford to be acquiescent.              
Reputably an outspoken Pope who set out from the Vatican having issued two appeals for support to "our Rohingya brothers and sisters," he would cease to use the word "Rohingya" altogether during his whole sojourn in Myanmar!
The Pope changed the tack on advice from the local Roman Catholic archbishop to avert "wrath" on the Christian minority and not let his dialogue with the government and the monks be "slammed shut". The Guardian reported on the prevailing mood in so many words—any reference to the ethnic Muslim minority could trigger a "firestorm" as the term "Rohingya" was "reviled" by the military and the Buddhist majority alike since it denoted Bengali migrants. The mix of "Muslim" caused a double jeopardy. 
According to a Reuters report, Pope Francis defended his strategy of avoiding the term "Rohingya" in Myanmar to reporters aboard the plane returning to Rome. He believed he got his message through to both the civilian and military leadership "without shutting down dialogue." The pontiff also said that he had been "firm with Myanmar's military leaders in private meetings about the need for them to respect the rights of Rohingya refugees." "It was a good conversation," he said, and the "truth was non-negotiable" viz. the latest exodus from Myanmar to Bangladesh of around 625,000 people following a Myanmar military crackdown in (an unequal) response to militant attacks on security outposts on August 25.
Before leaving Myanmar the Pope significantly called for an overture from the international community to resolve the Rohingya crisis in all its dimensions. He knows that a bilateral initiative has got underway, and yet he is making a plea for broader involvement (supposedly that of UN) to bring a successful closure to the stupendous humanitarian crisis.
The Pope wants to please everybody; he is very alert to the sensibilities of other religions. His inter-faith dialogues may help enhance communal harmony. His humane side came to light when he wept upon hearing the Rohingyas relate their traumatic stories. He looked away with rolling tears so as not to be seen in that kind of emotional state. Why that is, one wonders!
He told a crowd where the Rohingyas were in a cluster that God's presence was within them. He asked for forgiveness from the sufferers and victims, reflecting, one would have thought, a sense of collective failure.
The cloak-and-dagger policy is perhaps laced in Myanmar's DNA. In January this year, a prominent Muslim lawyer named Ko Ni who had been a long-standing legal adviser to Aung San Suu Kyi and reportedly working on a constitutional amendment was gunned down outside the Yangon airport.
Back in the mid-seventeenth century, poet and lyricist of Padmavati fame Alaol, a son of Faridpur, became an important person in the court of Magan Thakur, the chief minister of Rosang (Arakan). But he would fall out with the royalty and eventually die from heartbreak, poverty and starvation. His famous work on the book titled Saifulmulk could not be finished by him.
Around that time, in an unfortunate coincidence, Shah Shuja, Governor of Bengal and Odissa, the second son of Mughal emperor Shah Jahan, strayed into Arakan and was murdered in 1661. In a pathetic turn of fortunes, one of his daughters Gulrukh Banu Begum was forcibly married by Arakan King Sanda Thudhamma. Legend goes that she died in mysterious circumstances. What a tragic end to a Mughal lineage!
---
Shah Husain Imam is adjunct faculty at East West University, a commentator on current affairs and former Associate Editor, The Daily Star.
Email: [email protected] 
---
Follow

The Daily Star Opinion

on Facebook for the latest opinions, commentaries and analyses by experts and professionals.
To contribute your article or letter to The Daily Star Opinion, see our

guidelines for submission

.
---