Lessons from the South African test series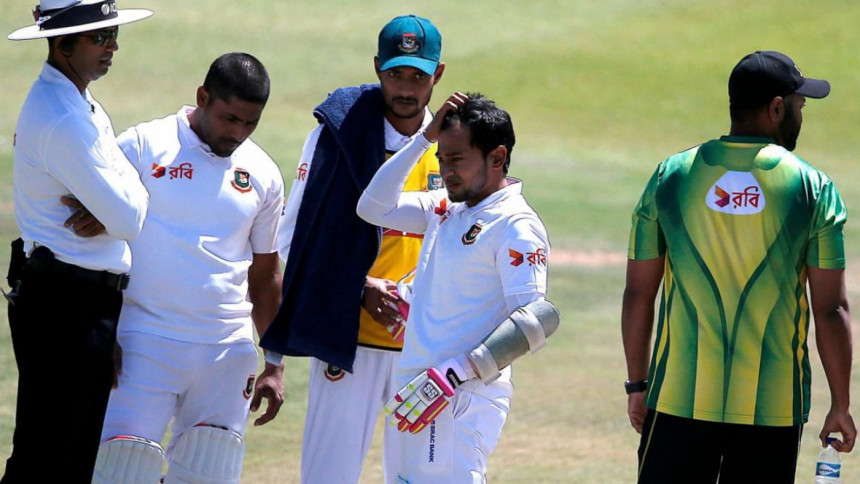 As they say, in the hard world of competitive cricket, "You are as good or bad as your last performance". By the same token, the deciding match at Bloemfontein in the South Africa-Bangladesh test series became the mini Waterloo in Bangladesh's test campaign against the Proteas. 
Actually, in both Potchefstroom and Bloemfontein encounters, Bangladesh suffered their worst two defeats in the 22 test matches it had played since 2014. In that year, Bangladesh had lost to Sri Lanka by an innings and 248 runs, that too on its home ground in Mirpur. Exactly 12 years before that in 2002 we had suffered the biggest test debacle against West Indies in Dhaka by an innings and 310 runs.
Capitulating to an overseas team both at home and abroad within a space of three or two and a half days had fallen into a pattern. We would scale down our cricketing objective to playing against a test team for as long as we could, or at best play for a draw treating it as a win, or indeed rely on the weather to end a match to a tame draw!
But we thought we had come a long way from those bleak times. And we were not supposed to be meekly submitting to South Africa as we did. Shaun Pollock, the greatest ever pace bowler of his country, thus reckoned, "The way they (Bangladeshis) played against Australia, it was really competitive. I saw them have a good Test match against New Zealand in New Zealand. They played really well there. I have been a little disappointed by their performance here."
South African commentators, including Shaun Pollock, harped on the point that Bangladeshi batsmen being shorter in stature end up trying to play deliveries tossed up by tall bowlers that bounces away on landing. "That's what causes them trouble." 
To my mind, it is more a matter of skill than height. This should have been instilled in them before the series kicked in. They just had one practice match; maybe they should have had more before the test series.
One tactical point seems to have been missed. Prior to the New Zealand series, the Tigers had a long training session for a few weeks in Sydney before they flew off to New Zealand. It helped them acclimatise with the conditions in the host country. And, with what results, everybody knows! 
On the issue of height, it needn't be stressed too far before you come across iconic cricketers who were/are not tall men at all: Sunil Gavaskar, Sachin Tendulkar, Javed Miandad, Don Bradman, to name the obvious few. They faced up to giant fast bowlers of their times scoring runs freely. 
The great batters relied on a wide repertoire of shots to play top class fast bowlers. The lesser ones better heed Pollock's practical suggestion: "You have to learn the art of dropping the hands, and leaving the ball."
One new find is Subashis Roy, a tall well-built bowler who claimed three wickets. Mustafizur Rahman, the other successful bowler could have captured three wickets had two catches not been dropped off his bowling. 
Another find as batsman is Liton Das, who merits to bat up the order. Some tail-enders batted exceedingly well. 
Bangladesh was playing at a disadvantage, one may add, with a crippling sense of inadequacy. Shakib, our ace bowler capable of breaking partnerships before they could grow threateningly long, as they indeed did, was out on leave. Tamim was not at his best; in fact, he didn't play the second test match because of injury. If they had played, and let their chemistry work with the rest of the team's, at least a wholesale defeat could have been averted. The South African skipper expressed surprise over Bangladesh not offering any competition in any of the session of the test matches. 
All this brings into a sharp focus the critical reliance on a select number of high performing cricketers. If anyone or two among Shakib, Mushfiq, Tamim, Mashrafe, Mahmudullah, Kayes, Mominul and Sabbir would be unavailable due to injury or some other reason, team Bangladesh wouldn't be a coherent fighting unit. 
It is, therefore, of paramount importance to keep handy a strong band of high performance cricketers ready to be fielded at short notice. Kumar Sangakkara, the veteran Sri Lankan cricketer who has played in BPL spoke highly of an emerging torrent of young talents in the pipeline. In his words, "We only get to hear about the likes of Mushfiq, Mashrafe, Tamim, Shakib but there are lots of others waiting in the wings to be picked and groomed. Indeed, that is Bangladesh's potential to be a power house in world cricket."
First class tournaments of four days' duration would have to be regularly organised in important divisional cities. These will have to be held on pitches prepared in line with what are being used and played on overseas. 
On the sideline, Mominul had been declared out, leg before by the umpire, although ball tracking showed that it wouldn't have hit the stumps. Mominul went up to Imrul Kayes, the batter at the other end for consultation, but was apparently dissuaded from asking for an umpire's decision review, which might have reversed the decision. On a final note, in-field picking or stopping of the ball has been rather clumsy. Neat picking is part of efficient and delectable fielding.
---
Shah Husain Imam is a commentator on current affairs and former Associate Editor, The Daily Star. Email: shahhusainimam@gmail.com
---
Follow

The Daily Star Opinion

on Facebook for the latest opinions, commentaries and analyses by experts and professionals.
To contribute your article or letter to The Daily Star Opinion, see our

guidelines for submission

.
---