Isn't Bangladesh's stake worthy?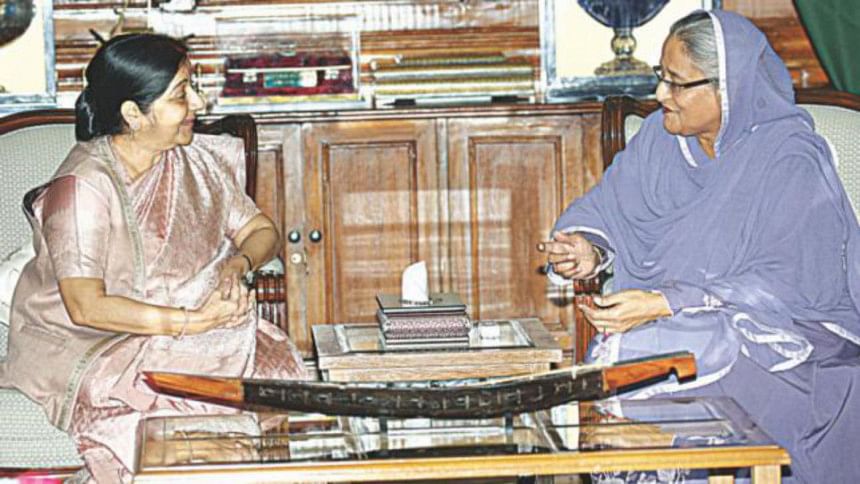 One can draw two significant messages from Indian External Affairs Minister Sushma Swaraj's just-concluded visit to Bangladesh: First, she has basically reiterated India's position that an incumbent government is obligated to hold the general election, if and when it falls due in a democratic country. She, however, added, that how an election will be held would be determined by the people. And she resonates with any champion of democracy when she says all parties should participate in the election. 
She responded to these issues, not of her own volition—which may have been interpreted as meddling in another country's affairs—but when raised by BNP leader Begum Khaleda Zia with the former. 
The second bottom line which is of immediate concern relates to an iteration of India's position that all refugees from the Rakhine state must return to their abodes as citizens of Myanmar. With India endorsing recommendations of the Kofi Annan Commission instituted by the UN (also accepted by Aung San Suu Kyi), grant of citizenship rights to Rohingyas, the cornerstone of Annan's report, is non-negotiable. 
Sushma Swaraj's visit to Bangladesh on October 22 was set against the backdrop of a combination of extraordinary circumstances. 
In its foreground, however, lay the visit to New Delhi of US Secretary of State Rex Tillerson which took place last Tuesday. Tillerson embarked on the South Asian itinerary including Pakistan and Afghanistan with a statement that the odyssey will culminate in a trip to India "in the face of the growing Chinese influence in Asia." 
Afghan President Ashraf Ghani has accompanied the US secretary of state to New Delhi in what has been given out to be the quest for "a new architecture for South Asia." Tillerson's job has not been helped by the "hidden chaos in the White House," some pessimists were quick to point out.
At any rate, the US and EU have been all the time toughening their stances against Myanmar. They have already stopped military assistance and are planning to impose travel bans on that country's army generals. Sanctions on financial transactions are on the way.
Having regard to all these factors, one can argue that the timing of Sushma Swaraj's trip to Dhaka may not have been a mere coincidence. It could have been deliberately designed to tie in with the apparently new equation in the region. 
The fourth meeting of the India-Bangladesh Joint Consultative Commission has been overdue. A grey area of distance has been growing in the relationship between New Delhi and Dhaka on the issue of an unprecedented exodus of Rohingyas into Bangladesh fleeing persecution in the Rakhine state of Myanmar. Indian Prime Minister Narendra Modi, while meeting Myanmar's de facto leader Aung San Suu Kyi in Naypyidaw last month, lost an opportunity, so we thought, of bringing to bear his moral influence on the regime to stop the raging "ethnic cleansing" of a hapless minority. He gave a pro forma statement condemning "violence" without any reference to the abject victimisation of the Rohingyas.
For a time, the South Block appeared to be siding with Myanmar's official position. Indian officials seemed to believe and, said as much, that a good number of Rohingyas who were found to be in India may have infiltrated via Bangladesh. So, they tried "deporting" several of them across the border into Bangladesh. Our border guards resisted the attempts.
Thus, misgivings had been created that required to be allayed. There appears to have been a shift of assumptions or premises based on which previous posturing had been made. Bangladesh's sensibilities are beginning to be respected with an underlying concern to make good on a negative signal of alienation put across earlier on. For instance, it is reported that the Indian External Affairs Minister Sushma Swaraj told our prime minister that Narendra Modi had "advised Myanmar leader Aung San Suu Kyi not to 'destroy' her image on her stance on the Rohingya issue as Myanmar military's action in Rakhine state sparked a global outrage." 
So, we heard Sushma, uttering mellifluous words, "Porshi pehle usse pehle Bangladesh (neighbour first, but Bangladesh come atop the list)." 
She is even more specific in her expressing solidarity with Bangladesh: "Bangladesh-India relation goes far beyond strategic partnership."
One final word in the form of a question to China and Russia which have taken the side of Myanmar when the chips were down in the UN implying their stakes are high in Myanmar. Isn't Bangladesh's stake worthy? With her size of the economy, trainable human resource reserve, huge potential of natural resource base that can boast maritime and sea-bed bonanza waiting to be harnessed, let alone having a homogeneous, secular society, what does Bangladesh lack that Myanmar can provide? On the contrary, we have so much to offer to the world.
---
Shah Husain Imam is a commentator on current affairs and former Associate Editor, The Daily Star. 
Email: [email protected]
---
Follow

The Daily Star Opinion

on Facebook for the latest opinions, commentaries and analyses by experts and professionals.
To contribute your article or letter to The Daily Star Opinion, see our

guidelines for submission

.
---