Four businessmen and a funeral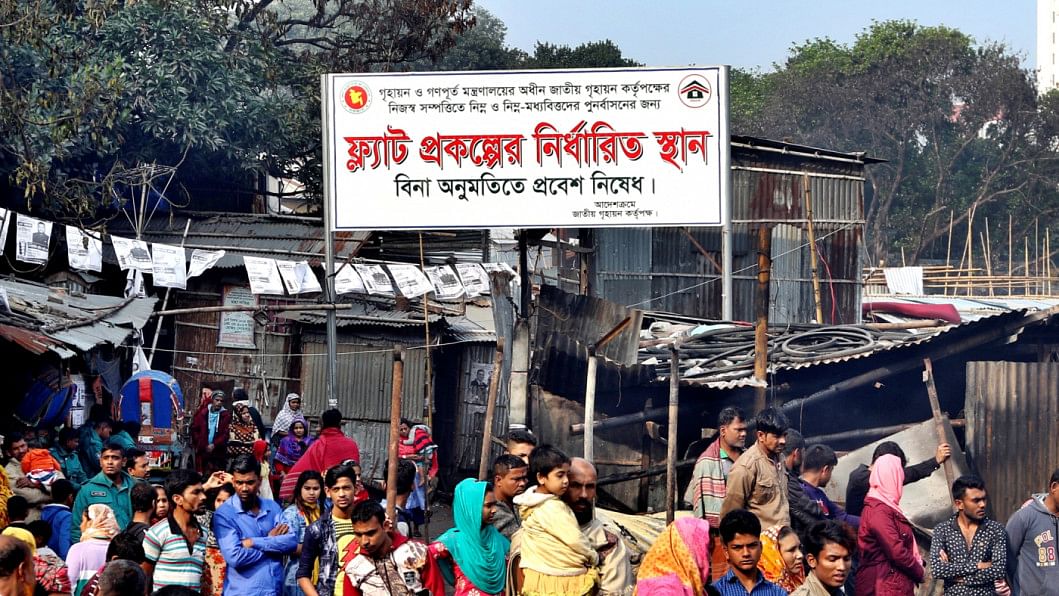 There is a story to be told of Dhaka—the once-provincial backwater-turned-megalopolis—but it was nowhere in the electioneering that wrapped up last night. There's a story to be told; there are too many stories to be told. They are the tales foregone in the burnt down remains of 400 homes. "Shanties," we call them, in the mangled tin and ashes of the lives that inhabited them. Lives that made each shanty a home, and in that most essential function that could accrue to any dwelling, of being a home, they were no less than any of their fancier counterparts. You do get all sorts, but these are shanties. Or slums. The difference obviously stopped mattering much.   
Leaving aside for a minute the trials and tribulations and the abject condition of poverty, slums can be exciting places from the outside looking in. Just passing by, or from your window looking over them, maybe you take a shortcut through them when fetching the ball, or just lurking on the edges. They buttress the informal economy that is often more vibrant than the formal one in countries like ours. They thrum and they throb with an energy unrecognisable to us. It feels almost banal to say they have more life to them. Any place where every slice of life is earned and accounted for, where every day and every breath counts toward the next, obviously would. You say life is not a rehearsal, and I will grant you that. Over there, though, every shot could potentially be your last one.
Last Friday, the morning after a second fire in five months gutted hundreds of homes in the Chalantika-Jhilpar bosti in Mirpur, the initial shock-and-awe (Fire Service received the first call at 4.11 AM, which is ungodly even for slums) had already given way to cold, hard reality. In a video posted by UNB, as the camera pans out to cover the extent of the carnage, the foreground captures a man and his boy getting busy with the work of what comes next. It's past time for valuables, they're picking through the rubble for anything still worth salvaging. The bedframe is burnt, the sheets of tin are about melting. He sends the boy away and lights a cigarette with enough swag to undo decades of the ban on tobacco advertising, as he wraps up this final survey of a chapter that would soon be closing. If he is daunted, the face doesn't show it.
The next shot is of a possible grandmother (a way to address her would be "chachi") emerging out of the wreckage. Evidently, she has completed her own survey, and looked the part too. Hair tied back in a neat bun, orna locked at the waist, in a pair of sneakers. With her trusty sandals clasped in one hand, she means nothing but business. As it turns out, she is a businesswoman. Rahima Begum, 65, owned six hovels at the slum. "I rented out three of them. My family and I managed to escape when the fire broke out but we lost our television, refrigerator and 17,000 taka cash in the fire." You wouldn't bet against her owning all that again. She looks fit as a fiddle, hard as nails. Whichever of Dhaka's 5000 slums (MICS 2013, Unicef) she ends up in next, nobody better mess with Rahima Begum.
Even her tenants were upwardly mobile, outward looking. One of them, Zohra Begum, a single mother, said she'd been renting the home she shared with her daughter and son from Rahima for the last 10 years, "I have lost valuables including our television, refrigerator, and 6,000 taka cash. My daughter, a class nine student at Mirpur Ideal High School, fell unconscious as her books were gutted in the fire!".
Others sound out suspicions, convinced of some diabolical plot in the works. They lead you to a spot that used to be part of the slum, but since the blaze that gutted over a thousand homes last August, has been made off limits. A large signboard warns against advancing any further, with a notice from the Ministry of Housing and Public Works proclaiming "Land demarcated for housing project for lower and lower-middle income groups. No entry without permission."
Those who do, are not shy about stating it: "They want to evict us."
It's hard to argue in the face of two fires in five months. Both unexplained, yet somehow explained-away ("plastic roofs helped the flames to spread quickly"). Committees have been formed of course, true to form; two are working at the moment to identify the cause of the latest one. They are likely to be at it still, until the next one. Meanwhile, there is no word on the first one.
On top of that, there is Bhashantek—a byword for the last time the urban poor of Dhaka were promised something along the lines of the Housing Ministry's present proclamation, more specifically the callousness we afford ourselves in dealing with them. In 1998, the government initiated the Tk 341 crore Bhashantek Rehabilitation Project in another part of Mirpur encompassing what used to be the Dhamalcoat bosti, with the stated objective of building no less than 7,560 flats in over 100 high-rises for slum residents and low-income groups. The residents of Dhamalcoat were evicted by goons or wooed with the promise of a nicer flat, for which prices were fixed at rates that families could pay off over 10 years in monthly instalments. Over years and across governments, the project got mired in irregularities, mismanagement and of course, corruption. When the time came for the first batch of flats to be handed over, it was found that the private developer that won the construction contract (North South Property Development Ltd, REHAB Membership No. 822/2008) had sold off over a thousand flats at higher prices to an affluent group.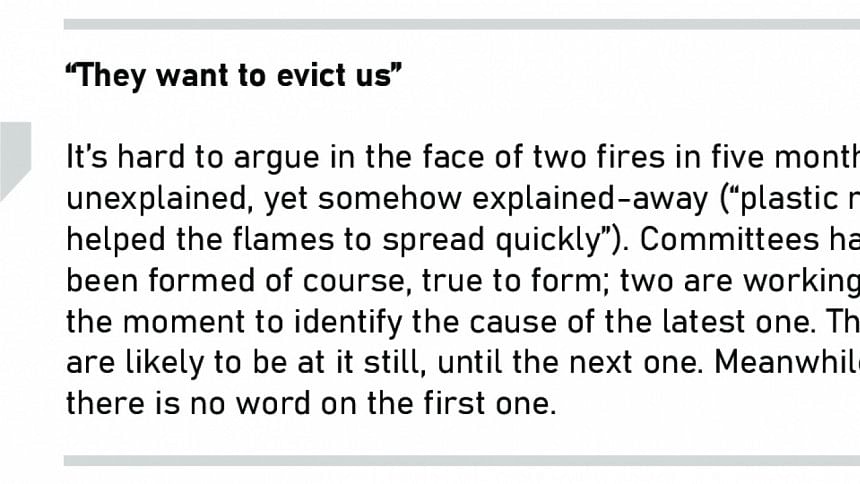 In October 2010, the developer's contract was revoked and the project was taken over by the National Housing Authority (NHA). With only 18 buildings built and tenders floated for 12 more, the government decided in December 2015 to abandon the plan for the construction of remaining buildings, and instead use the land for building quarters for government employees. And a particularly cruel slap across the face of some 1,300 families—almost all of them former residents of the slums that were cleared from the 47-acre site for the project—who had even coughed up an initial deposit of Tk 10,000 in a Sonali Bank account to book that "dream home". 
Today, the Bhashantek debacle is part of the urban folklore. And a reference point for the Jhilpar-Chalantika residents to reject any notion that whatever the NHA is cooking up behind that big signboard stands to benefit them. Even the mere mention of the word "project" is a signal to resistance. Can anyone in their right mind really fault them?
***
Given the timing, you would think that last week's fire would find its way into the agenda for the February 1 mayoral elections. The fire coincided almost exactly with the start of the final stretch in the campaign. With councillors as well as mayor candidates criss-crossing the city like neutrinos in a particle accelerator, you'd expect a few of them at least to run into these families rendered homeless overnight. However, no candidate made time to go see them—not even for a photo-op. Even from afar, not a word was uttered in solidarity or reassurance. Not even after a casualty was confirmed at the DMCH Burn Unit. It was as if the election and that slum fire belonged in different planets.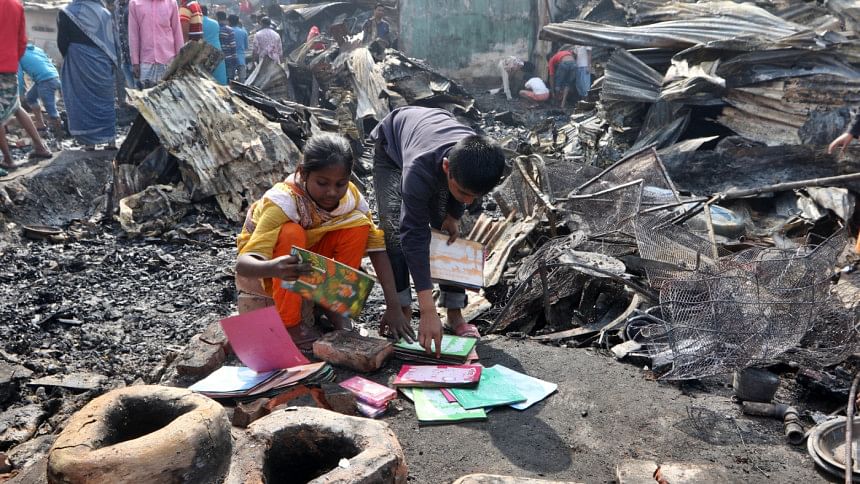 Strictly speaking, Jhilpar bosti falls under Dhaka North, and so you could argue that the onus fell on the candidates in that half of the city to address what was at least a symptom of municipal dysfunction. Once the weekend passed, you knew no one was bothered. I found it hard to believe, given the estimates for the proportion of Dhaka's total population that lived in slums (anywhere from a third to two-fifths), that Multiple Indicator Cluster Survey (MICS) Unicef ran in 2013 put the number of slum residents at 4 million.
How Dhaka chooses to deal with its slums going forward is an issue that should concern everyone who lives here, and mayors are ideally placed to provide the leadership in adopting a new direction that is informed by the new thinking and emerging consensus around the issue of urban poverty. There was a time slums were looked at as black holes dotting a cityscape, when black holes (the ones in space) themselves were poorly understood and recognised only for their power to obliterate, sucking in anything that ventured too close to its edges, exerting a gravitational pull of such force that even light cannot escape it.
I can imagine similar warnings for those growing up as kids in Dhaka, regarding slums. Of lives sucked in and never being the same again. It's true that drugs, violence and crime in general thrived in slums. But they have a bad reputation, worse than they deserved. What people didn't get was slums were not the only places where that stuff flowed. If you were starting to feel some pull towards any of that, it's not like you would make your way to a slum to get your fix. Polite communities provide options aplenty.
Today, an actual extract from a science journal reads: "Scientists now believe supermassive black holes lie at the heart of nearly every galaxy in the universe, serving as essential fulcrums upon which the cohesiveness and stability of galaxies rest." Just like urban planners now believe large, vibrant slums can be found alongside nearly every affluent neighbourhood in cities, serving as essential fulcrums upon which the cohesiveness and stability of communities rest. This is the kind of thinking one would look for in mayors for Dhaka city. But they don't even care, it seems.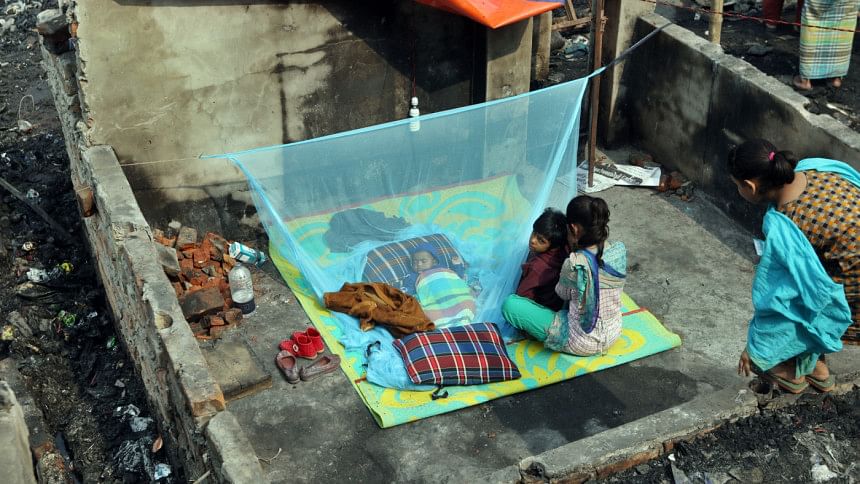 One possible reason for their disregard, is that slum-dwellers don't actually make it into the voting rolls. Or at least many of them don't. The last official census in 2011 put the population of Dhaka City under 9 million. Today, short of a census, the most reliable estimate that organisations like UNDP go with is around 16 million. Yet you may be surprised to learn that the size of the combined electorate for the two city corporations in Saturday's vote is a mere 5.5 million. That means only one in three residents is registered to vote. Even if you take out the under-18 population that is ineligible to vote by projecting them generously at 40 percent (based on 2011 census for 0-19 years), the size of the population eligible to vote should be close to 9.5 million. That means around 4 million residents who should be eligible to vote as residents of the city are missing from the electoral rolls. Given that disenfranchisement is most common in informal settlements, it is reasonable to assume a large chunk of the missing 4 million are slum-dwellers.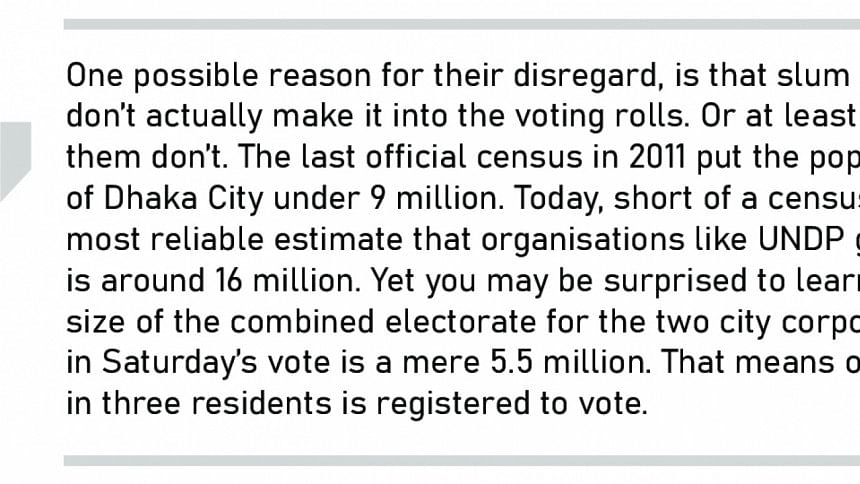 Furthermore, as if their indifference over the course of the campaign period wasn't enough, the four main candidates' so-called "manifestos", all delivered in a flurry over the last week, confirmed that none of them plan to expend too much of their energies on bringing disenfranchised slum-dwellers in from the cold, so to speak, where they could start availing some basic services.
To be frank, each candidate has produced a comprehensive—even exhaustive—list of talking points. No hint of an overarching vision or prioritisation, or a specific commitment that is close to their hearts. A manifesto is meant to provide mooring, voters should be able to hold candidates accountable to them. What these candidates have provided are the syllabi for two MCQ tests. It's just as well that it doesn't matter whether you pass or fail them.
Shayan S Khan is Executive Editor of Dhaka Courier.