The problem with the Road Transport Act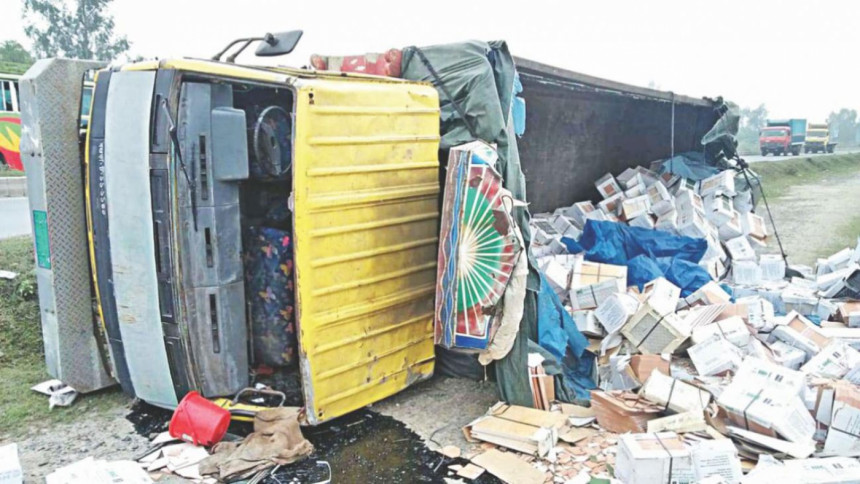 Much controversy surrounds the new Road Transport Act 2018 which has been the subject of massive protests by road transport workers who perceive the new law to be unduly harsh on them. They are particularly unhappy with the non-bailable nature of certain driving offences under the Act and the insertion of a provision which makes a maximum of Tk 5 lakh fine payable by negligent drivers.
This protest gives the impression that the 2018 Act is overwhelmingly pro-pedestrian in its effort to ensure road safety. And this new law has also been hailed as the much-awaited panacea to our road safety concerns in public dialogues. In light of this, it is worth examining the extent to which the 2018 Act does in fact put road accident victims in a better position than before and whether it can be expected to make our roads safer.
In order to answer these interrelated questions, we must first enquire what causes road accidents in the first place. A research report by Accident Research Institute (ARI) of BUET identified that over-speeding and careless driving are two main causes responsible for 53 percent and 38 percent of the casualties in road crashes, respectively. Why is this the case? Are our transport workers bloodthirsty hounds physically incapable of safe driving? Or is it because they work under conditions which trigger and facilitate unsafe driving?
Experts have long suggested that one of the key reasons behind rash driving of transport workers is the unfair method of payment they receive. Instead of being paid a respectable weekly wage, transport workers are paid per trip. So the higher the number of trips they can complete, the more they will get paid. Naturally, this type of piece-rate payment directly incentivises drivers to complete as many trips as possible in as little time as possible (e.g. without taking adequate breaks or complying with speed regulations), which in turn results in over-speeding and careless driving. A colleague of mine once told me how during a night journey back to Dhaka from Cox's Bazar, when all the passengers were fast asleep, he saw a pubescent bus helper steering the wheel of the vehicle since the overworked and sleep-deprived bus driver had passed out on the driver's seat. Although this year in August, transport owners pledged to abandon the contractual system, Shahidul Islam, General Secretary of Dhaka Drivers Union, stated that this is yet to be implemented in a recent press briefing.
The unfair method of payment coupled with the fact that transport owners employ unqualified drivers and operate largely unfit vehicles further institutionalises reckless driving, making it the norm rather than the exception. Indeed, according to BRTA data, there are 31 lakh vehicles across the country without fitness certificates and 77 percent of drivers do not hold valid licences.
Thus for our roads to be made safer, it is absolutely vital for these root causes to be addressed. But is imprisoning a reckless driver and slapping him with an unrealistic five lakh taka fine (which probably will remain unrealisable) actually the best way to address the problem—given that reckless drivers are the symptom and not the cause of the problem?  As we have already seen, factors which cause over-speeding and reckless driving are a direct result of how transport owners operate the industry and the working conditions they impose on transport workers, so it is only when these owners are held accountable that the root causes of road accidents can effectively be addressed.
In this regard, forcing transport owners to pay compensation to victims of road deaths and injuries is one way to hold them to account. Unfortunately, this is precisely what the 2018 Act tragically fails to do. Previously, under section 128 of the Motor Vehicles Ordinance 1983 (which the 2018 Act replaces), motor vehicle owners were held liable to pay compensation to victims of road accidents if the insurance coverage was inadequate to cover their losses. A Motor Accidents Claims Tribunal would be constituted to specifically deal with compensation claims from road accidents. For instance, it was under this law that Catherine Masud successfully imposed a compensation liability of Tk 4.3 crore on the owners of the bus which killed her husband and famous filmmaker Tareque Masud.
However, the 2018 Act not only removes compensation liability of an owner whose vehicle caused an accident but also removes the provision requiring a Motor Accidents Claims Tribunal to be set up. This is because Chapter 10 of the 2018 Act (which deals with compensation) replaces a road accident victim's right to sue motor vehicle owners for compensation before a tribunal with the right to apply for "financial aid" from a rather charitably termed "Arthik Shohoyota Tohbil" (i.e. Financial Aid Fund) through a largely executive process and not through any court or tribunal. This fund will be established from these sources mainly: grants from the government, yearly nominal contributions from motor vehicle owners, fines obtained under the Act, and grants from motor vehicle owners' and workers' associations as per Section 57 of the 2018 Act. This therefore virtually nullifies the operation of compensation liability on the motor vehicle owner whose employee (i.e. the chauffeur) causes a fatal road accident or injury in any given case. This is because this owner's only possible contribution to the compensation award would be the nominal yearly contribution they, along with all other motor vehicle owners, made to the fund. So while transport owners had a hefty price to pay if their vehicles killed or injured any person under the 1983 Ordinance, the 2018 Act appears to grant them total immunity from such liability. In fact, if the Catherine Masud case was pursued under the 2018 Act rather than the 1983 Ordinance, the bus owners would have had no liability to pay compensation.
If the new law grants immunity to the very people whose policies stimulate the root causes of road accidents by removing a road accident victim's right to sue them for compensation in court, how can we feasibly expect it to make our roads safer?
---
Taqbir Huda is a research specialist at Bangladesh Legal Aid and Services Trust (BLAST) and can be reached at taqbirhuda@gmail.com.
---
Follow

The Daily Star Opinion

on Facebook for the latest opinions, commentaries and analyses by experts and professionals.
To contribute your article or letter to The Daily Star Opinion, see our

guidelines for submission

.
---