Sexist laws that require change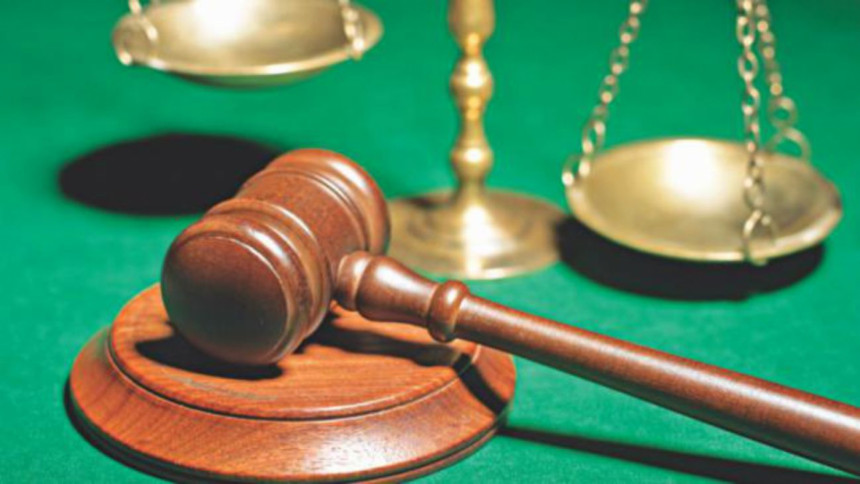 Reports from legal aid and human rights organisation, Ain O Salish Kendra stated that at least 189 women were raped across the country in the first six months of this year, and 47 children were subjected to sexual assault or harassment in 15 days before April 2. Despite the pervasiveness of rape culture, conviction rates have ironically dropped from 0.5 percent in 2016 to 0.3 percent in 2018, according to the recent study by Naripokkho, a women's rights organisation. The necessity for amendments in rape law becomes larger by the day, but a concerted action from the government remains surreptitiously missing.
It is understandable that change takes time in Bangladesh, but the ancient definition of rape has not been reformed for 160 years. Thus, plastering the blame for this inefficiency on a faceless bureaucratic structure would be far from addressing the problem. If lawmakers—over the decades—were substantially concerned to safeguard inclusive justice for rape victims, then why has Bangladesh failed to merely ascertain a proper definition of the prevalent, heinous crime?
Established in British colonial rule, the extant Section 375 of the Penal Code (XLV 1860) defines rape as "sexual intercourse", by a man "with" a woman, "without" her consent. First, this inadequate definition discounts that males and transgenders also suffer from the perils of rape. Including only penetrative forms of sexual violence insufficiently quashes protection of sexual assault victims from non-penetrative types of misconduct. Adding to the confusion, the penal code does not define the phrase "sexual intercourse". Yet, in every dictionary, including the biological understanding, "penetrative sexual intercourse" requires two people, thus implicit in the act is consent.
By stating "sexual intercourse…without her consent," the penal code dangerously drills the oxymoron—"non-consensual sex" into the legal system, which can easily be warped in rape cases to suggest participation of victims, thereby hindering retribution for them. The social repercussions of such equivocal phrasing essentially posit rape and sex to mean the same thing—denying crucial parameters to separate the atrocious crime from legal sexual acts. But the fact of the matter is that rape can only be perceived as sexual intercourse by a depraved perpetrator, while it is gross infringement of human rights i.e. not "intercourse" of any kind to a victim. The rape law conceptually intends to serve victims, but unlike any other law, it counterproductively hinges on the rapists' point of view. The definition must be redrafted with proper logic, accounting the victim's narrative.
What's even more impertinent is that Section 375 upholds the age of consent for sex in Bangladesh to be 14 years albeit the Child Marriage Restraint Act of 2017 that ratifies women must be 18 years of age to be legally married. It is worth questioning why the legal age of marriage would not match the age of consent, especially in a nation where pertinent education on sexual consent is entirely unavailable in secondary schools, including English medium institutions. When one merely recalls the fact that individuals cannot casually discuss the topic of sex, as abstinence is upheld as society's moral device, it becomes nonsensical that the age of consent would be lower than that of marriage.
But legal remedies must be attuned to the social reality of the individuals it aims to aid. The conspicuous disconnect in the legal framework today and the lived reality of the marginalised communities it professes to insulate, underscores flagrantly insensitive and unrealistic judicial methodologies. Unless the law is only meant to be served as a plate of empty words to citizens, officials must address damaging shortcomings of the lacklustre system.
However, we must acknowledge that the government has taken baby steps to address the issue. Recently, a bill was passed per Section 22 of the Women and Children Repression Prevention Act 2000, which states that only female magistrates will record the statements of women and children who suffered rape or any sort of sexual harassment to ensure fair investigation, procedure and justice. While these developments evince progress of sexual politics, appraising partially fruitful changes would be settling for the bare minimum. For a nation that aims to earn the status of a middle-income economy, we must expect higher public safety standards from the parliament.
Bangladesh requires vigilant laws that can address the ubiquity of rape crimes. For example—reports from Odhikar, a human rights group found that 635 and 783 individuals have suffered from rape in 2018 and 2017 respectively. Instead of securing prudent accommodations to address the alarmingly high numbers, the government backpedalled with the "special circumstances" provision in the Child Marriage Restraint Act of 2017— which permits harmful parochial discourses to fortify loopholes that legalise instances of sexual violence arising from child marriage.
Other legal instruments that invigorate social prejudice are Section 350 and Section 509 of the Penal Code, which create offences from outraging the "modesty of a woman". While Section 350 is limited to criminal acts, Section 509 upholds accountability for words or gestures that harm women. Although the laws are directed to punish sexual violence, they are grounded in narrow-minded ideologies concerning the "character" of a woman, which allows the sexist question—"Was she asking for it?" to infiltrate the justice system. It is high time for officials to recognise that sexist laws are not only unproductive but also lethal for a society that battles with misogynistic epidemics.
But perhaps the most ignominious of all laws, Section 155 (4) of the Evidence Act 1872 states—"when a man is prosecuted for rape or an attempt to ravish, it may be shown that the prosecutrix [female prosecutor] was of generally immoral character." Pulling the thread of a woman's reputation in rape cases knits a sexist legal system. What matters in rape cases is the presence or lack thereof consent, specific to the incident undergoing allegations. A law that subjugates a woman in rape cases at the direct cost of legitimising victim-blaming, mirrors a spitting image of the discriminatory mishandling of sexual violence in Bangladesh. By leaving such laws unrevoked, the legal system consolidates bigotry—which deserves condemnation—as it is meant to do the exact opposite. If the nation truly aims to continue developing, the government's first response to sexual violence should be eradicating obsolete legal instruments that innocuously sustain widespread repression of victims.
Ramisa Rob is a graduate of University of Michigan, Ann Arbor.