All Over Again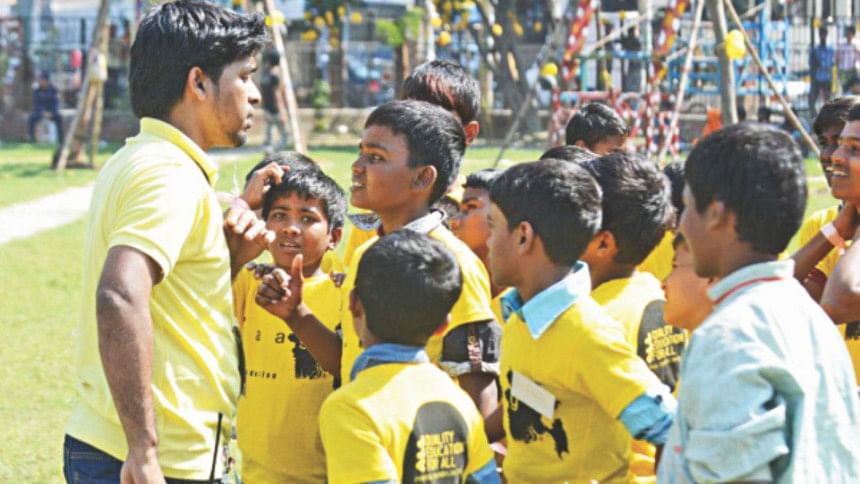 The response of your columnist to the question "How are you?" usually ranged from "Dhuro" back in the teen years to more currently "Could be better"/"Couldn't be better"/"Couldn't have asked for more."
Basically starting from my teen years' frustration stemming from the inability to spot massive bundles of happiness down to this minute of having been pushed to live without people who I couldn't imagine going through life without, life has happened. While we, the infantile egomaniacs, often don't have the capacity to perceive the wholeness when and as we experience in our youth, and while our youth allows us to max with moping, grey hair can only make space for happiness.
Having greyed enough, I now confront darkness by being hopeful while the rays stream through my shutters at the crack of dawn. My awakenings sustain optimism. I am doubly awake when I sense youth and feel nature in the palm of my hands. And a combination of both gives me the compulsion to live life till the very last minute.
This week I am more alive than I ever was just because I was part of a youth assembly in Cox's Bazar. These were young people who had nothing to earn materially; these were young people who just happened to be volunteering for JAAGO Foundation.
I met JAAGO way back in 2008. Back then Korvi Rakshand looked like a young man with an insatiable appetite to enrich impoverished kids through English-medium schooling, with the help of other young people from all backgrounds. After a decade, this young man and his young volunteers are still standing by the spirit of JAAGO. Many young people continue to be associated with this foundation with pride, in one way or another. All of them believe that giving is the only way to earn life.
Therefore, I salute Youth. I salute platforms like JAAGO that allow me the opportunity to look at two fifth graders (both are called Sumaiya) who have watched poor people die in want of medicine and who now dream of becoming doctors and owning hospitals where poor patients are to be treated at no cost. Kudos to the 10-year-old Yeasin, the fourth grader, who wants to be an engineer and build aircrafts; or the sixth grader Hanzala who spins his ball with passion and wants to be like the all-rounder Mashrafe Mortaza someday and is now applying to be included in the Kalabagan Sporting Club.
The parents of most of these kids are farmers, day labourers in construction sites, garment workers or shopkeepers. Earlier, the JAAGO children, almost in scripted formats, dreamt of becoming pilots and doctors. Notice how their narrative has evolved today. Instead of wanting to just become doctors, they now want to own hospitals; build aircrafts instead of just becoming pilots; and boldly bat and spin balls. With time and encouragement, their dreams have transitioned to the the next phase. That is where we come in. That is where we need to come in and live through their lives which otherwise will have little or no meaning…
Just the other day, I watched a film, Saints of Sin, which features eight women telling their own stories coupled with wonderful music by artists from here. With Anusheh, Palki, Armeen, and others singing from their own depths, the plot made sense. Shot with mostly one camera and edited with limited resources, the movie has jerks while switching from one shot to another. The movie also has audio glitches. But most importantly, in the documentary, we hear women speaking of vanity, greed, lust, envy, gluttony, wrath and sloth. We watch each of them admit their sins and share their stories. Their admissions do not free them, but then again, they are not asking to be forgiven either…
I interviewed Asma Jahangir 10 years ago while she was crossing the Wagah border by foot, en route to India to take part in a massive gathering of activists championing human rights. The first woman to serve as the President of Supreme Court Bar Association of Pakistan, Asma crossed all barricades, faced batons, questioned eligibility of General Pervez Musharraf as a presidential poll candidate, sided with Iftikhar Chaudhry in his battle against Musharraf, and instantly turned against the same set of lawyers when they applauded the assassin of the Punjab Governor Salman Taseer.
Within our own borders, many Asmas strive to exist and aspire to soar to newer heights. But these young women routinely come to life and die violent deaths with many of us just taking part in processions and candlelight vigils. If we continue being this complicit, then many of our very own Asma Jahangirs will fight a lonely battle; and many law students like the 27-year-old Rupa Khatun will continue to be raped and killed in moving buses for many more years to come.
Thus we owe it to Life to go beyond our own prisms and support causes, and scream our lungs out for the rights of the impoverished and the unsung. For all of us living in comfort and wisdom, our lives should continue to be about touching these lives in any manner or form we can afford. Only then will we rise above our own disappointments and losses. Only then will the tragedies serve their purpose and morph into positive energies. Only then we shall all begin to breathe…yet all over again.
---
Rubana Huq is the managing director of Mohammadi Group.
---
Follow

The Daily Star Opinion

on Facebook for the latest opinions, commentaries and analyses by experts and professionals.
To contribute your article or letter to The Daily Star Opinion, see our

guidelines for submission

.
---