Lead pollution is killing us and our children
Where is the action plan to stop this poisoning?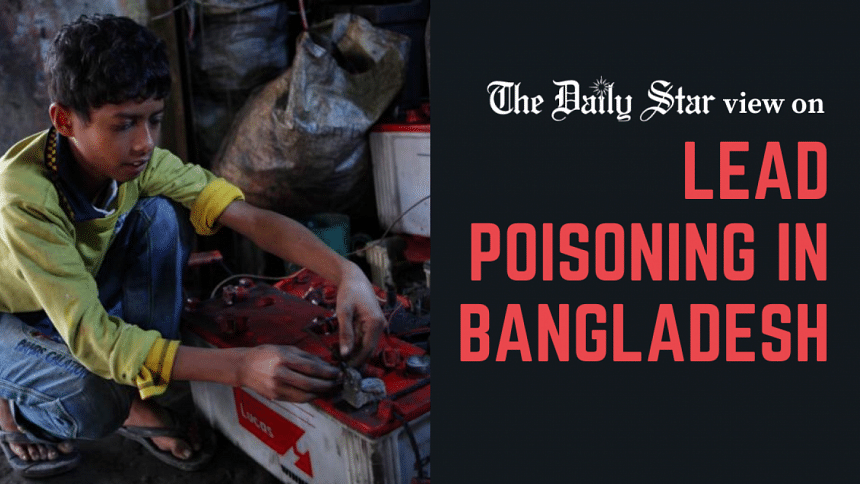 Lead poisoning has been a global problem for decades, having devastating effects on people's health, especially that of children. Bangladesh happens to be the fourth most affected country in terms of the number of children affected, according to a report launched in 2020 by Unicef and Pure Earth. Last Tuesday, the Lancet Planetary Health journal published the World Bank's study on the health and economic burden of lead poisoning around the world.
The harm caused by lead exposure has turned out to be far worse than previous estimations. The report has found that lead poisoning causes cognitive deficiency in children and fatal cardiovascular diseases among adults. In specific terms, children below five years of age lose around 20 million IQ points and the economic cost is estimated at $10,897 million or 3.6 percent of the country's GDP. Lead damages the brains of children below five, causing lifelong neurological, cognitive, and physical impairment. It also causes heart diseases and strokes in adults. Exposure to lead damages the foetuses of pregnant women. In Bangladesh, the sources are ubiquitous: used lead acid battery recycling, lead in paints, aluminium cookware, ceramic crockery, spices, toys, cosmetics, food, electronic waste, fertilisers, and cultured fish feed. Around 35.5 million children are affected.
Despite local and international studies with such frightening findings, there does not seem to be any comprehensive plan of action to address this silent killer that is practically everywhere. Has the government, for instance, made any effort to stop children from working in informal battery recycling plants and factories where they are directly exposed to lead and other toxins? Why are we still using lead paint to paint our walls? Why have we not devised safe waste disposal of batteries and electronics? Why is there lead in turmeric powder? The questions are endless.
It is a gross understatement to say that we are far behind in addressing such a debilitating health crisis that has huge implications for the nation's future. The study has recommended a 10-point plan to reduce lead pollution. This includes analysing the sources of lead, designing specific interventions, developing an efficient blood lead level surveillance, reviewing existing policies and enforcing laws and regulations, identifying and cleaning toxic sites as well as raising public awareness about the issue. It is mind-boggling that previous studies and expert recommendations have not had any impact in terms of provoking the government to take immediate steps to reduce lead pollution and exposure. Given that the situation has worsened markedly, it is high time that the government gives this issue the greatest priority and implements an action plan.