EVM neglect is EC's failure
Will the EC take any steps to address the crisis of confidence it's facing?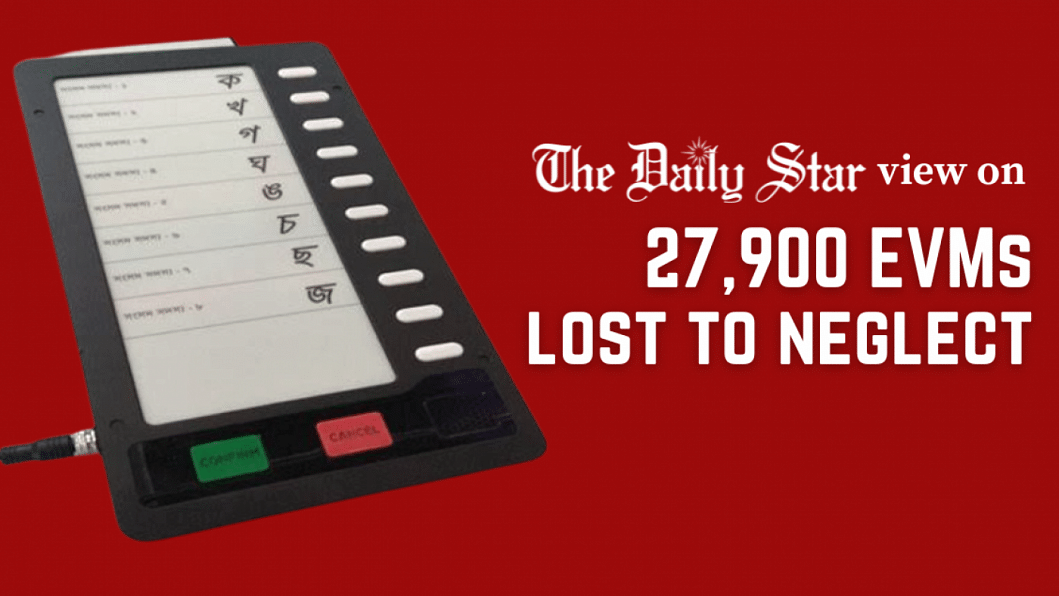 Last week, the Election Commission finalised a massive Tk 8,711 crore project for the procurement and management of 200,000 electronic voting machines (EVMs) to be used in 150 constituencies in the next general election, despite objections from major opposition parties and stakeholders. When this proposal was announced, we questioned why such a costly project was being undertaken at a time when our economy is struggling and the taka has been devalued to the extent that each USD costs 28 percent more compared to 2018, when EVMs were last bought by the country. Back in 2018, it was reported that Bangladesh bought EVMs at 11 times the price India paid, and that the EC has once again opted for these inflated prices, despite depleting currency reserves and the government's own recommendations of cutting down unnecessary costs of public projects.
Now, we are even more concerned to hear that at least 27,900 of these extremely expensive EVMs – part of the 150,000 EVMs bought by the EC in phases since 2018 for use in different elections – have become unusable due to a lack of proper storage and maintenance. According to the EC's own documents, this is Tk 642 crore of public funds that has potentially gone down the drain due to carelessness and neglect. Another 45,500 EVMs, stored in cardboard boxes at different places, could potentially be damaged and also run the risk of becoming unusable in the upcoming polls.
Despite objections, the EC has asked political parties and voters in Bangladesh to place their trust in EVMs. It seems like even the EC is aware that this decision is controversial, since in the roadmap that it published for the upcoming election, the commission identified and acknowledged that it was facing a crisis of confidence among the opposition parties. Despite this awareness, pleas for alternative solutions, such as implementing the Voter-Verified Paper Audit Trail (VVPAT) technology, have not only fallen on deaf ears, but the EC has even been accused of doctoring parties' stance on EVMs in the roadmap. Yet now, we are faced with more information that only exacerbates this crisis of confidence.
How can the EC expect voters to trust machines with broken monitors, torn cables, and damaged ballot unit buttons and finger-matching components? The EVM project director has argued that all the EVMs are repairable and come with service and parts warranties. While that may be the case, that does not explain why these machines were kept so carelessly, and why in the last few years, no proper storage facilities have been designated for them. Certain EC officials have blamed an absence of EVM storage guidelines for this. This can be added to the EC's many failures, since these guidelines already exist in India, and it would not have been difficult for our EC to create a similar one. While the EC may have acknowledged that they are facing a crisis of confidence, the neglect and disrepair of EVMs seem to demonstrate, once again, that they are not keen on taking steps to address it.