Automation in apparel: Boon or bane for Bangladesh?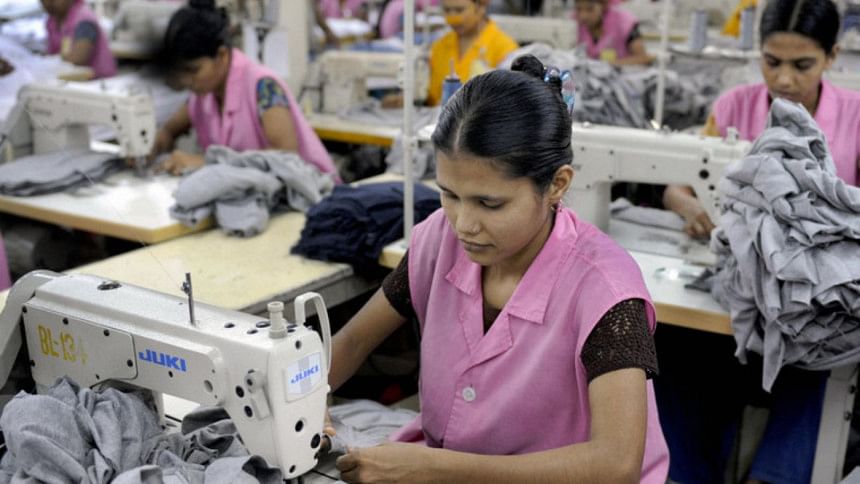 The World Bank President Jim Yong Kim said in a recent conference that about two thirds of jobs in the developing world may be lost due to automation. An ILO report on Textile and Clothing Sector in ASEAN states that the textile, clothing and footwear (TCF) sector is at the highest risk of losing jobs to automation. Let's examine the reality on the basis of a few snippets from latest news on this topic: 
Case 1: Raymond will be letting go of 10,000 workers in a bold move across its 16 manufacturing facilities in India. These workers will be replaced by robots in the next three years, according to news reports.
Case 2: Adidas in 2016 successfully tested a fully automated shoe factory, also known as "Speedfactory," using 3D technology and robotics in Germany. It plans to set up another automated plant in the United States this year. On the other hand, it is going to open its newest factory in 2018 in Arkansas which will be filled with fully autonomous robots and their human supervisors. With these new robotic production lines, Adidas will be able to manufacture 800,000 sports shirts per day, increasing production by 300 percent and with a very important reduction of its expenditure.
Case 3: Texprocess, a major trade fair for the international garment-manufacturing and textile processing industry, showcased a Digital Textile Micro Factory at its May 2017 show in Frankfurt, Germany. It was a live demonstration of an integrated production chain for apparel right from the design stage to digital printing to automated cutting to sewing. It provided a glimpse of what future factories would be like in a few years—more collaborative, flexible, customised, integrated, with zero waste and high-tech way of bringing the product live from design to the shop.
The abovementioned news pieces suggest that the threat from automation is real. Bangladesh cannot escape this threat as we service the same brands that will demand higher productivity, lower cost, lower carbon footprint, better working condition, quicker turnaround time, and flexibility. All of this seems to be possible through taking the automation route for manufacturing.
But at present, about 40 million people at different corners of the world are working in garment and textile manufacturing, to say nothing of the fact that many of those workers are also the sole earners in their families. Millions of these workers reside in "Global South," which includes many of the world's less developed countries and regions.
In Bangladesh, over four million workers in the garment industry are earning over 82 percent of the nation's overall export income. The main "product" of Bangladesh is the labour of the millions who take raw textiles and transform them into finished garments every day, and in fact, much of this labour is concentrated in the final phase of production before shipping known as "Cut and Sew"—the very process that Western innovation is working to automate. Bangladesh currently does not have the capacity to pivot over the four million people into a new industry, which itself may not create the necessary jobs for that kind of transition.
While there is some merit in the above viewpoint that automation and the resultant job loss rate may not match with the new job creation rate, this alone is not a sufficient condition to halt the progress or growth which the technological advances unleash.
For example, a few years ago, mobile penetration was quite low. But now the first thing that 90 percent of the people do when they wake up in the morning is to reach out for their smart phone! Such is the capability of technology to change our lives, and such is the speed at which we humans adapt to the new way of living.
Moreover, how long can Bangladesh sustain on the "low labour cost" advantage? And whose wellbeing is served by us being known as the "lowest labour cost" country? Why should we not aspire to raise the level of the price of our labour? Why should we not accept automation and offer higher value-added products and services which require higher skills and higher wages? Why should we not train the displaced workforce resulting from automation to take up jobs requiring higher skills? Why should we insist on dumbing down the precious human resource of our country by making them do "repetitive" tasks which a machine can do effortlessly and more productively? 
There is something inherently wrong with this "chase to the bottom" attitude by the brands and retailers sourcing products from the low labour-cost countries. It smacks of "opportunism" and "exploitation" and "mindless profiteering" which must stop. We as an industry should not strive to reach the point where the low labour cost cannot go any "lower." The industry should instead strive to elevate the current wage levels to even higher standards for a better, more sustainable return in the future. 
To expect better products and better services, higher productivity at a lower cost is not a bad thing at all, if it is aided by an overall advancement of the industry. All things considered, automation is not an enemy, but an ally in lifting an entire industry to the next level.
I want to end this piece with the interesting concept of "robot tax" to tackle the problem of job displacement by robots. Bill Gates, the world's richest person, suggested that a fiscal rethink may soon be necessary. If the latest wave of automation causes large numbers of job losses, the Microsoft Co-founder said, then taxing the robots and using the money to retrain the humans may be one way to deal with the upheaval ahead. That's something to think about.
I will leave it to my countrymen to decide whether automation is a boon or bane for Bangladesh.
Mostafiz Uddin is Managing Director of Denim Expert Limited, and Founder and CEO of Bangladesh Apparel Exchange (BAE).