Can Padmavati be a rallying point for press freedom?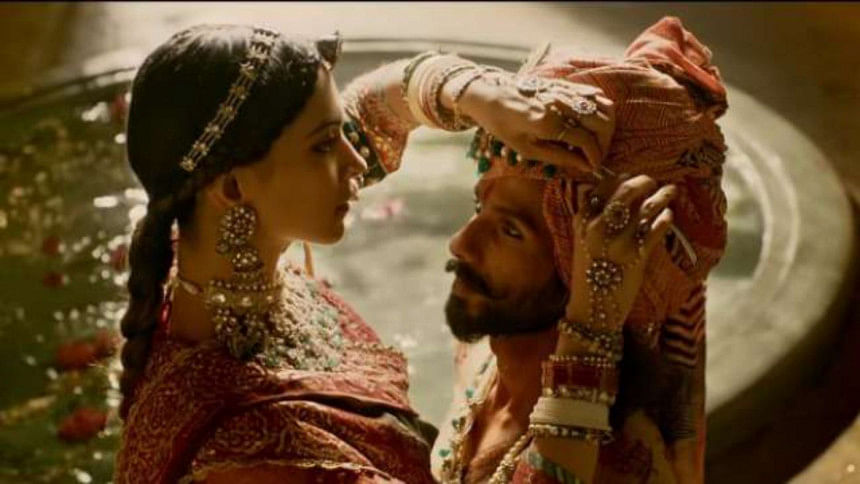 The press has been able to consolidate its freedom after several struggles. And today it is generally free from government pressure. There are still other forces which do not allow it to be completely free. Yet among all the democracies in the world, the Indian press is considered independent.
The electronic media is to a large extent at the mercy of estate owners who earn money through property dealings and spend it on maintaining a channel or two. This cannot be, however, said about the print media with certainty.
When it comes to films, the pressure of government is relentless and visible. Every film has to have censor's certificate. When freedom of expression has been guaranteed by the Constitution, it has been guaranteed for all modes and methods. The requisite of censor's certificate curbs freedom.
Why filmmakers have never made it an issue is beyond me. It is still not too late to do so. Sanjay Leela Bhansali's film can be the rallying point. Film director Bhansali, has preferred to face the consequences. He was attacked in Rajasthan where he was shooting the film. Yet he has stuck to guns.
The radical Hindus in Rajasthan, who have organised themselves into the krini brigade, have broken furniture and put it to fire in one of the cinema halls in a Rajasthan town. Most of the liberal voices are conspicuous by their silence. Bhansali must be feeling lonely. Whether the film Padmavati which he has directed is based on fiction or fact is not the point at issue. It is Bhansali's determination to screen it. He gets full marks for his resoluteness.
Not many film directors will emulate his example because of the huge money at stake. The financers will hesitate to invest. They are interested on returns not the principles which Bhansai has pursued caring little about the fallout. At present, a good film has become a victim of chauvinism.
The worst part is that the whole thing has been politicised. The ruling Bhartiya Janata Party (BJP) is backing the anti-Bhansali elements. For them, the film is an attack on Hindutva and must be stopped from screening. Bhansali has been described as a leader of anti-Hindu group. Nobody is there to explain why he becomes anti-Hindu because of his film and why he would be a proud Hindu if he gives up the effort to produce Padmavati.
It is surprising that the top leadership of BJP is remaining silent and not coming down hard on these people who are carrying out lawless activities by taking stern action against them. It should realise that all the gains of ease of doing business will get dissipated if this type of activity is allowed to go on. Investment in India which is what the government is desperately seeking will not place in light of these actions.
Many years ago, the famous film producer and director Gulzar faced a similar situation. His film Aandhi was drastically censored when it was screened. It gave, however, a message to the people who were against Prime Minister Indira Gandhi's autocratic rule.
Probably a third force, which is neither communal nor authoritarian, is the answer. It is not yet even on the horizon. Bihar Chief Minister Nitish Kumar is probably the answer to such questions raised. But if he were to leave Bihar, the space comes to be occupied by Laloo Prasad Yadav and his family, not a good choice.
For some reasons, successive governments at the centre have rejected the demand for a press or media commission. Since independence there have been only two commissions. One was soon after the independence and the other following the emergency in 1977. The recommendations of the latter were not even considered because by the time the report was ready Mrs Gandhi was back in power and refused to look at any step suggested during the post-emergency period. She had returned to power and dealt with her critics with a vengeance.
The most important aspect is the ownership of newspapers, television and radio by the same house or individuals. Even America has some kind of control over cross ownership. But there is no such bar in India where it is like putting up yet another factory.
True, the media has come a long way. Still current annual report of the Press Council of India is helplessly demanding the television channels to come under its purview. The rulers continue to turn a deaf ear to what is asked.
The Council says: "For quite some time an issue has arisen about the need for qualification for entry into the profession of journalism. Since the media is a fully developed field and has some influence on the lives of the people, the time has now come when some qualification should be prescribed by law."
I do not agree that there should be any remote control. I would have rather an undisciplined press in a democratic set up than a disciplined press in an orderly society. The polity runs by the elected representative may look like a rule by mob. It is any time preferable to a disciplined autocratic rule.
Kuldip Nayar is an eminent Indian columnist.