Reflections on March 1971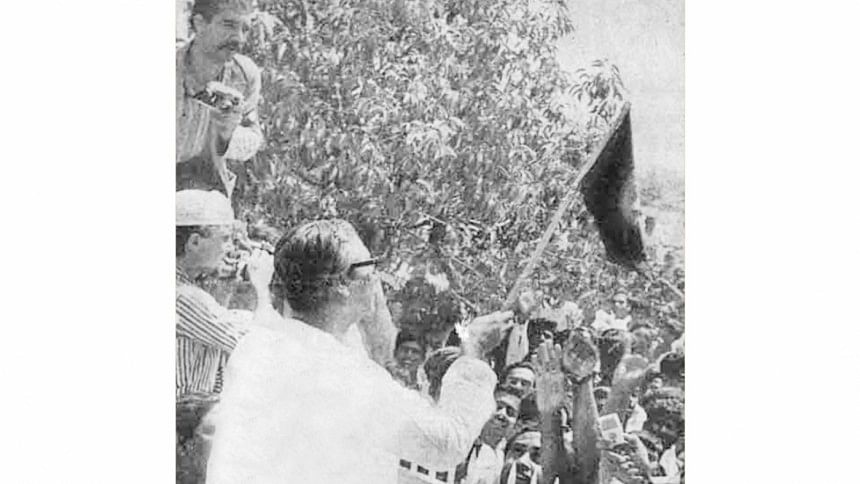 Usually, the first hudred days of parliamentary election
in any country should have been an occasion for celebration or may be a critical appreciation of morning showing the day for an elected government. But none of these held good for the December 7, 1970 historic general elections of the then Pakistan. For, it not only envisaged transition from Martial Law regime to democratic rule but also had before it the agenda of framing a new constitution under the shackles of a pompous Legal Framework Order (LFO).
Bangabandhu-led Awami League got 167 seats and Bhutto's Pakistan Peoples' Party (PPP) bagged 81 seats implying that the PPP numerically was not even half as representative of Pakistan as the Awami League was. But Bhutto demanded that power be transferred not to one  majority government but two, one in East Pakistan and another in West Pakistan.
The man who, after the Pak army's genocidal crack-down on the then East Pakistan on the night of March 25, unabashedly bragged – "Thank God, Pakistan was saved " -- had himself proposed a break-up of federal structure fancying two governments , one country.
Actually, the Punjab-dominated Pakistan establishment with Bhutto from Sindh as its new messiah couldn't countenance two prospects thrown up by the election results: Bangabandhu Sheikh Mujibur Rahman as prime minister of Pakistan and his virtually winning a referendum on the 6-point constitutional formula from East Pakistan.
The fire in the prairie was in the making in the then East Pakistan as politico-military intrigues at Larkana, Bhutto's home, crystallised – thanks to his lust for power finding a partner in an acquiescent military junta. The hand started being shown – Yahya Khan on March 1, declared the inaugural session of parliament scheduled for March 3, postponed sine die. People from all walks of life in the then East Pakistan came out of their workplaces, residences even spurning an international cricket match in the stadium, in a spontaneous avalanche of resentment and protest. They read in the Yahya move a sign of reluctance to hand over power to the AL leader. March 3 was observed as Mourning Day and on March 7, Bangabandhu gave his hugely momentous speech that was inspirational and directional at the same time. Bangabandhu gave four conditions for dialogue, major ones of which were withdrawal of Martial Law, return of army to the barracks and transfer of power to people's representatives keeping a semblance of constitutionalism while at the same time using the galvanizing slogan – the struggle now is for freedom, for independence.
In the charged atmosphere a newly choreographed Bangladesh flag was hoisted. Noncooperation continued in full swing as defiance of curfew went on and military atrocity ratcheted up.
In keeping with the temper and spiritedly the then Chief Justice of East Pakistan High Court B. A. Siddiqui refused to administer oath of office to Tikka Khan as Governor. It was mind-lifting.
Then from March 16 to 20, Yahya along with his military bureaucratic team engaged Bangabandhu and his aides – Tajuddin Ahmad, Nazrul Islam, Mushtaque Ahmed, Kamruzzaman, Monsur Ali and Barrister Kamal Hossain – in dialogues.
Under the pretence of talks, a military build-up had been in progress culminating in the genocide beginning with the March 25 crackdown on Dhaka University students and teachers and fanning out as a full-fledged genocide over unarmed people all over the country.
…………..
March 25 was shaping ominously with barricades being put up. Premonitions of an impending catastrophe looming large, I went out to meet some friends in political circles to fathom the gravity of the situation.
I found some of them overoptimistic about a last minute follow up on negotiations springing a magical solution. But many were clearly apprehensive of a crackdown without any clue as to its possible magnitude.
On returning home by noon, I told my mother and three siblings to pack off to a safer place because the house we were living in the then Second Capital was in close proximity of Martial Law outfits and non-Bengali location. My mother couldn't like the unsettling prospect of drifting from home but eventually she came around to my view. Thus we thought we had ducked into the safety of our in-law's house not far from Rajarbagh Police Lines, not for once imagining what a black night awaited us.
It so happened that the area we had left was barged into by nefarious elements on the fateful night with embarrassment caused but no damage done to the families.
Yet, we felt being near the jaws of death as policemen at Rajarbagh put up a valiant resistance against the military putsch. Some of them escaped through the narrow alleys as we were to hear heavy military boots smashing through the rubbish-strewn soft soil around our house.
Oppressive Martial Law regulations were announced as something of whiplashes landing on our sensibilities, so coarse and no brainer verbal atrocity that was from a tyrant.
For nearly two days we stayed put, glued to our radio sets and picked information about Bangabandhu Sheikh Mujibur Rahman and his associates, whatever little our antenna would catch. We were keen on facts about resistance building up here and there in the country. For this we had to rely on word of mouth circulating through courtesy of adventurous young men in the vicinity.
On March 27 when curfew was lifted for a few hours we were appalled at the scars of carnage, sensing full well that a genocide had begun and so was heralded a resolute freedom struggle, our finest hour chiming in on December 16 the same year.
The writer is Associate Editor, The Daily Star.