The ugly face of the Bangkok explosion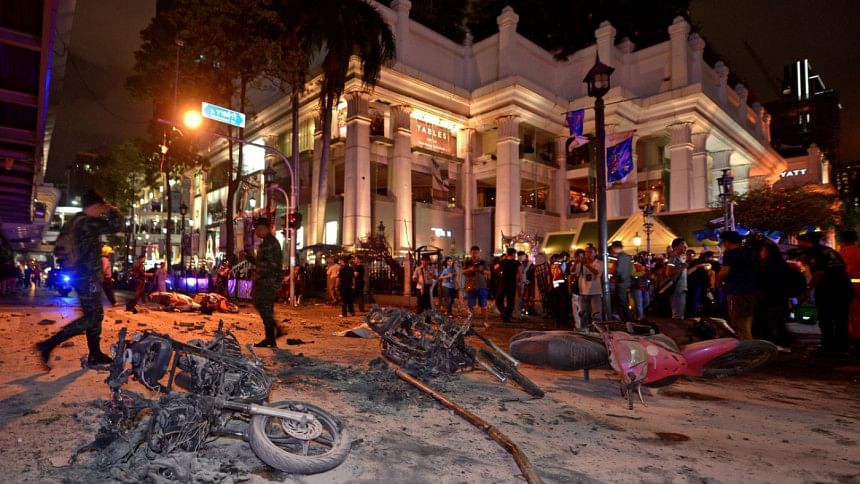 No country is now immune to domestic or internationally-linked terrorism. Terrorism broadly falls into various categories, such as ideological or class-struggle or cross-border terrorism. 
The Bangkok explosion on August 17 shocked everyone because of its intensity and extensive damage. At least 20 people died and many were injured in the attack on the Erawan shrine. In a separate attack on August 18, an explosive device was thrown at a pier in Bangkok. No one was hurt, but the authorities have not ruled out a link between the incidents. 
A massive hunt is underway for a man wearing a yellow T-shirt and black glasses, who was seen in security footage leaving a backpack on a bench at a Hindu shrine where a blast killed 22 people and wounded at least 120. Meanwhile, two foreign tourists were reportedly cleared by the police.
Immigration posts have been alerted to look for the slightly built suspect, who the police said may have been wearing a wig. They are also looking at interviewing motorcycle taxi drivers who brought the man to the shrine and later drove him back. They were working on the theory that he was not acting alone.
Observers say that the explosion is unlikely to be motivated by domestic politics; the scale of the damage is too great and too messy. If someone wanted to fulfill a domestic agenda, such carnage would be unnecessary. Thailand has seen incidents in the past where someone would throw a grenade, which injured a few people, to get their political message across, but that is where it generally ended.
The Erawan shrine is a popular tourist attraction, and if one really wanted to cause maximum impact, this would be the obvious target. Thai culture is Buddhist and values religious tolerance.  There is no aggressive Buddhist front in the country as found in Myanmar or Sri Lanka. Such a religious location is not the kind of target any Thai rebel would choose, which suggests to analysts that those behind the attack may not be Thai. 
Police released a sketch and video of their main suspect, who has been described as foreign and is believed to have been working as part of a network. The reward for the wanted man now stands at 3 million baht ($84,000). The shrine was reopened to the public on August 19.
In his weekly address to the nation, Prime Minister General Prayuth Chan-ocha said he would "expedite all investigations to bring perpetrators to justice".  He has said the incident was the "worst attack on Thailand" ever.  The attack aimed to "discredit the government and create a climate of fear to deter tourists," said the Thai police chief, Somyot Poompanmoung.
There have been many speculations on the origin of the bomb explosion. One unconfirmed report says that it could be an act of revenge for the deportation of Uighur Muslims from Thailand to China. Police sources said Uighur militants in Xinjiang province may be responsible for the blast, according to reports in the Bangkok Post and other Thai media.
Thailand sparked international condemnation in July when the country deported 109 Uighurs, a move human rights groups said violated international conventions. The deported Uighurs had arrived in Thailand in 2014, claiming to be Turkish and asking to be sent to Turkey.
Other Uighurs forcibly returned to China have faced arrest and criminal prosecution which the Chinese government said was justified in their fight against separatism, religious extremism and terrorism.  China has portrayed Uighur separatists as auxiliaries of al-Qaeda but has produced little evidence to support the claim, Human Rights Watch said.   
Uighur groups also protested as some men, who had been separated from their wives and children, were found in detention cells in Thailand or were earlier sent to Turkey. Thai officials have also cited intelligence from the country's Special Branch that there would be an attack on Chinese tourists in Thailand after August 11.Matthew Wheeler, an analyst for the International Crisis Group, said the bombing was a "new type of attack for Bangkok" that doesn't bear the marks of typical violence in the past decade from political instability or separatists.
"Police are not ruling out anything, including politics and the conflict of ethnic Uighurs who, before this, Thailand sent back to China," he said. Thai security forces have increased security nationwide, fearing further attacks.
The writer is a former Bangladesh Ambassador to the UN, Geneva.