Combating coronavirus: Bagerhat volunteers restoring faith in humanity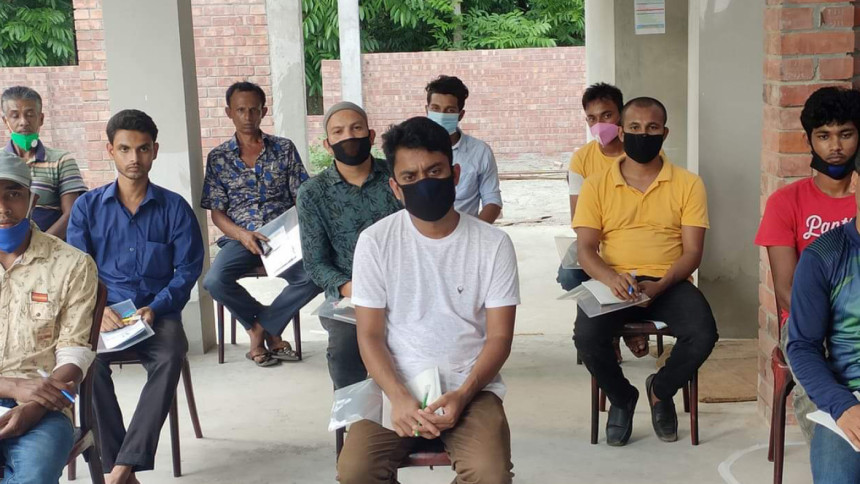 While some refuse to help their own family members out of fear of the coronavirus, others step up to take care of complete strangers.
United under the banner of 'Health Service Volunteers', around 100 people took an oath recently to give services to people infected with Covid-19, in Bagerhat Sadar and Kachua upazilas.
"The volunteers are committed to serving whatever situation comes ahead. They are dedicated to it," said Dr Mosharraf Hossain, the key organiser of the noble move in the district. 
Mosharraf, the general secretary of Bangladesh Medical Association in Bagerhat, said the Covid-19 situation in the district is still not as bad as other parts of the country, but they pre-emptively made the move to organise those willing to serve people amid the crisis.
He started with a call to action on his Facebook page for volunteers. Initially, the 100 people -- including medical college students, businessmen, political activists, and other general people from the district -- responded to his call.
They will not provide any treatment but will assist Covid-19 patients in their daily lives, Mosharraf said.
For example, the volunteers will manage vehicles so that Covid-19 patients in isolation can go to hospitals. They will cook food or arrange supplies whenever some or all members of a family are infected and need the support.
The volunteers will help people in buying medicine and other necessities if their buildings are placed under lockdown. Patients will bear the cost, but the volunteers will make all arrangements, the organiser said.  
The move in the district praised by many, especially after the case of a 50-year old mother who was left in a forest in Gazipur by her sons on April 13, as they suspected her to be a Covid-19 patient.
She was later rescued by local administration.
Some Covid-19 patients are reportedly being driven out from their residence and some were asked to leave by their landlords and neighbours.
Police warned of action against people partaking in these inhuman acts.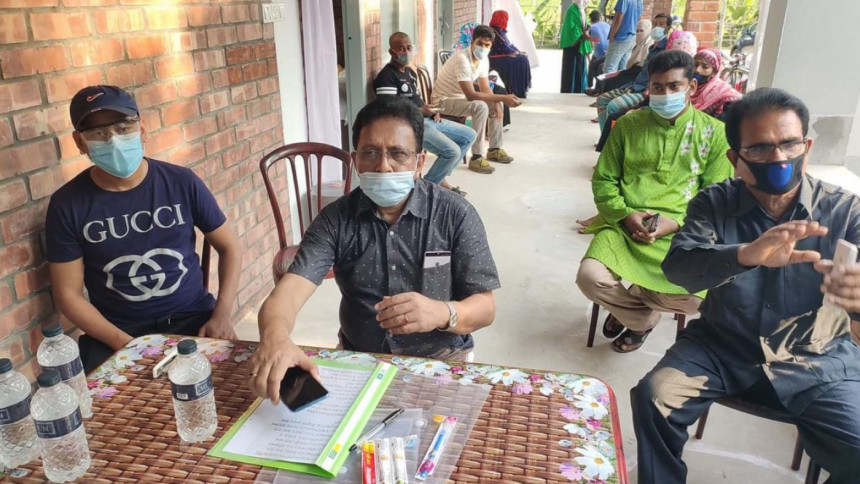 "I am saddened by the news of mistreatment of Covid-19 patients by their family members, neighbours, and house owners. So I decided to be a volunteer when I saw Dr Mosharraf's call on Facebook," said SK Nafiz Billah Moin, an engineer.
An employee of an electronics and industrial company in Barishal, Nafiz returned to his village home in Sadar Upazila after the government declared a countrywide closure in late March.
"It is a national crisis where youths like me should come forward. I will work as a volunteer as long as I can," Nafiz said. 
So far, one person tested positive in the district, according to the Civil Surgeon's office in Bagerhat.
"The volunteers have already started their work but we are preparing for the worst situation," Mosharraf said adding they had several meetings in this regard.
"If the number of patients increases like other countries, it will not be possible to treat them at hospitals. Of course, all patients do not need treatment as inpatients -- we will collect data of the positive patients from the local administration and the volunteers will go to their doors," he added.
With the assistance of local administration and public representatives including lawmakers, the volunteers will be provided with personal protective equipment (PPE) to keep them safe.
The process of giving identity cards to the volunteers is underway so that they can move freely while doing their jobs.
Firoz Sheikh, a final year student of Gazi Medical College in Khulna, was among the 100 volunteers. He arrived in his village after the college was declared shut.
"I am a medical student but remain free now. When there is a shortage of health care service providers amid the crisis, I cannot sit idle. I can help doctors and nurses in different capacities. So I joined the movement," he said.
Organisers said they will increase the numbers of the volunteers and start working in other upazilas soon.