Realising the true potential of remittances
Banks working to expand investment scope for expatriates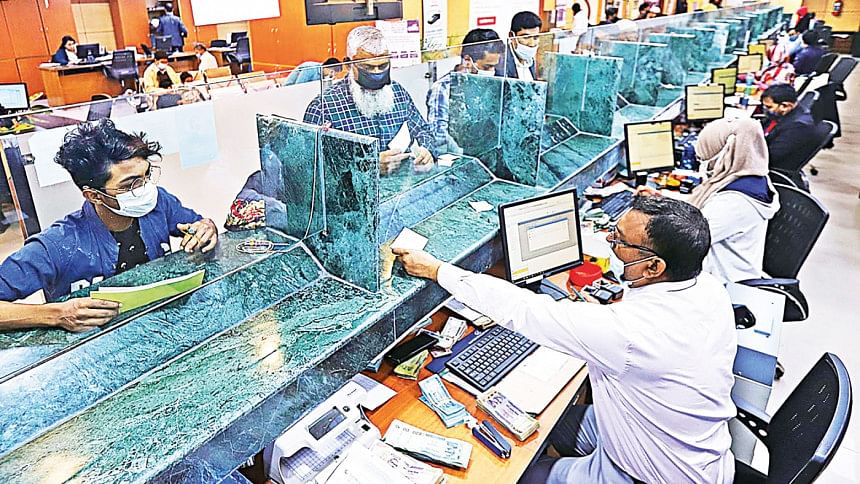 Engaging the country's vast number of migrant workers and non-resident Bangladeshis (NRBs) in the national development process could open up a new area of economic development.
Besides, the fast-growing economy offers lucrative investment opportunities for roughly 10 million Bangladeshis currently living abroad.
The country accumulated a staggering foreign exchange reserve of $52 billion in the past year, mostly due increased remittance amid the ongoing coronavirus pandemic.
And in order to ensure economic stability and continued growth in gross domestic product, proper utilisation of this remittance is of paramount importance.
As such, numerous banks and the government has stepped forward to ensure the productive use of remittance in this regard.
Lenders are also encouraging people to send money from abroad through official channels to ensure that each stakeholder of the transaction -- the government, receiving bank and sender -- are all equally benefitted.
As such, each bank has set up their own mechanisms with a blend of money transfer organisations, sub-agents and exchange houses, through which they can bring in the hard-earned money of migrant workers and NRBs as cheaply as possible.
Many banks in the country are conducting various promotional activities as well to bring more people into official money transfer channels in place of the unregulated "hundi" system.
The banks are also working to expand the scope for investment from NRBs.
For example, Bank Asia recently introduced a loan scheme for migrant workers, particularly those in Malaysia.
"Partnering with Merchant Trade, we've developed a loan scheme called 'Probash Bandhob' for Bangladeshi expatriates in Malaysia that could help them easily finance land and assets purchases, open new ventures or even pay their child's tuition fees in Bangladesh," said Md Arfan Ali, managing director of Bank Asia.
"We'll collect the monthly instalment from the partnering company," he added.  
Similarly, City Bank provides direct loans to remittance beneficiaries among its other services.
"We disbursed Tk 110 crore in loans to people who collectively received Tk 1,400 crore in remittance within the first year since the service was launched," said Mashrur Arefin, managing director of City Bank.
Meanwhile, NRBs can get additional income by directly sending funds from anywhere in the world to their own AB Bank account or beneficiary account with the lender.
"We offer 1 per cent more than the government's incentive on transferring remittance through official channels, ensuring an added income for NRBs," said Tarique Afzal, managing director of AB Bank.
"Our accounts are tailored for expatriate Bangladeshis to ensure their convenience. By using the direct internet banking solution, customers can monitor their account with real time updates from any part of the world," he added.
Likewise, NRB Bank is working to build a stronger network with a mix of exchange houses, money transfer agencies and sub-agents to increase the flow of remittance to the lender.
"We are basically working to gradually increase the flow of remittance through our bank," said Mamoon Mahmood Shah, managing director of NRB Bank.
The lender also recently introduced a home loan scheme for NRBs.
"If they want to purchase a flat from abroad, they can do it through their relatives by showing legal documents of their income," he added.
Standard Chartered Bangladesh set up dedicated departments, such as the Japan, China and India desks, to directly serve migrant workers and NRBs in those countries.
"We have a comprehensive Swadeshi Banking proposition, through which we deliver convenient banking services for NRB clients leveraging the strength of our global network and secure electronic platform while helping NRBs invest in Bangladesh," said Sabbir Ahmed, head of retail banking at Standard Chartered Bangladesh.
"As a part of this solution, we enable NRBs to invest in NRB bonds even when they are outside the country," he added.
To invest remittance in productive sectors, Islami Bank Bangladesh introduced an investment scheme for NRBs called the NRB Entrepreneur Investment Scheme.
"If any NRB wants to start a venture through their relatives or beneficiaries, we will support them," said Mohammed Monirul Moula, managing director of the bank.
Bangladesh recently brought changes to its investment protection and international agreements and removed barriers to simplify the investment process.
Based on the Foreign Private Investment (Promotion & Protection) Act 1980, Bangladesh formulated their policy framework for foreign investment in a way which guarantees non-discriminatory treatment between foreign and local investors, and repatriation of proceeds from sales of shares and profit.
In a bid to facilitate investment, the NRBs no longer need to check in with Bangladesh Bank before sending remittance to the local offices of their foreign firms and companies in Bangladesh.
NBRs can invest in all but four sectors in Bangladesh, namely arms, ammunition and other defence equipment; plantations and mechanised extraction within the bounds of reserved forests; producing nuclear energy; and security printing and mining.
"Most remittance from wage earners comes from Malaysia, Singapore, Saudi Arabia, the UAE, and Qatar while the major source of remittance from non-wage earners comes from Russia," said Golam Awlia, managing director of NRBC Bank.
The accrued remittance should be spent on imports and if any surplus remains, it can be used to develop education, infrastructure and the overall economy.
Some wage earners spend their remittance to build houses, purchase flats and other property while others use it to start their own ventures in the country.
"So, we help them if they approach us for loan," he added.