Venus prevails in brutal first-round battle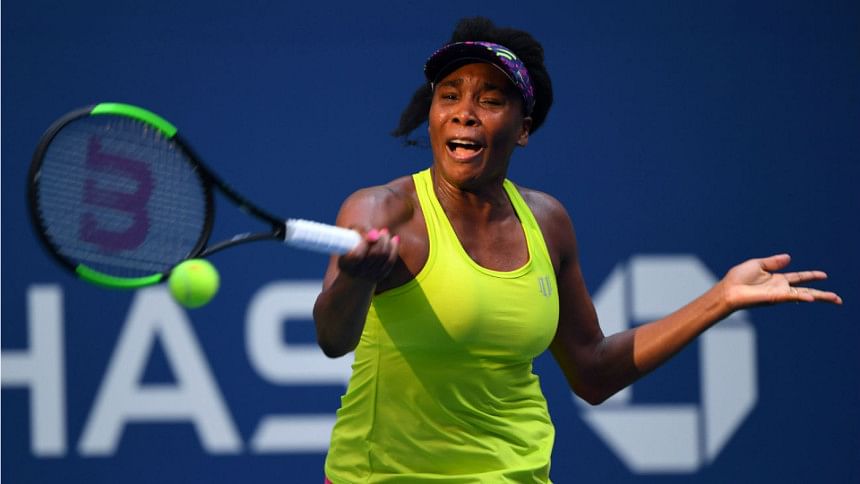 Two-times U.S. Open champion Venus Williams outlasted Svetlana Kuznetsova 6-3 5-7 6-3 in a marathon battle on a brutally hot day at Arthur Ashe Stadium on Monday to reach the U.S. Open second round.
The 16th-seeded Williams came out strong in the first set, firing winners and attacking the net to put pressure on the Russian, who won the tournament in 2004.
Williams looked like she would cruise to victory when she took a 5-2 lead in the second set but fatigue appeared to set in for the 38-year-old as temperatures soared to 93 degrees Fahrenheit (34°C) amid high humidity.
Kuznetsova battled back to take the second set and requested a 10-minute heat break before the decider.
But the recess appeared to boost Williams, who returned to the court in a fresh shirt, broke serve and raced out to a 3-0 lead. Kuznetsova battled back again but Williams managed to break the Washington Open champion for an eighth time in the match to end the nearly three-hour contest.
"It's not an easy match when you are playing a former U.S. Open champion in the first round," Williams said. "She played her best when I was up. So it wasn't easy to close that match out."
Williams, who has been hampered all season by a knee injury that has limited her court time this year, moved well throughout the match, which marked her 20th consecutive U.S. Open appearance.
"The conditions were tough and my preparations weren't ideal," Williams said. "But I got to hit a lot of balls out here today so hopefully that will help," she said with a laugh.
Next up for Williams is a second-round match against Italian Camila Giorgi.