How an unrestricted press could help assuage violence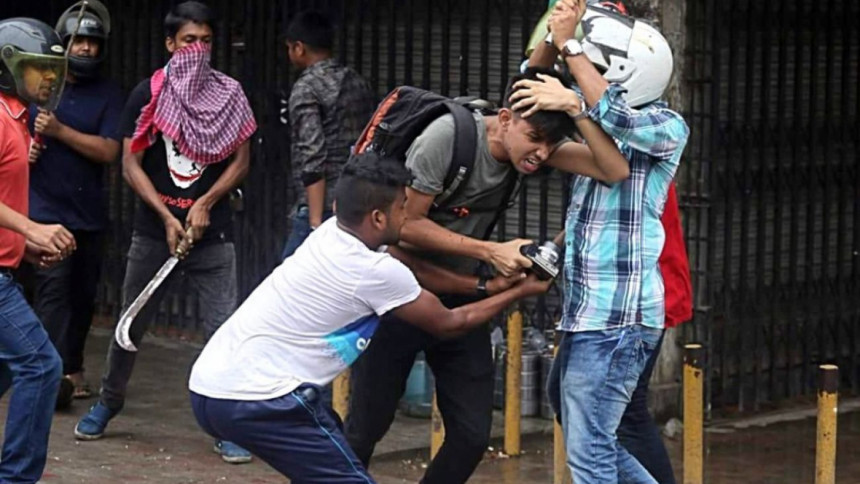 There's an increasing inclination, both globally and domestically, among those in power to impede the media. How such restriction could be counterproductive was apparent in the recent student protests for safer roads and the subsequent clashes. Over the period, those with press badges or cameras were obvious targets. In the process, unbridled rumours spread like wildfire, exacerbating the already turbulent situations.
Journalists do not make or create news. What they do is observe and report what they see or know. They are reporters of events. Then, why were they made targets if there was nothing to hide and the government, as it claimed, was above board?
It is only normal that in a time of turmoil rumours would be created either out of emotional pressure or deliberately. But the inability of journalists to report facts and verify claims was what gave rise to speculations and made things worse.
My own experience covering the incident was hardly pleasant. One of my female colleagues was molested and assaulted while documenting violence unleashed by those allegedly belonging to the ruling party. As we arrived at a clash-point, Jighatala, we were strictly advised by another colleague of mine to take off our press badges because they might invite more risks rather than protection. But we got into trouble, as suddenly police descended upon protesting students. I barely escaped because I saw it coming and took refuge inside a house, where the guard was generous enough to let many of us in.
We were keeping our heads down, lest we were seen. Through a small hole in the door, I saw how protesters and photographers were mercilessly beaten as the police watched silently.
Once everything calmed down, I thought it appropriate to get out of the house and meet my other colleagues. Then we were told that one of my colleagues, who had been with me at the front line of the crowd, was detained by police and taken into custody. The news was deeply disturbing. Then I met a journalist from Channel 24 who was badly beaten and his camera taken by the same group of activists during a live broadcast. There were others who suffered similar treatment.
When I opened the newspaper the next day, the feeling of sadness deepened even further as reports described how badly four of my colleagues were beaten by police and their plainclothes associates. The paper also published a photo showing injury marks on the colleague who had been with me. Knowing that I was inside a house, while he was being tortured, was depressing.
The next day saw more violence towards journalists. Half a dozen newsmen—especially those carrying cameras—including an Associated Press photographer were targeted mostly by those allegedly opposed to the movement. Also on the same day, while heading to another clash-point, Shahbag, we were stopped at the Science Laboratory intersection. A stick-wielding man screamed at us, "put your mobile phone back in your pocket or risk being beaten." We spoke to many witnesses and found a common consensus that a man with a mobile phone in his hand was the most obvious target.
None of these incidents contributed to assuaging the situation.
***
At the height of the protest, the prime minister rightly pointed out that rumours were rampant on social media. Many people were either inadvertently falling for these rumours or wilfully seeking to exploit them. Importantly, the antidote to rumours is precisely what the mainstream media is supposed to be. However, the fact that journalists were afraid of wearing their press badges, let alone actively do their duties, certainly did not help prevent the rumour mill from going into overdrive.
Over the last few days, one question that almost all journalists asked themselves was, "Could we have done a better job in reporting the events especially concerning the rumours that were being circulated at one stage?" Unfortunately, despite their willingness to do so, they couldn't fully debunk the rumours that were being circulated on various platforms, nor alleviate the concerns arising because of them, due to a number of restrictions.
If, for example, instead of the press being obstructed, newsmen were given full access to the specific places of occurrence, they could have removed the confusion. Indeed, a number of media organisations tried to debunk the allegations but due to lack of access they could not do so in time. Moreover, reports of journalists being beaten simply reinforced the notion that the press was intimidated and, hence, not to be believed. The fact that the media's operational freedom was curtailed simply created a void of information which was filled with speculation, misinformation and half-truths.
The press is an integral part of any democracy. One of its fundamental duties is to inform and educate the citizenry, preventing them from being misinformed. The recent movement and the subsequent violence served to underpin the fundamental fact that a free press is not just a matter of principle, but is also a matter of great necessity. A free press might annoy those in power at times, but it also helps them avert a disaster at times of upheavals, and by doing so, do a great service to the public.
---
Nazmul Ahasan is a member of the editorial team, The Daily Star.
---
Follow

The Daily Star Opinion

on Facebook for the latest opinions, commentaries and analyses by experts and professionals.
To contribute your article or letter to The Daily Star Opinion, see our

guidelines for submission

.
---