It's hard to find another person like Zafrullah
Speakers say, honouring him for his contribution to 1971 war, health sector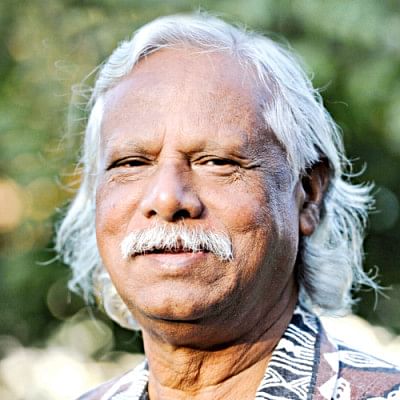 Gonoshasthaya Kendra founder Dr Zafrullah Chowdhury has been a key figure in Bangladesh's socio-political progress. As a patriotic citizen, he played vital roles during the country's crises, eminent citizens said yesterday.
They were addressing an event titled "Samakal-Channel 24 Gunijan Sammanana 2023" in which Zafrullah was felicitated for his contribution to the Liberation War, the health sector and the society.
Prof Emeritus Serajul Islam Choudhury of Dhaka University said it is hard to find another person like Zafrullah in contemporary society.
Zafrullah's contributions are unique, he added.
Zafrullah attended the ceremony at Times Media Bhaban and received a crest and a cheque of Tk 5 lakh.
Prof Serajul, who was the chief guest, said Zafrullah understood the needs of the people after the independence and established institutions like Gonoshasthaya Kendra and Gono Bishwabidyalay.
Eminent jurist Dr Kamal Hossain said whenever the country faced a crisis, Zafrullah rushed there, took risks and tried to overcome the challenge along with the people.
AK Azad, president of Newspaper Owners' Association of Bangladesh and managing director of Times Media Limited, praised Zafrullah's contribution to the country's progress.
Hossain Zillur Rahman, executive chairman of Power and Participation Research Centre, said Zafrullah wanted to build a just society, and reflection of his dream can be found in his work.
Tapan Chowdhury, managing director of Square Pharmaceuticals, said the people of Bangladesh will benefit from his works for years to come.
In his speech, Zafrullah said he wanted to be a banker when he was young, but his mother inspired him to be a doctor. "Now I can say my mother showed me the right way."
He then said ensuring the people's right to vote is imperative. The political parties should hold dialogues, and such events can take place publicly.
He also said the ruling party leaders must change their stance of criticising Nobel Laureate Prof Muhammad Yunus. It is also unjust that BNP Chairperson Khaleda Zia has not been granted bail.
Samakal Editor Mozammel Hossain said Zafrullah not only played a role in defining what should be a people-oriented healthcare system but also demonstrated it by creating instances.
Economists Debapriya Bhattacharya, Prof Mustafizur Rahman, Binayak Sen, local government and election expert Badiul Alam Majumdar, eminent jurist Shahdeen Malik, Chief Executive Officer of Channel 24 Tarun Chakrabarty, Prime Minister Sheikh Hasina's personal physician Prof ABM Abdullah, and politicians Kader Siddique and ASM Abdur Rob were among the speakers at the event.