Energy crisis: Govt strategy to blame, not war
Energy expert Badrul Imam tells Star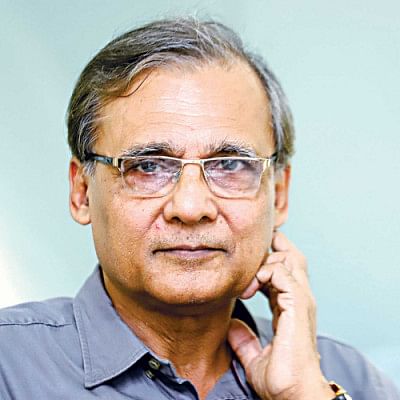 The current energy crisis in the country has more to do with the government's reluctance to explore natural gas than the ongoing Russia-Ukraine war, observes prominent energy expert Prof Badrul Imam.
"Over the last 20 years, Bangladesh drilled 26 exploratory wells, making it one of the least explored countries with high hydrocarbon potential," he said at an inhouse discussion at The Daily Star Centre in the capital on Saturday.
Badrul, former chairman of Dhaka University's geology department, noted that the Russia-Ukraine war just exposed Bangladesh's vulnerability in energy security, thanks to the country's growing reliance on costly LNG import instead of emphasis on gas exploration.
"Today's crisis has not hit us suddenly. It has been coming slowly but surely. We predicted that there would be a point in time when the crisis would arise," said the noted geologist.
He further said it's not possible for Bangladesh to attain energy security with this low rate of exploration.
"It's the result of the government's wrong planning and its decision to import liquified natural gas. The crisis was in the making and would have arisen any time ..."
When the government decided to import LNG in late 2018, the country's energy experts protested it as the LNG price fluctuates often in the international market, he mentioned.
"But the government didn't pay any heed to the experts' opinion though it was well aware of the fact that the LNG price fluctuates. The LNG now costs $40 per unit in the global market while locally produced natural gas costs $1-3."
Mentioning that Bangladesh, the biggest delta in the world, has huge unexplored gas resources, he said, "We find gas in one in three wells we drill while the global average is five.
"We have survey reports and we know that about two-thirds of the country's gas resources are yet to be explored."
Citing two studies conducted over a decade ago, Badrul said the first survey carried out jointly by the United States Geological Survey and state-run Petrobangla in 2001 showed that Bangladesh had potential reserves of 32 trillion cubic feet (TCF) gas.
In another study a year later, the Norwegian Petroleum Directorate, and Bangladesh's power, energy and mineral resources ministry put the potential gas reserves at 42 TCF.
"Our tendency is to look for things that we can find easily. We are not carrying out the second and third phases of exploration," said Badrul.
No comprehensive programme for offshore exploration had been taken up since the country won nearly four-fifths of over 25,000sqkm area in the Bay of Bengal, ending a three-decade-old dispute over maritime boundary with Myanmar in 2012 and with India in 2014, he noted.
"When both India and Myanmar have been exploring natural gas in their parts in the Bay, we are yet to conduct a survey," he said, adding that Myanmar has already started exporting gas from its offshore blocks in the Bay to China.
Petrobangla in 2015 floated a tender for conducting a "multi-client survey" -- a necessary step for inviting international oil companies to carry out exploration in the deep sea -- but the energy ministry scrapped it. 
A fresh tender was floated the following year. In both cases, a joint consortium of Norway's TGS and the USA's Schlumberger won the bid but they couldn't start work.
"We are yet to know its fate. It's puzzling," he said.
The multi-client survey would cost the government nothing as the company that conducts it sells the report to international oil companies and gives a portion of the proceeds to the country where the survey is carried out.
The government has taken initiatives as part of its austerity measures to save fuel and power amid soaring energy prices in the global market. But the shutdown of diesel-run power plants and one to two hours of countrywide load shedding are piecemeal measures, he said.
"These piecemeal decisions won't solve it [the crisis] and we have to get back to the basics. The government should draw up specific and effective plans.
"We have the key to solving this problem. We need to find the gas reserves that remains undiscovered and extract gas as soon as possible."
The main focus should be on energy generation from native sources, he said, adding that the country spends Tk 44,000 crore a year to import LNG which meets only 25 percent of the total demand for gas.
About the underused gas field in north Bhola, he said a pipeline is required to supply gas from there to the national grid. The government, however, has not taken any initiative to that end.
"The government can also set up a hub of power plants in Bhola to produce electricity that can be supplied to the national grid. But that has not happened yet."
He also voiced worries about the current stock of domestic gas and dependency on Bibiyana gas field, which accounts for around 50 percent of domestic gas supply.
"When Bibiyana stopped producing gas from its six wells due to technical glitches for a while before the Ramadan, households, industries and all other sectors dependent on gas felt the pinch … Gas production at Bibiyana will start declining after three to four years. What will happen then?" he asked.
The government should strengthen the state-run Bangladesh Petroleum Exploration and Production Company (Bapex), instead of prioritising foreign companies.
"I don't know why the government paid a hefty sum to Russian company Gazprom to develop the gas field in Bhola after Bapex had explored it."
A foreign company asks for Tk 180-Tk 200 crore to develop a well while Bapex needs only Tk 80-Tk 100 crore to do that, he said.
Badrul further said he became thrilled when Bapex early this year decided to conduct 55 exploratory drillings in the next five years.
"It meant 11 exploratory drillings would be done a year. If we could carry out at least three to four drillings, the whole scenario would change. But one fine morning, the whole thing was scrapped. I don't know why they cancelled it."