An address for everyone
PM hands houses over to beneficiaries of Ashrayan-2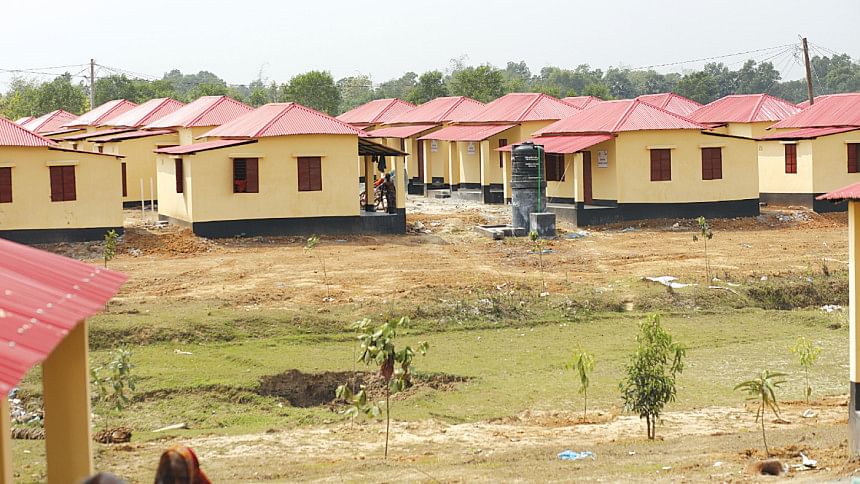 "Maa, by your grace I got a house…. I don't have any more worries. I don't have to beg anymore," Mohammad Hanif, a beneficiary of the Ashrayan-2 project, told Prime Minister Sheikh Hasina when she virtually handed houses over to the beneficiaries of the project in Gazipur's Nayapara on Wednesday.
Like Hanif, as many as 39,365 landless and homeless families were handed over a semi-pucca house and two decimals of land in the fourth phase of the project.
The premier also spoke with the beneficiaries of the Uttarpar housing project of Barishal's Banaripara upazila and the Nawagaon project in Sylhet's Gowainghat upazila.
"I will open a small shop and spend the rest of my life here," said Hanif, who could not hold back his tears of joy.
At the ceremony, Hasina declared that there will be no homeless or landless people in seven more districts of the country.
While addressing the event, the premier said, "The government is also providing employment opportunities for the marginalised people. Putting a smile on their face is a big achievement."
"Awami League is a pro-people party. This party stands by the people and works for them. Our only goal is that no one will remain without an address in Bangabandhu's country. We want everyone in the country to have houses," she said.
During a visit to the Nayapara project site, this correspondent talked to the beneficiaries, who expressed their gratitude to the premier.
A total of 142 families have been accommodated in the Nayapara site, built on eight acres of government khas land. The house allotted to each family has a kitchen, toilet and a place for raising poultry and growing vegetables in the yard.
A mosque, primary school and community centre are also being constructed at the Nayapara site. The supply of clean drinking water and solar power has also been arranged.
The beneficiaries of the project, who were either living under the open sky or on others' land, did not have to spend a single penny for the utilities that came with the house.
"I couldn't even afford to lay a single brick. Now, I have a house," 76-year-old Mohammad Ali told this correspondent.
60-year-old Jamila Khatun said, " I used to stay in others' kitchens or cowsheds. No chairman or members gave us anything. Only Sheikh Hasina stood by us."
A total of 1,817 houses have been constructed in five upazilas of Gazipur in three phases, Deputy Commissioner of Gazipur Anisur Rahman told reporters during a visit to the site.
Earlier on January 23, 2021, the government provided 63,999 houses in the first phase, and 53,330 houses on June 20, 2021, in the second phase under the Ashrayan-2 project. In the first stage of the third phase, 32,904 houses were handed over on April 26 last year, while 26,229 more were handed over in the second stage on July 21.