Shringla-Momen Meet: Dhaka, Delhi talk new areas of cooperation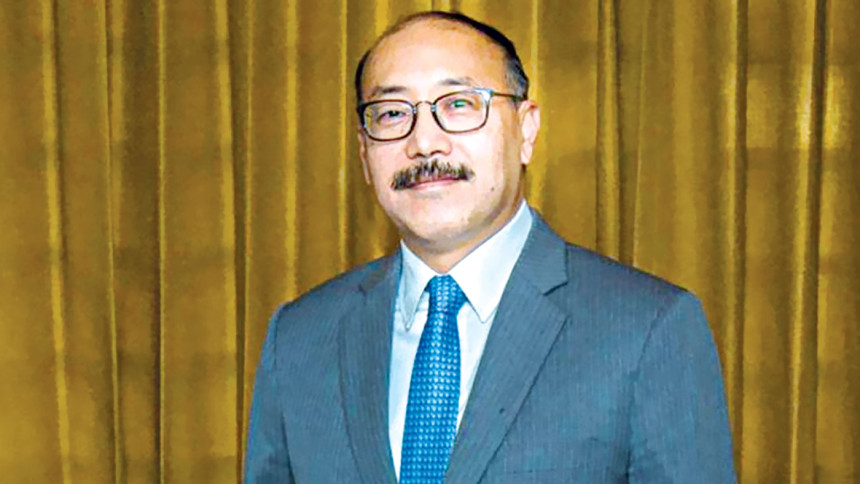 Dhaka and New Delhi yesterday discussed new areas for cooperation, including eco-friendly transport systems, especially rail and river-ways, green energy and technology that engage the young adults more.
Officials said these following meetings with Indian Foreign Secretary Harsh Vardhan Shringla yesterday, a day after the two countries celebrated the 50 years of diplomatic relationship.
Shringla's two-day visit, which comes ahead of Indian President Ram Nath Kovind's visit to Bangladesh on December 15-17 when he will join the 50th Victory Day celebrations of Bangladesh, is primarily meant to prepare the groundwork for the president's visit.
"On December 6 in 1971, India, the biggest democratic country recognised us that filled our hearts. This year we celebrated the Friendship Day. Also, Indian prime minister joined the celebrations of our golden jubilee in March and Indian president is coming to join the celebrations of 50th Victory Day," Foreign Minster AK Abdul Momen told reporters after Shringla called on him at the foreign ministry.
"This is a golden chapter of our relationship. They said they did not want anything that can hamper our relationship," he said, adding that Shringla assured them of being careful in making the borders peaceful.
Asked about the Teesta water-sharing deal that was shelved in 2011 despite finalising the draft, he said, "We will settle all the issues. We have already told them to speed it up."
The foreign minister also raised the issue of border killing. "They gave us a formula to check unwanted incidents at the frontier," he added. 
After a meeting with Foreign Secretary Masud Bin Momen at Foreign Service Academy, Shringla said they discussed a whole range of issues and found no major differences.
"There are only areas that we can take forward. We will be focusing on promoting eco-friendly ways of communications, including rail and river, renewable energy, environmental opportunities and digital cooperation," he said.
The connectivity projects are going on very well. Now there are five of the six rail connections restored and the sixth one will be completed next year. A new one -- Akhaura-Agartala railway -- will be completed next year, while Chilahati-Haldibari route will be opened soon, he said.
Shringla, who arrived yesterday morning, said people of both India and Bangladesh sacrificed their lives, their blood for the independence of Bangladesh -- something that is very rare.
"We are proud to be part of your celebration and independence. We are also proud of Bangladesh's remarkable success and its journey towards the middle-income country soon," he said.
"As a development partner, we will be holding more conversations on how to go forward," he said.
He said he would call on Prime Minister Sheikh Hasina today and look forward to a high-level relationship and summit in December.
Foreign Secretary Masud said they had a very fruitful discussion on connectivity, green energy, green technology, e-commerce and ways of how both the countries can go forward.
"We also discussed on how we can make our border peaceful, boost trade and Covid cooperation," he said.
Shringla also called on Road Transport and Bridges Minster Obaidul Quader.
During his call on Hasina, Shringla may extend the invitation to the India's Republic Day on January 26 next year.