Akij Group to branch out into new avenues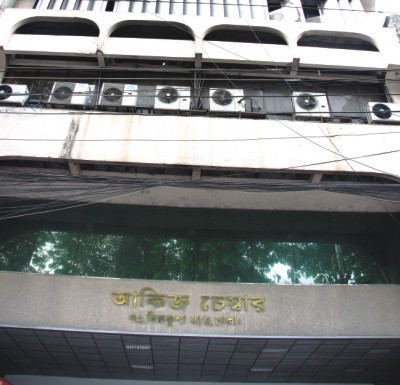 Business expansion defines Akij Group's strong presence as a large Bangladeshi conglomerate, a move that runs counter to jitters from global recession.
Starting its journey in a humble way with bidi (traditional cigarette) and jute trading in the 1940s, the group presently boasts of having around 20 entities from tobacco to textile and particle.
Besides expansion, it has now plans to venture into some new businesses such as ceramics, renewable energy and fibreboard.
"We have already finalised selection of machineries and product lines for a tiles project," said a senior official of Akij Ceramics Ltd.
Located near Valuka in Mymensingh district, the project will cost around Tk 170 crore.
Renewable energy is another front the group is going to focus.
"You can give credit to us as we are the first group in the country who will go for green energy. The setting up of a 12 megawatt bio-mass energy plant is now under process ," said Sk BashirUddin, managing director of Akij Group.
The capacity of Akij Cement will also be enhanced by almost six times from 600 tonnes to 3,500 tonnes next month, an official said.
Akij Match, the group's another concern which went into production just four years back, has now 60-65 percent market share of the total domestic demand. Beverages have also strong share in the market.
It is a talk everywhere in Bangladesh's corporate circle that Akij is a group that can make anything marketable.
"We want to add more value in life by becoming a trusted and respected brand in Bangladesh," said Sk Bashir, who took over the helm after the death of his father Sk Akijuddin, the founder of the largest conglomerate in terms of being the highest taxpayer.
Around Tk 2,000 crore tax was paid by the group in 2008, an amount that has been claimed to be the highest-ever by a group of companies in the country.
"We feel proud that a home-grown company pays around four percent of the country's total taxes," said the boss of Akij Group. It had over Tk 4,000 crore business turnover last year and employs nearly 50,000 employees.
On expansion, BashirUddin said, "We do expand to smoothen the supply of different products we sometimes need internally. "
He said the group means business and it will continue to do so.