If they make a move we will hit them in the head
Warns Iran's Guards as Rouhani warns of greater hardship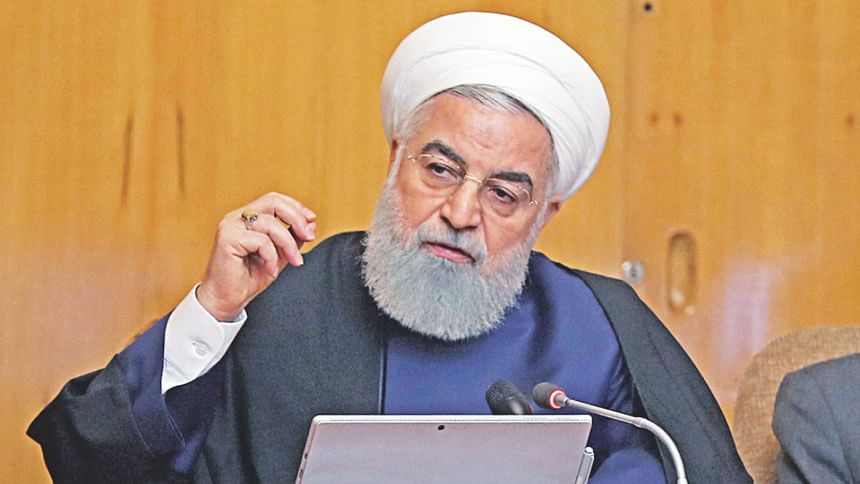 The United States' military presence in the Gulf used to be a serious threat but now it is an opportunity, a senior commander of Iran's Revolutionary Guards said yesterday, as President Hassan Rouhani warned of greater hardship following biting US sanctions. 
The US military has sent forces, including an aircraft carrier, Patriot missile system and B-52 bombers, to the Middle East to counter what US officials have said are "clear indications" of threats from Iran to its forces there.
"An aircraft carrier that has at least 40 to 50 planes on it and 6,000 forces gathered within it was a serious threat for us in the past but now...the threats have switched to opportunities," Amirali Hajizadeh, head of the Guards' aerospace division said.
He added, "If (the Americans) make a move we will hit them in the head."
The commander of the Guards, Major General Hossein Salami, said in a parliament session yesterday that the United States has started a psychological war in the region, according to a parliamentary spokesman.
On Saturday, Rouhani called for unity among Iran's political factions to overcome conditions which he said may be harder than those during the 1980s war with Iraq, state media reported, as the country faces tightening US sanctions.
"Today, it cannot be said whether conditions are better or worse than the (1980-88) war period, but during the war we did not have a problem with our banks, oil sales or imports and exports, and there were only sanctions on arms purchases," Rouhani said, according to the state news agency IRNA.
"The pressures by enemies is a war unprecedented in the history of our Islamic revolution... but I do not despair and have great hope for the future and believe that we can move past these difficult conditions provided that we are united," Rouhani told activists from various factions.
Meanwhile, Israeli Energy Minister Yuval Steinitz yesterday warned of possible direct or proxy Iranian attacks on Israel should the stand-off between Tehran and Washington escalate.