On Writing in a Second Language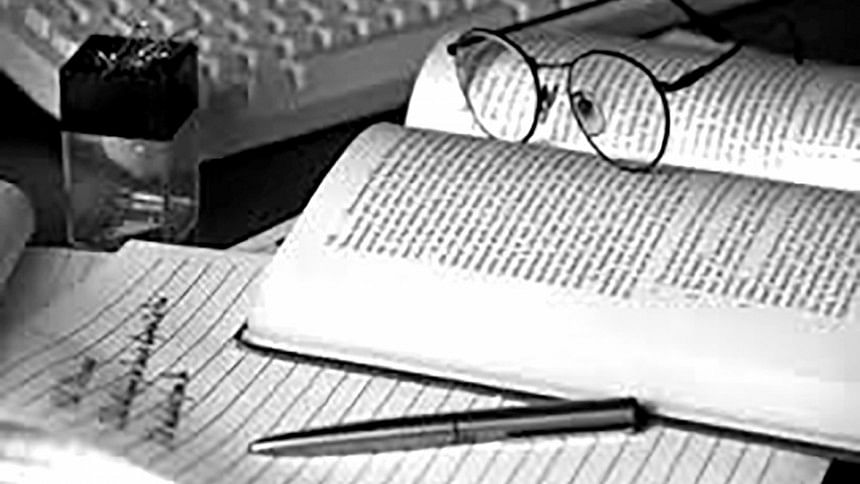 Writing entices me. But every time I get down to writing something, I feel like a bumbling idiot. Nothing emerges. Ideas evaporate. Thoughts tangle. Language languishes. My frustration mounts. I quaff caffeine. It doesn't improve the quality or quantity of my writing. I'm me, a writing zombie. Sometimes I wonder about the causes of my inability to write fluently and gracefully. The culprits abound. While I discount many of these culprits, never do I stop regretting my decision to write in a second language, English. As an aspiring writer, I am an amalgam of two worlds: Bangla and English, both heterodox and both complex. Whenever I immerse myself in one of these languages, the other always stalks me. My writing emerges from two different worlds. And these two worlds never seem to mesh. I can't abandon Bangla altogether. Neither can I own English the way I'd like to. A writing professional would disregard such an account, because there's such an entity as a native speaker, but there's no such entity as a native writer. Every writer, then, is a second language writer. There's nothing gnawing in writing in a second language.
Why did it gnaw Edward Said, then? Said reached the U.S. in 1951 from Palestine to study at a boarding school in Massachusetts when he was about 15 years old. In the Middle East, he had attended schools run by the British. He claims in his memoir Out of Place that he was so deeply immersed in both English and Arabic that he never knew what his first language was. As Said continued to live, study, and work in the U.S., though, his Arabic atrophied. He didn't undertake any serious work in Arabic besides contributing an occasional column to an Egyptian daily, the Al-Ahram. He wrote only in English with the elegance of an influential intellectual that he was. Despite that, he claims in his memoir that he almost but never wrote with a native-like fluency in English. In his essay "No Reconciliation Allowed," Said further claims that every sentence that he speaks in English has to echo first in Arabic. Said is not the only scholar whose writing in English seems to come through a process of translation. Eva Hoffman in her memoir Lost in Translation claims that she lost her "interior language" at the age of 13, when her family migrated from Poland to Canada. She felt linguistically dispossessed and speculated that one's inner-most thoughts can't be expressed with a language learned subsequently. The version of me that my writing in English represents is perhaps an artificial one. The more I strive to be natural in English, the more I distance myself from Bangla. I lose something familiar, essential.
That is exactly what Vladimir Nabokov felt when he shifted from Russian to English. He claims in his interview in the "Paris Review" that he lost a "domestic diction" when he started to write in English in 1940. Yet his Lolita, some critics arguably claim, is one of the classic novels in the annals of literature written in the English language. Nabokov was a craftsman and a scholar when it comes to literature and literary criticism in the English language; nonetheless, he believed that his English was a "stiffish, artificial thing." Nabokov as a writer was more ironic than humble. He may not have meant what he said. Discounting Nabokov's view, however, warrants some caution. Another sophisticated voice in English literature and criticism, T.S. Eliot, echoes Nabokov's sentiment in his "Paris Review" interview. Eliot wrote some poems in French, but he stopped his poetic ventures in French as an epiphany occurred to him: "there's no such thing as a bilingual poet." Of course, there were–and are–bilingual poets. Does poetry–and writing, in general–emerge from the same stream of consciousness both for a bilingual and a monolingual poet or writer? Because some bilingual writers in the English language (Nabokov, for example) grieve for the loss of a "natural vocabulary" and grapple with the "poverty of syntax" while writing in a second language, a second language writer is perhaps unlike a first language writer. Writing scholars will argue that such a binary opposition between a first and a second language writer misrepresents the process of writing, but some writers continue to reinforce the existential difference between a first and a second language writer.
Jhumpa Lahiri, for example, presents a peculiar case of second language writing. She never had a second language, per se. She was born in the U.K. in 1968. When she was two years old, her family migrated to the U.S. In her essay "My Two Lives" in Newsweek in 2006, she claims that she speaks English without an accent. She won the Pulitzer Prize for Fiction in 2000. But by virtue of her birth to Bengali parents from Kolkata, India, Bangla is her home language. In that essay, Lahiri dramatizes the tension of a Bengali speaker writing in English. She seems riven between Bangla and English. While I enjoyed reading that essay, I was tempted to think that she just pussyfooted with words to satisfy her writerly impulse. I found her more maudlin than authentic in that essay. Because of my interest in second language writing, I was following her career curve with some curiosity. From her essay, "My Life's Sentences" in the New York Times in 2012, I discovered her infatuation with Italian. And the consequence was puzzling. Since 2011, she migrated to Rome, Italy, and started to write only in Italian. In her essay, "Teach Yourself Italian," translated from Italian into English in the New Yorker in 2015, she blamed the English language for her flight from it. She asserted that she was tired of English, that it was a burdensome aspect of her past that represented a consuming struggle and a continuous sense of failure. Very few second language writers have failed so successfully as Lahiri. For most second language writers, failure and struggle are no metaphors. These words literally mean what they stand for.
I have had both a personal and an academic investment in English for a prolonged phase of my life. I still can't deal with the wrenching frustration of not knowing the language completely and precisely. I continue to learn it, but I have failed to internalize it. I am perennially perched on the mechanics of the language. The syntax in the English language is tortuous and unyielding; its lexis is layered and abundant; and its punctuations are arbitrary. These quirks of the English language short-circuit the flow of my thinking to limit severely my freedom in expressing and explaining my feelings and experiences in an engaging fashion such as one of my favorite writers, Oliver Sacks, does. Never am I persuaded to think that Sacks is a gifted writer, for I know for sure that a gifted writer is a myth. Seldom do I doubt, though, that Sacks is a natural writer. I am not. There's nothing natural in becoming a writer in one's second language. It's all habitual. Developing the habit of writing in a second language is consequential because it brings a writer down to a "zero-point" of her existence, when she ends up becoming a "compulsive grammarian." That's what Costica Bradatan claims in his essay, "Born Again in a Second Language" in the New York Times in 2013. I won't argue against Bradatan.
Writers like Salman Rushdie, Bharati Mukherjee, and Charles Simic would. Rushdie claims in Imaginary Homelands that if one continues to identify himself with one language or culture, he is the victim of a "ghetto mentality." A writer needs an "internal exile" from what he is fond of and familiar with, even though that leads him to write in a second language. That's a creative goad, not a crippling limitation. Bharati Mukherjee seems immune to the conflict of writing in a second language. She claims in her essay "Imagining Homelands" that she is an integrationist and that being a Bengali writing in English is not conflicting in any way. Charles Simic migrated to the U.S.as a refugee from former Yugoslavia in 1954, when he was 16 years old. He was already deeply conditioned by the Yugoslavian culture and language. He started to explore and absorb the U.S. culture with the zeal of a romantic so as not to pine for his ur-language and culture. For him, migration was akin to a re-birth, as he claims in his essay, "Refugees," "every cliché about getting a second chance and reinventing oneself turned out to be true" for him in the U.S. He has been an accomplished poet in the English language, who won the Pulitzer Prize for Poetry in 1990. For all these writers–and many others–language is a flexible option of communication. It's not an indelible genetic imprint.
The status of a second language writer is more psychological than practical. There's a grain of irony in the words of Said, Hoffman, and Lahiri. They all are exemplary writers in English, but they bemoaned –perhaps fetishized – their status of second language writers. Writing perhaps is a translingual skill and is compounded with factors other than language. Reducing writing to first or second language is akin to reducing a complex intellectual phenomenon to two warring camps. Neither of the camps has converted me. I have opted to write in English because of its redeeming potential to creating and expanding a new world. With Bangla, I don't have to do that. I have long lived in that world, and I am very comfortable there.     
Mohammad Shamsuzzaman is an Assistant Professor, Department of English and Modern Languages, North South University, Bangladesh.