From Kazi Nazrul Islam's The Autobiography of a Vagabond
Prelude In 1917 when Kazi Nazrul Islam joined the British army, he was sent to the barracks in Karachi. There he met another fellow soldier who narrated this story to the poet. This is his first published work.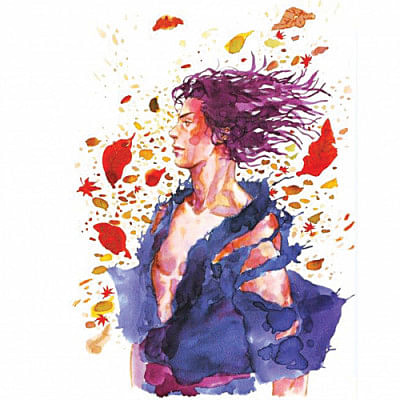 Dear friend, are you sure you want to listen to this? I am a person with a harsh exterior and a soft heart. When you insist that I have to tell you my story, I feel very emotional and stressed out.
I don't remember much about my childhood. I was miserable in my studies but excelled in sports like playing marbles. I was spoilt like the young Lord Krishna and was Alexander the Great to my friends.
Bankim Chandra wrote a very interesting poem on Sri Radha. She was angry at Ram, and Ram was reading this to appease her. I had memorized this poem and was once loudly reciting it to my friends at my pathshala. I never had a chance to know if Radha was actually convinced by this poem. My Pundit arrived and grabbed me from behind like a snake. He was so enraged that he took me by my ear and struck my head to the wall. Insinuating at my forefathers he showered me with profanities. My anger took the best of me. I landed a 250 pounds of assault on him and sped home. Fearful of my father's wrath, I ran to the storeroom and hid among the kegs of rice. From my hideout I could clearly hear the Pundit speaking to my father. He accused me of having no merit in my studies and that I had uttered foul things about his wife. He further cursed that I would surely grow leprosy and he would say special prayers so that I go to hell.
I later learned that Radha was the name of the Pundit's wife and he thought I was ridiculing her. My father banished me from my village to Burdwan where I was admitted to an English medium school known as the New School.
In the beginning, I felt like a fish out of water. I was fresh from the village and the young men in my school treated me like a rat. Soon, however, I got used to their fancy ways and actually became their leader. The same boys were now afraid of me as they got a taste of my strength. In a few months, I became a master, not necessarily of my studies, but of all other devious ways.
My father was not a rich man but he sent monthly allowances at regular intervals. He was not aware of my wicked habits. I gave him no reason to suspect as I passed my school finals every year. My teachers, among whom was the head master too, were very curious to learn how I managed to pass. I managed this by cheating and bribing and reached my `third class.'
My mother always found excuses for my pranks and showered me with love. Upon her insistence I even got married. I was in the `third class' but my excuses bore no value. Of course, I also liked the young lady. She was about twelve years old when I was nineteen.
In general, newly married women are supposed to be shy. They are not to open their eyes, and neither did she. She occasionally took furtive glances at things and closed her eyes again. She was afraid of being rebuked. If she spotted me, she would turn into a tortoise. She wrapped herself in layers of dress material and it was impossible for me to understand if the bundle was a human being. If I looked the other way, she would sneak a peek at me from under the veil of her Benarasi sari. If I looked at her, she would close her eyes and pretend to be very serious. I would come out of the room and narrate this story to everyone. My mother would say, "Are you going to remain a child forever?" My sisters would not spare my wife. They would embarrass her with awkward questions. I was very amused by all these. Soon I realized that this young woman Rabeya had begun to fall in love with me. She was afraid to come near me, but she kept on eying me from the other side of the wooden door. Aware of her presence I sang:
She evokes sympathy with her beautiful eyes Wonder what she wants to say, wonder why she shies away?
Through my playfulness I proclaimed my love for her. Then it was time for my final exams and my father wanted me to go back to Burdwan. Before leaving, I held her hands and said, "O my dearest, please forgive my pranks. Do remember me when I'm gone." She did not say anything, but her tears spoke for her. After I let go of her hands, she ran to the bed and threw herself down. She hid her face and started crying. I controlled my emotions and went back to school. I did not know then that it was my first and last kiss on her.
I never met her again. Two months later, I got the news that she had passed away in her paternal home. I returned to Burdwan with a broken heart which was never mended.
As time passes pain also lessens. I was promoted to the `first class' and my school closed down. I went to seek admission in Raniganj, hoping that the change would add to my healing.
You will be surprised to learn that I got married again. I did not plan on marriage but surrendered to my mother's will again. In this young woman, I may have been looking for my Rabeya. However, God did not will it that way. Sakina was quite talented and good-looking but I did not feel attracted to her. I tried hard, but could not love her. The fault was mine. I felt guilty and went back to Raniganj to take the final exam. I failed.
My father was informed of this failure. He sent me a long letter saying that I was a worthless fellow and wasting so much money on me was a huge shame. I turned into a vagabond. Many people suggested that I should seek mental counseling. I did not care about them. My hostel manager threw me out and I returned to Burdwan. I joined my former group of rowdy students. My father decided to disown me. Then I got the news that Sakina had passed away. She was still crying for me when she died. She carried an old photograph of mine. Six months later, my mother passed away too. I started drinking to my heart's content. Then I joined the army and here I am, looking to refill my glass. May I have another, please?
Nashid Kamal is an Academic,
Nazrul exponent and Nazrul translator.