To my dearest Ninan,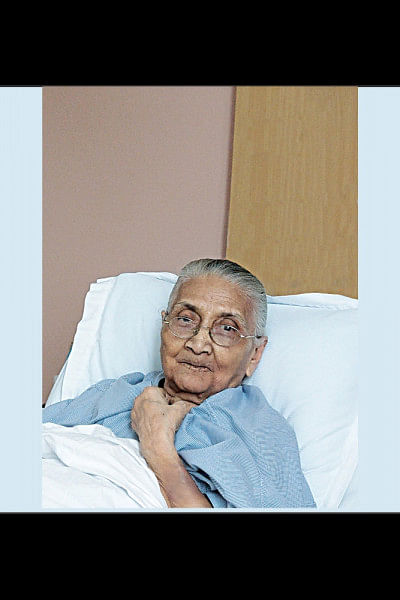 I remember the days when TGIF was TGIT (thank God it's Thursday), because every Thursday for me was a signal to pack my bags and head over to Shantinagar. I remember your old house only too well. I remember taking long bubble baths with Arani Apu and Aritra Bhaiya and you banging on the door to get us out; I remember you feeding the three of us with your own hands after you aggressively, but successfully, dragged us out of the shower; I remember us fighting over who gets to sleep on either sides of you on the bed at night. Usually I won, perks of being your only daughter's daughter and the youngest I suppose. 
Do you remember the times you forcefully cleaned my ears with olive oil and kept whatever came out of it to show Mamma? I won't lie I used to hate them (probably the single most uncomfortable thing in the world), but I did like it when you used 'paan' every other Saturday to remove any 'nojor' (evil eye) that supposedly always caught me.
 I used to eagerly wait for Shab-e-Barat each year, which not only meant that I got my favourite gajor-er-halwa that you used to make and box for me, but you always remembered to hide an extra box for later, because you knew how fast I would finish my share and look for more.
It's a strange feeling to think I will never be able to taste that again, because no one but you knew how I liked it made. Each week when the clock will turn to 8 PM on Saturdays I will glance over my phone but you probably don't have signal up there to check up on me anymore; you never missed a single Saturday night call regardless of where you were and I appreciate that.
I will miss you calling me and asking "Koi tah baje? Ghumaba nah" the first thing when I picked up, regardless of what time it was, I can almost hear you say that as I write.
I will miss FaceTiming you and answering the million questions you had about how my day was, where I am, what time it is, when I will sleep, when my exams are. I will miss all of that; I will miss you.
There are so many memories to remember and cherish with you my dearest Ninan. Memories that are similar to that of other grandchildren with their grandparents. Yet, you are different, your memories are different.
I am writing this open letter to you in the hope that somehow, or in some way, you see it and know the impact you had on me and the woman that I am today. I want you to know that I will forever remember you not only because of all the memories that we shared but because of who you were as a person and what you taught us to be.
I aspire to be as independent as you were, working till the age of 80 and providing for yourself. I aspire to be as inspiring as you were in terms of manners, knowledge and the uncountable skills.
I aspire to be as loved as you were by your family. I hope you knew how much your brother and sisters loved you, how much your family loved you and how much I loved you.
When I used to cry every single time before my flights to the USA you reminded me of why I was going. You reminded me of the purpose and the sacrifices that were made for my education and career.
You always said, "Jetar jonne jacho sheta thik kore korey chole asho, amra shobai khushi hobo"— I did it Ninan!
I graduated. Are you happy? Are you proud? I think you would be.
I knew I was special to you, I knew you loved me a little differently than everyone else and I am sorry that I wasn't there to say goodbye; but you will always be in my heart my dearest, cutest Ninan.
This time when I left Dhaka you told me we would never meet again, but this is the only time you've ever been wrong in your life. We will meet again. You will see me again. Until then, I love you. Thank you for being you.
— Arusa.
My Ninan left us on 12 May, 2019. She was the most wonderful, successful, independent and strong woman of my life. She left only a week after my graduation; I'm not sure if she realised I had graduated as at the time she was ill and in the hospital. But I hope she did. I hope she knew. And I hope she knows that she will always be loved by each and every one of us for the rest of forever.