Slurpy soups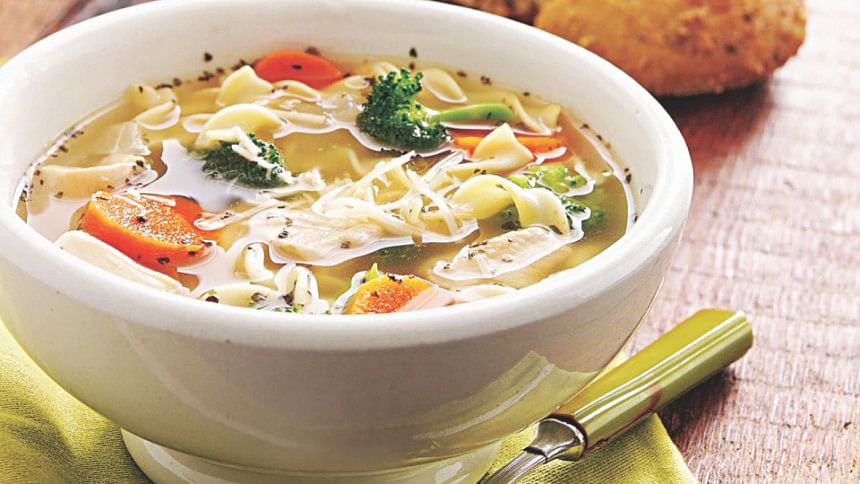 CREAM OF CHICKEN SOUP

Ingredients

3 tbsp butter

4 onions, chopped

1 green onion, sliced

500 gm skinless, boneless chicken breasts, chopped

2 cups chicken stock

1 tbsp chopped fresh parsley

1 tbsp chopped fresh thyme or (dry thyme)plus extra sprigs to garnish

1 cup double cream

Salt and pepper
Method

Melt the butter in a large saucepan over medium heat. Add the onion cook, stirring for 3 minutes, until slightly softened. Add green onion and cook for a further 5 minutes, stirring. Add the chopped chicken, stock, and herbs, and season to taste with salt and pepper. Bring to the boil, then reduce the heat and simmer for 30 minutes, until the chicken is tender and cooked through. Remove from the heat and leave to cool for 10 minutes. Transfer the soup to a food processor or blender and process until smooth. Return the soup to the rinsed-out pan and warm over low heat for 5 minutes. Stir in the cream and cook for a further 2 minutes, then remove from the heat and ladle into warmed serving bowls. Garnish with thyme sprigs and serve hot with dinner buns.
ITALIAN CHICKEN SOUP

Ingredients

500 gm chicken breasts, cut into thin strips

4 cups chicken stock

1 cup double cream

100 gm dried vermicelli

1 tbsp corn flour

3 tbsp milk

175 gm canned sweet corn, drained

Salt and pepper

Small amount of basil leaves

for garnish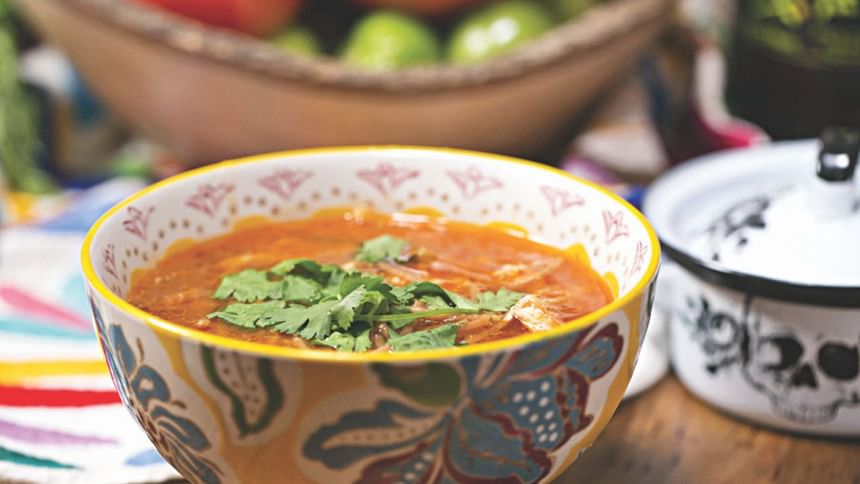 Method

Place the chicken in a large saucepan and pour in the chicken stock and cream. Bring to the boil, then reduce the heat and simmer for 20 minutes until the chicken is cooked through. Meanwhile, bring a large saucepan of lightly salted water to the boil. Add the vermicelli or pasta, bring back to boil and cook for 8-10 minutes, drain thoroughly and keep warm. Mix the corn flour and milk together until a smooth paste form, then stir into the soup. Season to taste with salt and pepper, add the sweet corn and vermicelli or pasta and heat through. Ladle the soup into warmed soup bowls, garnish with a basil leaf and serve immediately with crusty bread
CHICKEN AVOCADO AND CHIPOTLE SOUP

Ingredients

1.5 litres Chicken Stock

2-3 cloves garlic, finely chopped

1-2 dried chipotle chilies, thinly sliced

1 avocado, Juice of ½ lime

3-5 spring onions, thinly sliced

400g skinless, boneless cooked chicken breast, torn into bite-sized pieces

2 tbsp fresh coriander, chopped

1 lime, cut into wedges, to serve
Method

Place the stock in a large saucepan with the garlic and chilies and bring to the boil. Meanwhile, cut the avocado in half around the stone. Twist apart, then remove the stone with a knife. Remove and discard the skin, dice the flesh and toss in the lime juice to prevent discoloration. Arrange the spring onions, chicken, avocado and coriander in warmed bowls. Ladle hot stock over and serve immediately with lime wedges.
Photo: Collected