Rights Watch
Compensation for the victims of psychological trauma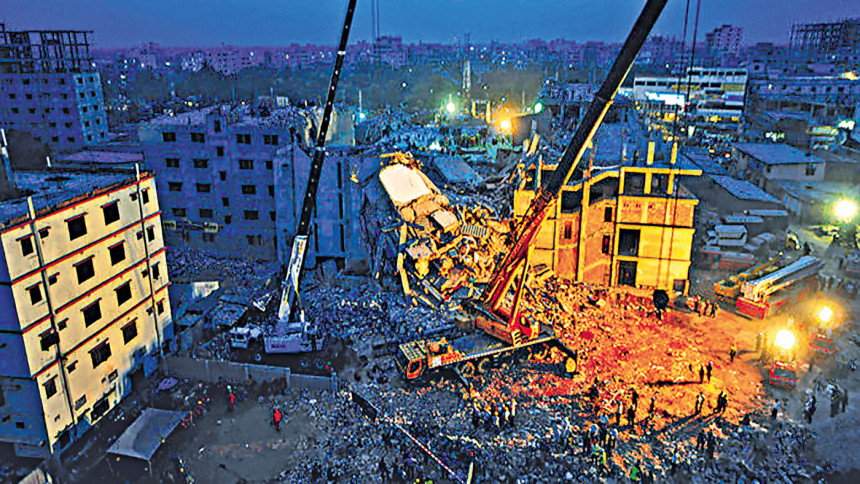 In our country, the Fatal Accidents Act, 1855 refers to compensate families for losses incurred by the death of an individual caused by the negligence or default of another person.
After the demise of her only daughter in the Rana Plaza tragedy, 55-year-old Rahima Begum (not her real name) has lost her psychological state and is suffering from Post Traumatic Stress Disorder (PTSD). She is currently struggling with the memory of her daughter, and all she says is, "She was my only hope and the only one who could save me." On April 24, the deadliest Rana Plaza collapse was commemorated. Despite the passage of eight years, not only the victims but also their families continue to be tormented by the incident. When it comes to compensation, only the physically injured survivors of the tragedy receive it. Now the question is, what about people like Rahima Begum who have suffered mental injuries from losing their near and dear ones? Is there any legal recourse for them?
In our country, the Fatal Accidents Act, 1855 refers to compensate families for losses incurred by the death of an individual caused by the negligence or default of another person. By this Act, a family member of a deceased person, such as a partner, husband, parent or child, is legally entitled to sue the person who has been negligent or disregarded or caused death to, for compensation. Unfortunately, it does not provide any compensation for mental injury caused by the loss of a family member.
However, a broad umbrella of the tort of negligence provides for lawsuits by family members that have suffered psychiatric injuries from losing a loved one. In legal terms, they are referred to as secondary victims. Suppose we want to portray the concept of the secondary victim. In that case, it relates to a person who might not be directly involved in an accident but suffers psychiatric illness from witnessing a distressful incident. There is no existing legislation governing secondary victims' claims. So far, the landmark case of  Alcock v Chief Constable of South Yorkshire is perceived as a decision representing a low watermark for secondary victim claims. In this case, a set of conditions was developed as a prerequisite for a successful secondary victim claim. Such provisions are usually referred to as control mechanisms, including a close relationship with the deceased person or person who suffered an injury in an accident known as the primary victim. Most significantly, the claimant must suffer from recognised psychological illness such as the PTSD caused by the trauma of hearing about the incident or its aftermath. These requirements have been followed by the majority of legal systems such as the UK, Australia, Canada, and India.
Unfortunately, the term secondary victim is still unfamiliar in our country. In two prominent cases concerning the law of tort named CCB Foundation v Government of Bangladesh and Bangladesh Beverage Industries Ltd. v Rowshan Akhter and other, the family members got compensation for losing their loved ones. Again they did not get any compensation for their mental distress. Little use of tort law in our courtrooms, and the complexity of detecting psychological disorders may explain why this concept is unrecognised.
The history of negligence in garments factories is not something new, and before Rana Plaza, many incidents of neglect took innumerable valuable lives. The family members of the primary victim are still bearing the burden of trauma, and many of them also have developed mental illnesses. Unfortunately, the word "victim" is still only confined to those who suffered directly. As the tort of law develops, this concept of compensation for secondary victims needs to be introduced in our context. Though the compensation will not be enough to heal family members from psychiatric illness and their suffering, it may help families cope with the financial burden of such a disease.
The writer is a Student of Law, Bangladesh University of Professionals (BUP).