Is punitive action enough to prevent abuse of drug?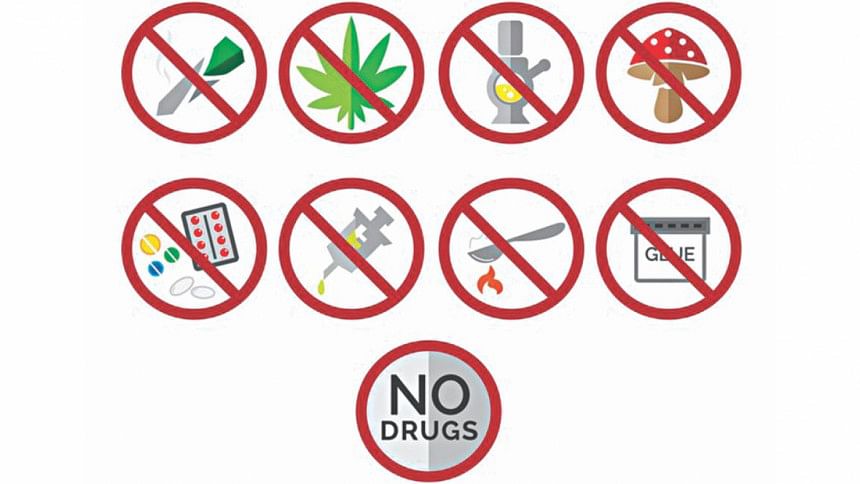 Although Bangladesh is not a drug producing country, in terms of geographical location, it is juxtaposed between the golden and crescent triangle and the crescent ways that pass through it. As a result, the problem of drug abuse has taken an epidemic form that destroys the productive forces of the country creating imbalances through narco-terrorism and handicaps the development process. The drug scenario in Bangladesh nonetheless, has changed with time with marijuana and alcohol in place and drugs like heroin, phensedyl and then yaba replacing opium. This conjuncture has spread from cities to villages, from high societies to middle/low classes. At the moment, there are more than 7 million people in Bangladesh engaged in illegal drug abuse with most of them being between the ages 18-30.
However, public and non-public governance are concerned about the magnitude of drug addiction and the devastating consequences of this crisis and have been institutionally responding to the problem. In line with international obligation, Government of Bangladesh promulgated the Narcotics Control Act 1990. A recently adopted Narcotics Control Act 2018 has repealed the old laws and has imposed rigorous imprisonment upon the drug abuser/manufacturer/ seller/transporter. Additionally, the government of Bangladesh has also inclined towards executing stringent provisions of penal sanction such as death penalty and deadly anti-drug operation by security forces.
It has been witnessed that through implementing strict law and through extrajudicial killings of drug abusers, Bangladesh has not achieved apical success in drug demand reduction. Though the new law seeks to punish any individual or organisation financing or patronising drug dealing with death penalty, apart from the legal initiatives, still there are many issues untouched by the government which should be included within the master plan of prevention of substance abuse in Bangladesh.
Adopting a holistic approach
The consumption of illegal drugs, and the associated prevention strategy, should not be considered in isolation of larger social issues, since it is intricately linked to other social problems. For an example, a noteworthy extent of the young populace in Bangladesh is influenced by chronic drug use, likewise being engaged with any gang culture is known to incredibly expand the likelihood of drug addiction. Therefore, a uniform approach needs to be taken by combining different strategies which would focus on demand, supply and harm reduction factors.
On the demand side of the framework, substance abuse is addressed through poverty reduction strategies, initiating education and communication, fostering socio-economic security and development and advancing anti-substance abuse social programmes and participation. On the supply side, the key areas are concerned with controlling manufacturing, sale, marketing and distribution of harmful substances. It includes law enforcement and punishment against harmful substance abuses and supplies. Harm reduction is about providing treatment, care and reintegration of abusers/dependents on illegal drugs. It has to be noted that the issue of substance abuse in many countries has been considered as public health issue which is more likely to contribute to prevent drugs abuse. The new law of 2018 in Bangladesh gives discretion to the courts dealing with drugs offence to offer rehabilitation to a person addicted to drug (if the court is satisfied that he has not been involved with any other offence related with drugs); however, in practice,  this provision is not implemented properly.
Identifying the high profile drug traders and keeping them under surveillance
It has been evident that most of the persons arrested and killed throughout war against drugs are low profile suppliers and influential drug mafias have remained unscathed. The groups involved transcend borders with godfathers having their networks even in neighbouring countries and it is estimated that they make a net profit of more than TK 10 million in a week. Many media reports project that political leaders, officials of the drugs control directorate, members of the law enforcement, professional criminals and others are involved in this racket. The ruling government as well must be very proactive to cleanse individuals of their own party to get a hold of the yaba dealers as it has been witnessed that the 2014 list prepared by the Department of Narcotic Control includes the names of 87 leaders of the ruling party and its front organisations who back the yaba traders in Dhaka. Without prosecuting the yaba high-up traders and dealers, it would not be possible to prevent substance abuse in Bangladesh.
Executing evidenced-based prevention programs: school, family and community involvement
In Bangladesh different awareness programs are often organised by the Department of Narcotics Control through electronic and print media; however there has been very limited initiative taken in school, family and community settings. In pursuit of safeguarding drug abuse prevention strategy, the programs implemented in the strategy must be evidence-based, preferably inspired by works which have taken place in similar socio-cultural settings to find closer rates of success. The prevention programmes of drug use must include four types of approaches in a broad sense: awareness-raising campaigns, interventions in schools, programs with families, and community-based interventions. There should be a master plan focusing on different types of interventions in institutional settings specially providing information to potential users about the risks associated with drug use, reinforcing the skills that can make it possible to resist the social pressure associated with drug use, correcting the false impression that using drugs is the norm for young people.
THE WRITER IS AN ASSISTANT PROFESSOR, DEPARTMENT OF CRIMINOLOGY, UNIVERSITY OF DHAKA.