Vitiligo and the way to recovery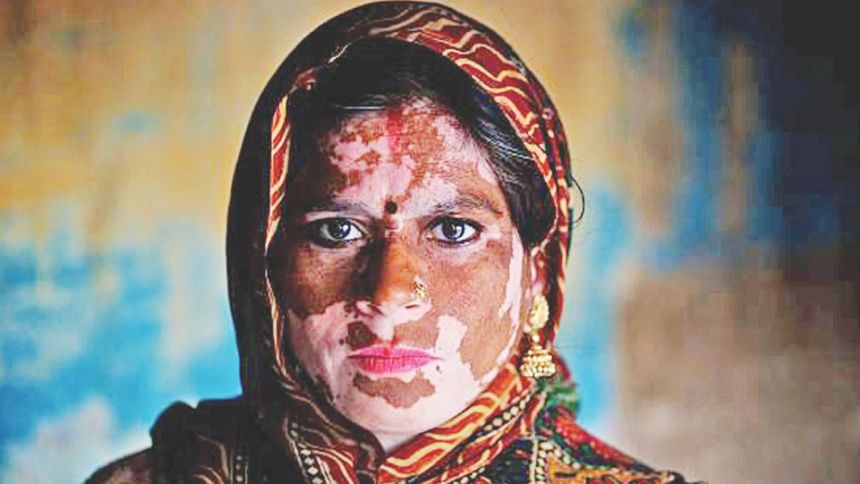 Nowadays, vitiligo became a social problem in Bangladesh. Unexpectedly most people for the lack of health knowledge indicate this disorder as a contagious disease.
Vitiligo, which is locally known to us as 'Sheti', is a chronic condition in which the skin loses its pigment or melanocyte producing cell and turn to very pale or pink. These pale patches commonly appear on the hands, feet, arms, face and lips, although any part of the skin can be affected.
Other common areas of involvement include the armpits, groin, around the mouth, eyes, nostrils, navel and on the genitals. This depigmenting disorder affects 0.5-2% of the world population.
Although there is a debate on the real cause of vitiligo, the physicians and the health specialists focused on a few factors which are the culprits that lead to this condition. Among them, autoimmune disorder (in which the body's immune system mistakenly targets and injures these specific cells within one's own body), heredity, burns or accidental injury and the same time some study said, stress also acts as a major role to create this disorder.
Simultaneously, some chemicals like monobenzyl ether of hydroquinone containing products and phenols (rhododenol) containing cream can hamper the pigment of the skin. For instance, this occurred in Japan when a product advertised as a skin-lightening cream caused widespread vitiligo across the product's consumer base because of the use of a phenol (rhododenol) as an active ingredient.
Unfortunately, people with vitiligo have an increased risk of developing certain diseases, such as hypothyroidism (an under-active thyroid), hyperthyroidism (an overactive thyroid) and type 1 diabetes. Also, people with these conditions are at greater risk of developing vitiligo.
However, vitiligo can be treated if it causes emotional or social distress. The patient can try to get normal skin colour to return in the areas affected by vitiligo have many treatment options. These include topical treatments, steroid creams, ultraviolet B-light treatment, oral medicines, depigmentation and skin grafting.
Some sources said that psoralea seed, red clay, radish, goose foot, turmeric etc. contain some ingredients those are beneficial for vitiligo recovery.
Vitiligo on the face (except eyelids), chest, back, upper arms, legs have a better chance of recovery.
The prevention of this disease does not, in any way, diminish if you choose to maintain your distance from vitiligo patients. But researchers suggested avoiding skin damage, improving nutrition and diet, keeping away from insecticides and pesticides, avoiding stressful situations, avoiding accidental injury and cutting, wearing sun-safe clothing, limiting exposure to chlorinated water for avoiding this skin condition.
World Vitiligo Day is on June 25 is a significant date in the vitiligo calendar because it marks the passing date of pop star Michael Jackson, the most famous man that lived with vitiligo and the most criticised about his condition. That day aims to generate knowledge of vitiligo and its appropriate care.
In our society, the vitiligo patient is treated inhumanly in the family, public place and mostly at their workplace. People avoid them just like the patient of leprosy but the vitiligo and leprosy is not the same disease.
The government should emphasise on the vitiligo day to spread knowledge and should raise the funding for treatment and research to overcome this mortifying disorder.
The writer is a student of Pharmacy at Bangabandhu Sheikh Mujibur Rahman Science and Technology University (BSMRSTU). E-mail: [email protected]