Primary, Secondary Education System: Major reform on the cards
No public exams for class-V, class-VIII students; no groups at secondary level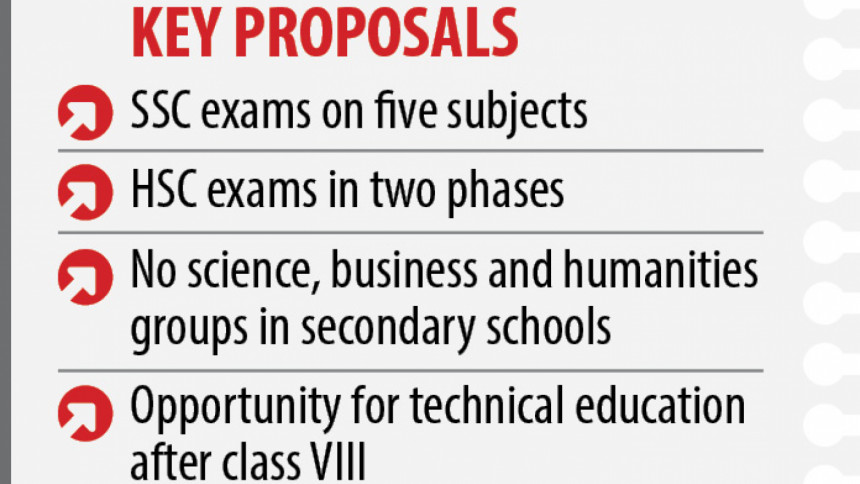 In a sweeping change to primary and secondary schooling, the government may scrap the PECE and the JSC exams and dissolve the science, humanities and business disciplines.
A new outline of a curriculum meant to be put into effect from January 2022 proposes many other changes.
It suggests holding the Secondary School Certificate and its equivalent exams in just five subjects, based on the syllabus of grade-X only. The Higher Secondary Certificate exams will be held in two phases: in grade-XI and XII.
The National Curriculum and Textbook Board's draft does not make any proposals for holding Primary Education Completion Examinations (PECE) in grade-V and Junior School Certificate Examinations in grade-VIII.
"We did not propose any public exams before grade-X. But if the government wants to hold any public exams before that, it can do so," NCTB Member (curriculum) Prof Moshiuzzaman told The Daily Star.
NCTB officials said instead of holding the PECE and JSC exams, which put students under a lot of stress, emphasis will be given on continuous assessment at schools.
The PECE was introduced in 2009 and the JSC exams a year later. Many educationists frequently termed the exams unnecessary and slammed those for stressing out the students.
"There should be one public exam at the end of the school level. School-based annual exams are enough for younger students," said Professor Emeritus Manzoor Ahmed of BRAC University.
The SSC exams will be on Bangla, English, mathematics, social science and science only. The other assessments will be made at schools.
Though the HSC exams will take place in two phases, the final result will be prepared after combining results from both phases.
After studying a syllabus for two years in grades-IX and X, students take the SSC exams on 10 papers. They sit for the HSC exams on 12 papers after studying a two-year syllabus in grades-XI and XII.
For decades, secondary schools have been requiring students to choose among science, humanities and business studies when they are in grade-IX. Officials yesterday said this had been creating unnecessary pressure on students.
Students of grades-XI and XII will study the compulsory Bangla, English and the ICT. And they will be able to choose three other subjects from science, humanities and business disciplines. They will pick another subject from vocational courses.
Curriculums were revised the last time in 2012.
Talking to The Daily Star, NCTB Chairperson Prof Narayan Chandra Saha said most countries around the world do not have science, humanities and business disciplines at the school level.
All school-level students should have similar knowledge, he said.
The new outline also proposed two-day weekend -- Friday and Saturday -- in schools, instead of just Friday.
Narayan said the two-day weekend will have little impact on teacher-student contact hours because the time spent on holding public exams will be saved.
NCTB SEEKS OPINION
The NCTB on Thursday uploaded the draft outline on its website and requested all stakeholders to give their opinion.
Anyone can give their opinions via email by November 18, Narayan mentioned.
"We will finalise the new curriculum after getting opinions from stakeholders and place it before the National Curriculum Coordination Committee (NCCC)," he added.
COMPETENCY-FOCUSED CURRICULUM
Moshiuzzaman said the new curriculum will emphasise competency rather than theoretical knowledge.
There is no alternative to modernisation of education, he noted.
The NCTB has set 10 main competencies that a student will achieve after grade-XII. Those include a student's ability to communicate, collaborate, express himself or herself, honour other people's opinions, think critically and solve problems.
The curriculum puts emphasis on learning languages, communication, mathematics and reasoning, science and technology, the ICT, environment and climate, and values and morality.