Pollution from Cattle Haat
Fish worth Tk 15 lakh die in Moulvibazar pond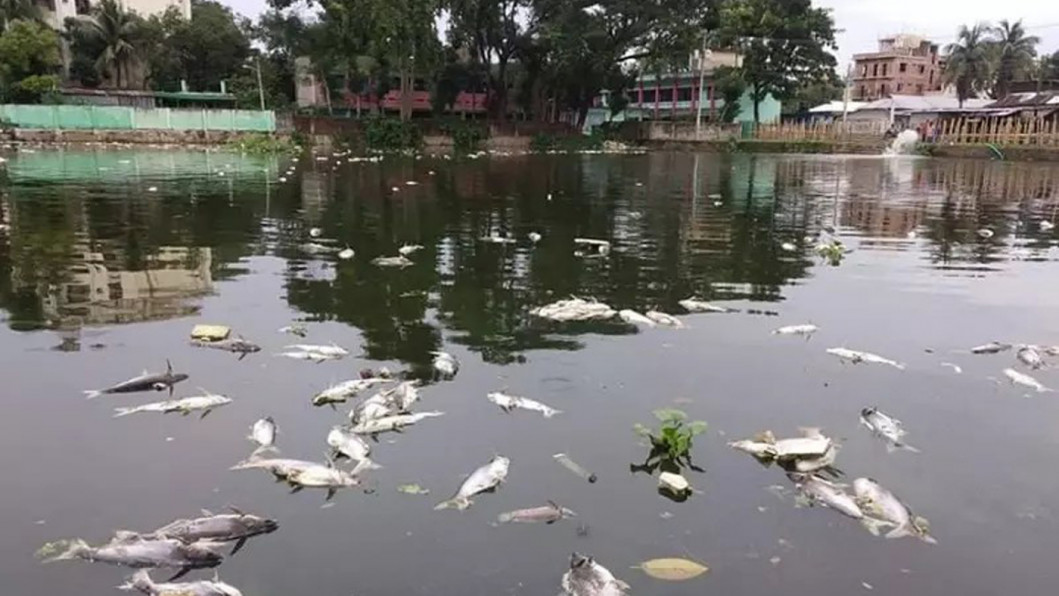 Fish worth around Tk 15 lakh have died due to dumping of waste of a cattle haat into 'Sagardighi' in Sreemangal Municipality of Moulvibazar. The dead fish mostly rohu and pangas weighing 2-4 kg were seen floating on the waterbody when the report was filed on Saturday.
However, the Fisheries Department cited gas accumulation and lack of oxygen in the tank as the reason behind the deaths of the fish.
Haji Azizur Rahman Dulal, the lessee of the pond, said that it was not possible to remove the rotten fish from the pond even after working from Friday afternoon to Saturday. He said big fish including rohu and pangas have floated in the pond. The air surrounding the area has become heavy due to the stench of the dead fish.
"All the fish are dead; I am facing huge loss," he said.
Workers who were removing the dead fish said, they have been picking up the dead fish on two boats since Friday morning. The fish are rotting and it is difficult to pick them up from the pond.
Jewel Mia, caretaker of the Sagardighi fish farming, said the plan was to catch and sell the fish after Eid.
"We have incurred a loss of around Tk 15 lakh because of the sitting of the cattle haat next to Sagardighi," he said.
Srimangal Upazila Senior Upazila Fisheries Officer Farazul Kabir said, the sacrificial animal market was sitting next to Sagardighi. There was an oxygen crisis when cow dung, urine and wastes mixed in the tank water.
"We have taken all the necessary measures. All the dead fish are being removed and the gas is being neutralsied from the water," he added.