No safari park in Lathitila: Speakers say at Bapa roundtable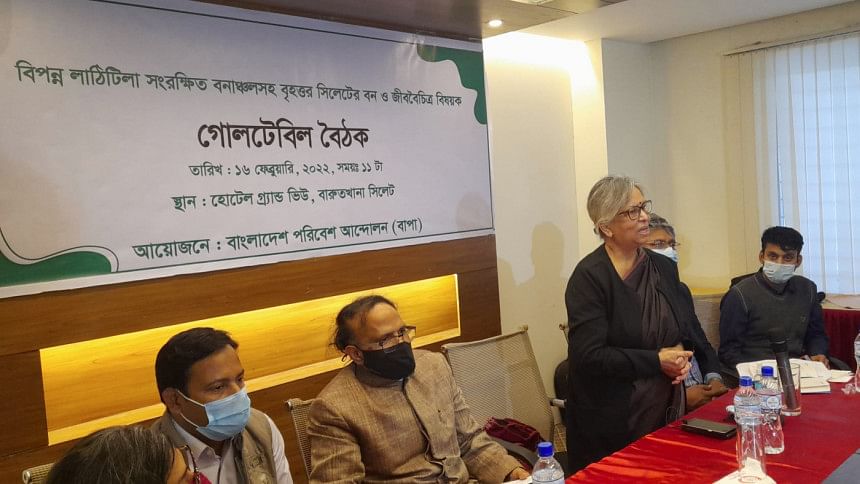 Speakers at a roundtable discussion in Sylhet today urged the government to step back from constructing a safari park at Lathitila forest in Moulvibazar district.
The roundtable was organised by Bangladesh Paribesh Andolon (Bapa) at a conference hall in the city to address the issue of endangering forest and biodiversity of greater Sylhet including Lathitila forest reserve.
While addressing as chief guest of the meeting, Bangladesh Environment Network (BEN) founder Dr Nazrul Islam said, "Legal action should be taken to stop the construction of safari park, threatening Lathitila forest. A dialogue should be called with the government to discourage this project."
He said, "As much as there is a lack of awareness among people involved in the development projects of the government, there is a greater interest in making projects. The bizarre idea of ​​a safari park in a protected forest is a reflection of that. Beneficiaries of the safari park are putting pressure on the government which is why they are keen to make one amid protests."
Dr Nazrul said that environmentalists need to be politically strong enough as part of a long-term plan to protect the country's forests, so that the government does not ignore their demands.
Besides environmentalists, teachers from different universities, social and political leaders, journalists and people from different walks of life participated in the discussion.
During the meeting, Bapa President Sultana Kamal said, "We have a tradition of sacrificing lives for the protection of resources. We gave our lives for the protection of language on February 21. This time we have to commit to resources like nature."
Amid protests for months, the Ministry of Environment, Forests and Climate Change on Sunday approved the master plan of the safari park at Lathitila at a cost of Tk 846.25 crore.
Sharif Jamil, general secretary of Bapa, said, "The construction of a safari park is being planned in the name of forest protection without punishing the people that failed to protect the forest. The minister (environment) should be ashamed of this."
Wildlife researcher Farhad Ahsan Pavel presented a research-based presentation on the biodiversity of the Lathitila, which is under the Patharia Hill Reserve.
He said the Patharia Hill Reserve is a sanctuary for endangered species such as smooth-coated otters, Asiatic wild dogs, hoolock gibbons, rock pythons, elongated tortoise, lesser adjutant (a type of stork) and elephants.