Cyclone Mocha: St Martin's Island faces drinking water, food shortages
The island is still without power as electric cables and utility poles were damaged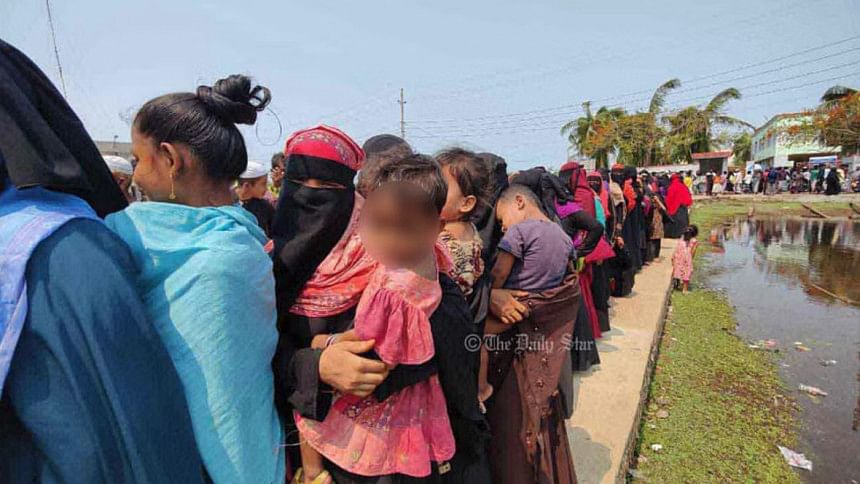 People in St Martin's Island are suffering from shortages of drinking water and food, two days after Cyclone Mocha hit the island.
The island is also still without power as electric cables and utility poles were damaged in the cyclone's impact.
Locals over phone informed The Daily Star that lives came to standstill as they were not being able to bring daily essentials from Teknaf due to the suspension of trawler movement.
Many claimed they are facing crisis of food and drinking water since the cyclone.
Although some relief materials have been distributed among the affected people, which are not adequate, they said.
Almost all the shops were closed in Jetighat area of the island till 9:00am today.
Kamrul Islam, a local businessman, told The Daily Star, "Since communication between Teknaf and St Martin's has been snapped, no daily commodities can be brought from Teknaf and the essentials in local stores were almost sold out."
Mojibur Rahman, another local resident, said, " I am in a shortage of drinking water as the sources of fresh water have been become salty because intrusion of sea water. If fresh water is found at any place, people are running for it."
Many people is living under the open sky as cyclone Mocha have damaged over 1,000 houses in the island.
Many sought help for food as well as building materials.
"We are a seven-member family. We are only left with some potatoes and lentils. Nothing else. The tin-shed roof of my house was blown away by the storm," said Erfan Uddin, a resident of Ward No. 2 of the island.
Mohammad Amir, another resident, said, "Many people are hiring wooden trawler and bringing daily essentials from Teknaf, but the prices are very high. "
Around 10:00am today, around 1,000 people were seen gathering in ward number 4 to collect relief provided jointly by Bangladesh Coast Guard and the deputy commissioner.
Those who received relief said they were provided with flattened rice, jaggery, candles, match boxes, and water bottles in a bag.
However, St Martin's Union Chairman Mujibur Rahman claimed that there is no food crisis in the island.
"There is no food crisis. The dwellers were facing problem due to the suspension of trawler movement for the last two days. But everything is normal now," he claimed.
"We are providing adequate relief," he added.