Sand extraction from Meghna river causes erosion in Bhola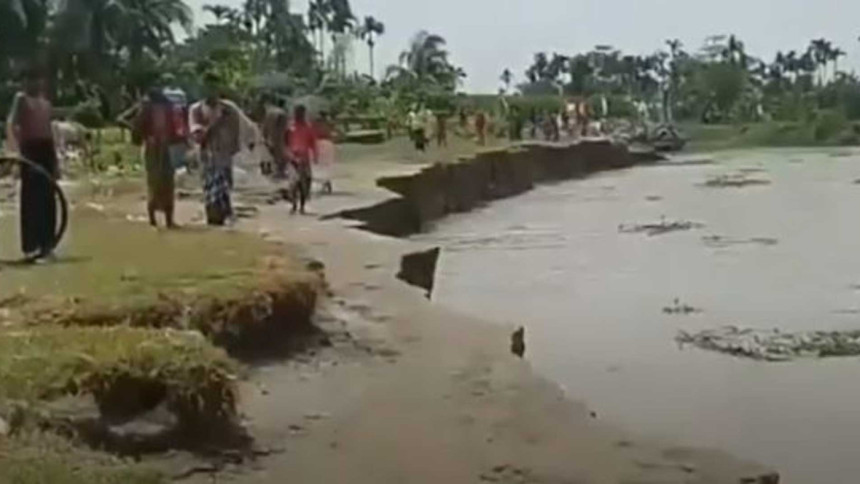 Massive erosion has occurred in the Meghna river due to sand extraction in Bhola, forcing at least 20,000 people to be displaced.
The erosion could not be averted, despite several steps undertaken by the Water Development Board of Bhola.
Locals said though the government has been spending crores to build embankment while a quarter is extracting sand near the embankments posing threat to various establishments including the embankments.
Mohabbat Ali, a resident of Ilisha union under Bhola Sadar upazila, said the influential people have been extracting sand every day from the banks, adjacent to the Meghna river, through dredgers.
On top of that, erosion has occurred in Rajapur union of Bhola Sadar upazila next to Ilisha dam for extracting sand from the river for a long. The riverbank eroded due to the strong currents in the river.
Erosion is taking place in an area of four kilometres from Jhorkhal point to Char Mohammad Ali Point of Rajapur union. In the meantime, an area of 700 meters has already disappeared.
More than hundreds of houses were washed away and hundreds of houses had to be shifted elsewhere. Two big mosques and two schools and several establishments are still at risk.
As sand extraction is going on from the area, the whole union is under threat now, locals claimed.
Rawshan Begum (55) of the area said her family was displaced four times. "How will we build our house now? Where will we go?", she asked.
People of Char Mohammad Ali Point are suffering the most due to erosion. Al least 100 houses, croplands and roads were devoured by the Meghna river recently.
A contractor of WDB wishing not to be named said they have spent Tk 500 crore for CC block to protect Ilisha union from erosion.
"But due to the unplanned and uninterrupted sand extraction from the river, the blocks are under threat. Apart from the sinking of the blocks, most of the blocks have been destroyed resulting in the damage of embankments," he said.
Mizanur Rahman of Rajapur Union Parishad said the way erosion is taking place, the whole union may disappear anytime. Even the embankment is at the risk.
Officials of WDB said erosion has increased due to changes in the course of the river, strong currents and rising upstream water. Additionally, sand extraction has intensified erosion.
To prevent erosion, the WDB has dumped geo bags and tubes in the 480-meter area.
Contacted, Mohammad Hasanuzzamn, executive Engineer of WDB said they are taking prompt action to protect the people from erosion.
He added that four kilometres river bank conservation work has already started to tame the erosion.
Apart from stopping sand extraction from the river, the district administration is taking steps to identify the people behind the sand extraction, said MdToufiq-e-Elahi Chowdhury, deputy commissioner of Bhola district.
We are working to stop sand extraction permanently, he added.