'Ityadi' brings Women's National Teams for Eid special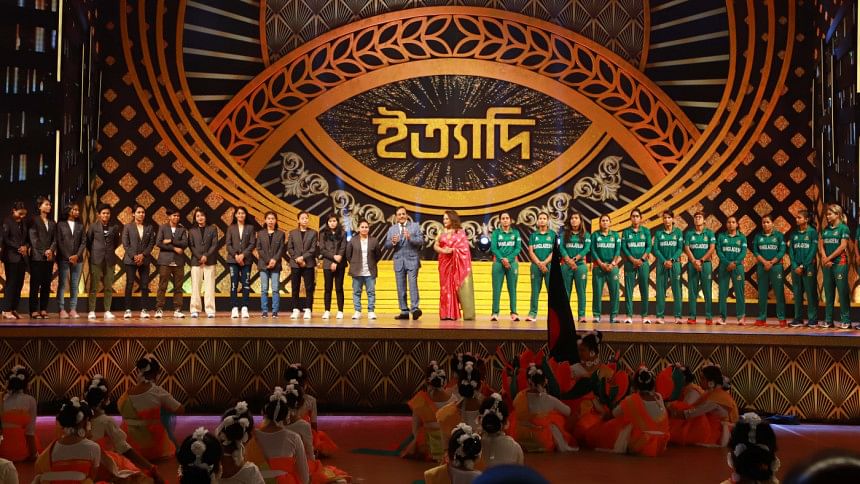 On the occasion of the upcoming Eid, one of the most special episodes of "Ityadi" will be airing, highlighting the importance of patriotism. The Eid special of the show, "Desher Gaan", will feature the voice of the wonderful Sabina Yasmin.
At the invitation of "Ityadi", the current Bangladesh Women's National Football Team, along with the Bangladesh Women's National Cricket Team will be part of the filming with Sabina Yasmin. These athletes, many of whom are from the rural areas and villages, have brought many honours and awards for the country by excelling in their sport.
A spokesman for Fagun Audio Vision shared that all of the players had cooperated with the recording of the song with utmost sincerity. The song was recorded at the Mirpur Indoor Stadium, amongst the spontaneous applause of those in attendance. Seeing the National Team players, the spectators all over the stadium were cheering, chanting, "Bangladesh-Bangladesh."
The song has been titled "Potakar Laal Shurjota Mago, Protiti Hridoy Jele Dao" and has been written by renowned lyricist Mohammad Rafiquzzaman, while Akash Mahmud has composed the music.
Over hundreds of dancers have taken part in the choreography of the song. The choreography has been done by Monirul Islam Mukul. The overall project has been under the supervision of Hanif Sanket.
"Ityadi" has been written, directed and presented by Hanif Sanket. The programme is produced by Fagun Audio Vision and sponsored by Keya Cosmetics Limited. Like every year, Eid specials will be aired the day after Eid, on BTV and BTV world, simultaneously.