Celebrating 49 years of Natyachakra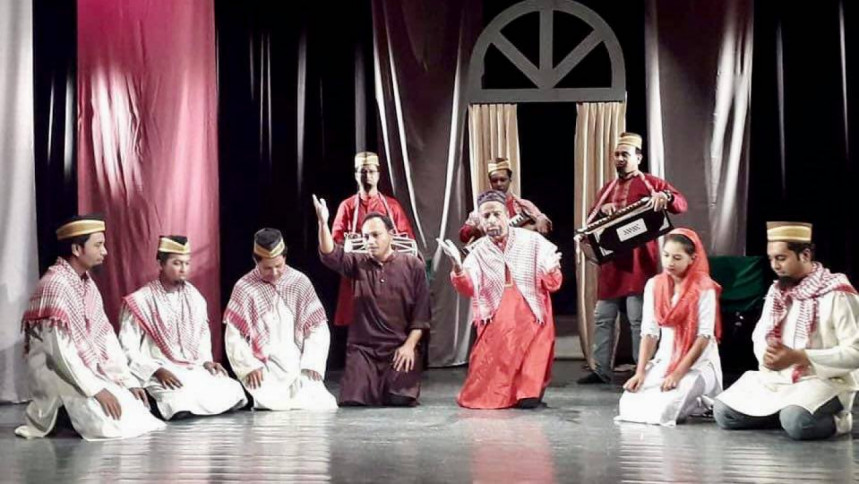 Natyachakra, the oldest theatre troupe in the country, has been performing on stage for the last 49 years. They have successfully produced 54 plays. "Bhaddarnok" is one of the most staged and widely acclaimed plays by this prominent group.
The journey of Natyachakra began in 1972, when M Hamid, the then Cultural Secretary of DUCSU, felt a calling towards the art of stage plays. In a matter of few days, along with some of his friends, her founded the organisation in August 1972. Eminent personalities like Nasiruddin Yousuff, Selim Al Deen, Al Mansur, Salahuddin Zaki, and Habibul Hasan joined as founding members, while M Hamid was the convening founder of Natyachakra.
Initially, the drama editor of each hall of Dhaka University was appointed as a member of the convening committee of Natyachakra. As the group's reputation grew, the number of members started to increase. Sheikh Kamal, the oldest son of the Father of the Nation, was a member of the organisation. He had acted in three prominent plays by the troupe, including "Danob".  
Some other notable plays by Natyachakra include "Let There Be Light", "Spartacus", "Raja Onushorer Pala", and "Chan Miyar Bioscope" among others.  
In December 1972, Natyachakra organised an inter-drama competition, where four plays were staged by them, and nine plays were performed by different troupes.
M Hamid said, "When we started Natyachakra, we had decided that students will be the focus of our team. They will act in, write, and manage the plays.  With the establishment of Natyachakra, a new consciousness was born."
 Natyachakra staged regular plays under the banner of DUCSU from 1972 to 1975.  In 1976, objections were raised against their affiliation with DUCSU, and they were asked not to perform through DUCSU. "Supporters of the assassination of Bangabandhu had made such reckless demands. We had no other choice but to begin staging plays independently instead," added M Hamid.
 
In 1986, Natyachakra staged two plays, "Dafon" and "Protabortoner Desh."
"Protyabortoner Desh" featured the characters inspired by Mushtaq and Dalim, who were involved in the coup of 1975. Shows of this play were quickly shut down, as attacks were launched on it.
Yet, Natyachakra sprung back on their feet in 1977, with an array of plays. For a long time, members of Natyachakra put up posters of the plays around different places of Dhaka, hoping to attract the attention of audiences. They also arranged for a bus departure from Gulistan that would take people to watch their play staged in Sher-e-Bangla Nagar for only 50 paisa.
"We arranged for the bus so that we could bring in more people to see the plays that we were staging and we had been successful in driving up the number of audiences," added M Hamid. Natyachakra founded an institute called Natya Shikshangan in 1986, which remained active till 1998.
Translated by Mormee Mahtab