Bengal Foundation exhibits two documentaries
Bengal Foundation recently organised screenings of two documentaries at Bengal Shilpalay in order to celebrate 50 years of Bangladesh's independence, read a press release.
The two documentaries titled "Prantikatar Rupakar" and "Badhyabhumite Ekdin" were screened at the event.
The documentary "Prantikatar Rupakar" based on the life and works of artist Shahid Kabir was showcased on Thursday while Kawsar Chowdhury-directed government grant-winning documentary "Badhyabhumite Ekdin" was showcased on Friday. The movie was screened amidst the presence of Shahid Kabir, Rashed Chowdhury, and Ashfaqur Rahman, among others.
"Prantikatar Rupakar" gives the viewer a glimpse into artist Shahid Kabir's thoughts on art, his contribution to the country's art scene and more. The insightful project was produced by Bengal foundation.
The documentary "Badhyabhumite Ekdin" showcases the horrendous crimes and genocides committed by the Pakistani military and its local collaborators during the Liberation War.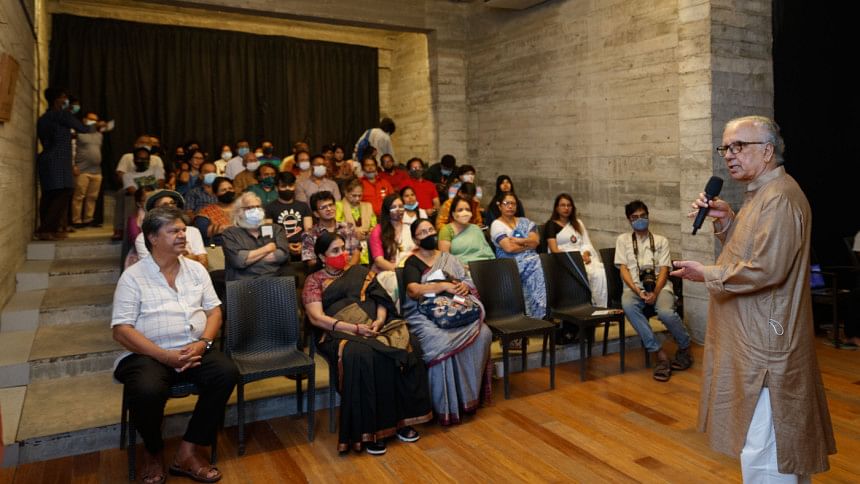 Theatre activist Ramendu Majumdar and Bengal Foundation director-general Luva Nahid Choudhury, among others, attended the screening session of "Badhyabhumite Ekdin".