Ferdausi Rahman and Syed Abdul Hadi honoured with 'Feroza Begum Memorial Gold Medal'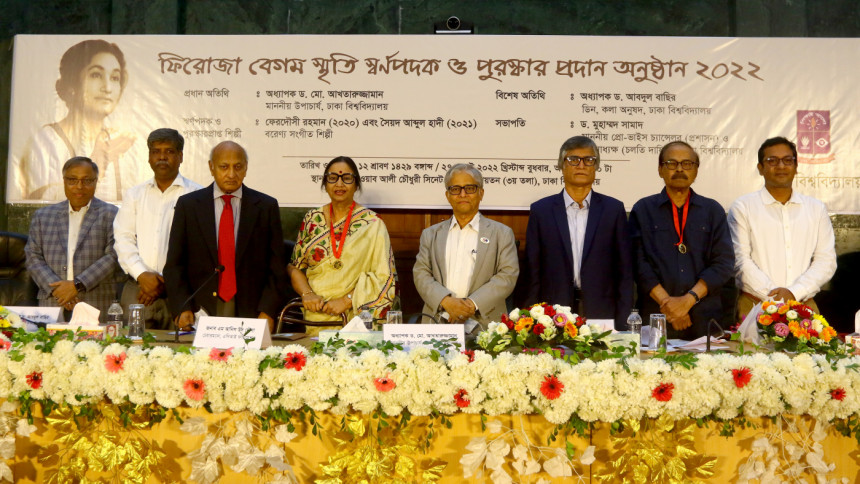 Feroza Begum was one of the most prominent singers of the subcontinent in the genre of Nazrul Sangeet. The singer, who is regarded as the nightingale of Nazrul Sangeet, was lucky enough to study under the tutelage of the National poet, Kazi Nazrul Islam.
The University of Dhaka (DU) introduced the "Feroza Begum Memorial Gold Medal" to preserve the name and legacy of the legendary singer.  Since 2016, the award has been given to one nationally recognised music artiste every year.
This year, eminent singers Ferdausi Rahman and Syed Abdul Hadi were honoured with this award for the year of 2020 and 2021, respectively. Due to the pandemic, the programme was not held in the previous years.
The event took place at the Nabab Nawab Ali Chowdhury Senate Bhaban, on the premises of the University of Dhaka today. Anis Ud Dowla, Chairman of ACI Group and donor of the trust fund, gave the welcome speech.
Both the artistes were honoured with gold medals and a remuneration of BDT 1 lakh each. Vice-Chancellor of DU, Md Akhteruzzaman, was present as chief guest, and handed out the medals to the artistes.
Ferdausi Rahman shared her emotions upon receiving the honour. "I am happy today, not because I have earned an honour, but I have got the opportunity to share the memories with Feroza apa," said a nostalgic Ferdausi Rahman.
Syed Abdul Hadi expressed his joy over being recognised for such an award, that too alongside Ferdausi Rahman, who was his batchmate in DU.
"I am elated because this award is associated with Feroza apa," shared the artiste. "I was lucky enough to have the opportunity to sing a duet with her, titled 'Amar Shampan Jatri Na Loy', in a documentary about Kazi Nazrul Islam."