REHAB protests price spiral of construction materials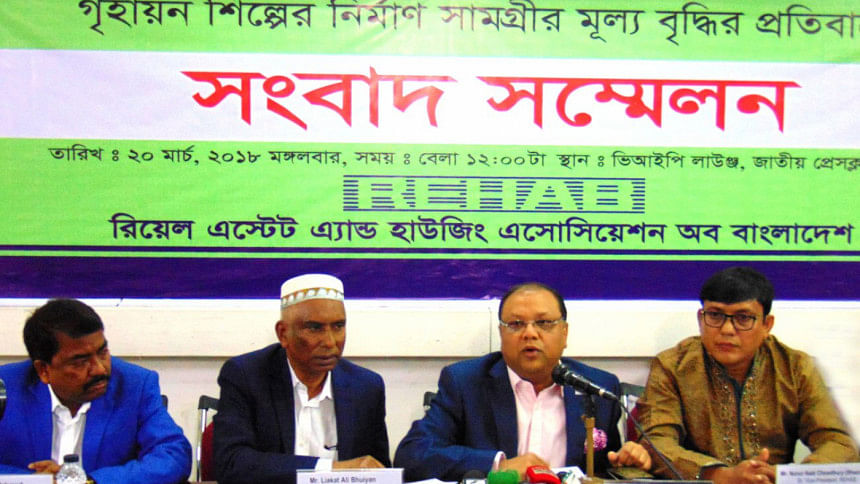 Realtors yesterday said a recent price hike of construction materials such as rods and cements will raise apartment prices, impacting sales.
"One week ago 40 grade rod was selling for around Tk 52,000 a tonne, but now the price went up to around Tk 70,000," said Alamgir Shamsul Alamin, president of the Real Estate and Housing Association of Bangladesh (REHAB).
The price of rod jumped at least 30 percent compared to that in last year, he said adding, "Per bag cement is being sold for Tk 420 which was Tk 370 a few days ago."
Alamin was addressing a press conference organised by the 1,063-member association in the capital's National Press Club protesting the hike.
"After a long time the sector was just moving forward from a bad situation. But this illogical hike in prices will ultimately affect the customers. Some small and thriving companies will be unable to hand over flats to customers in due time," he said.
Nurun Nabi Chowdhury Shaon, senior vice president of REHAB, said they calculated housing prices to increase between Tk 200 and Tk 250 per square feet because of the price spiral.
"We urge the government to take steps to curb the prices of rod and cement. We want to sit with the manufacturers of construction materials to resettle the prices in a reasonable way," said Shaon, also a lawmaker. Banks and financial institutions recently increased interest rate on home loans to 13-14 percent, said Alamin.
Price hike of other construction materials such as crushed stone and bricks is also putting pressure on the housing industry, he said.
"The industry rebounded after the REHAB fair in Dhaka in 2016. We received a tremendous response from customers in two housing fairs in Dhaka and Chittagong recently. The number of unsold flats came down to 11,000 from 14,000. But the recent price hike of construction materials will affect us severely," he said.