Reform policies looking beyond 2024, suggests Japan's envoy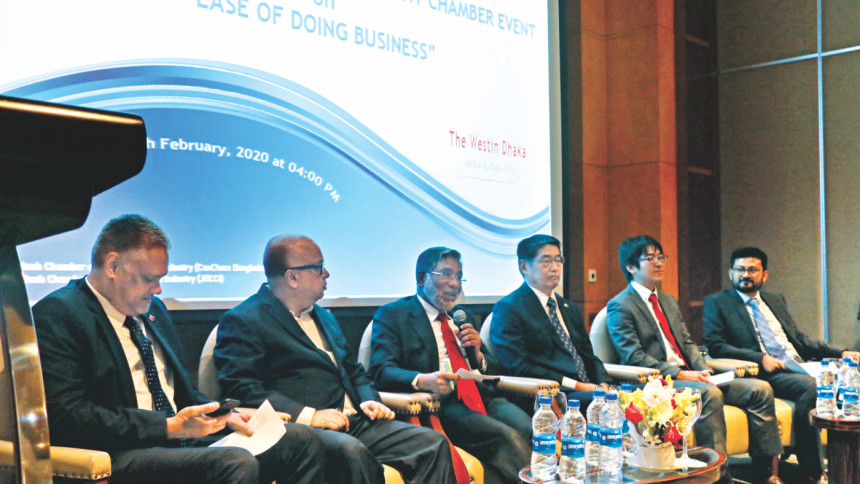 Bangladesh should prepare not only for graduating into the developing country bracket in 2024 but also look beyond while taking good care of existing companies by resolving the challenges they face, said Japanese Ambassador Naoki Ito yesterday.
The year will centre around completion dates of some major infrastructure projects such as the third Hazrat Shahjalal airport terminal, the Matarbari port and coal-fired power plant and the Mirsarai special economic zone, he said.
These will welcome increasing investment for which new trading arrangements, in addition to preferential ones with the European Union, alongside improvements to the business climate are needed, said Ito.
Differential treatment exists between companies inside and outside of the export processing zones (EPZs), especially when it came to providing cash incentives for exporting apparel to new markets, said the envoy.
Japanese apparel companies inside the EPZs are exporting to Japan, a non-traditional market, but are not getting the 4 per cent cash incentive which is being provided to their peers located outside, he said.
Such policies and challenges being faced by existing companies need to be addressed, otherwise they will go on to be applicable for new investors who are hoping to come over to the upcoming special zones, he added.
The ambassador was addressing a view-exchange meeting on "Ease of Doing Business" jointly organised by the Bangladesh Investment Development Authority (BIDA), the Canada Bangladesh Chamber of Commerce and Industry (CanCham Bangladesh) and the Japan Bangladesh Chamber of Commerce and Industry (JBCCI) at The Westin Dhaka.
The World Bank's Ease of Doing Business index sheds light on how easy or difficult it is for a local entrepreneur to open and run a small to medium-sized business when complying with relevant regulations.
The Washington-based multilateral lender's Doing Business report points out changes in regulations affecting 10 areas in the life cycle of a business.
It ranges from starting a business, dealing with construction permits, getting electricity, registering property, getting credit, protecting minority investors, paying taxes, trading across borders, enforcing contracts to resolving insolvency.
Bangladesh plans to rise to a double-digit spot from the current three-digit one in the index within two years.
It had first advanced one place to take up the 176th position in the 2019 assessment before making a jump to become 168th among 190 countries in the 2020 index.
The government is working towards bettering the rank as it helps to attract foreign direct investment, which leads to a win-win situation with businesses profiting and the government earning revenue, said Md Sirazul Islam, executive chairman of the BIDA.
Chairing the event as chief guest, he urged the private sector to hold events on their expectations and inviting over government officials involved in the ranking reform processes to address inconsistencies.
Miah Rahmat Ali, senior private sector specialist at the World Bank Group, gave a presentation on the index. Masud Rahman, president of the CanCham Bangladesh, and Yuji Ando, president of the JBCCI, also spoke on the occasion.