Pharmas should adopt innovation through alliance with academia
The pharmaceutical industry in Bangladesh has done remarkably well, growing at more than 15 percent a year, with sales of approximately $2.4 billion in 2017. The growth rate in India, Pakistan and China are 15 percent, 11 percent and 9.5 percent respectively. The country's need of drugs is almost entirely met by those produced domestically. To some extent, this contributed to the fact that per capita spending on healthcare services in Bangladesh is the lowest among the South East Asian countries.
In a recent World Bank publication, it was reported that per capita spending on healthcare services is $88 for Bangladesh, $129 for Pakistan, $137 for Nepal, $167 for Afghanistan, $267 for India, $281 for Bhutan, and $369 for Sri Lanka. Obviously, the share of pharmaceuticals in the overall healthcare spending in Bangladesh is very small because locally produced drugs are much cheaper than the imported ones and the pharmaceuticals industry in Bangladesh deserves some credit. Some may argue that the lower healthcare spending may also indicate relatively lower access to healthcare services in Bangladesh compared to other Asian countries, but it is widely reported that Bangladesh performs much better in health outcomes, such as, longevity, maternal mortality rate, infant mortality rate, vaccination rates, compared to those countries with the exception of Sri Lanka.
In 2017 and 2018, a couple of local pharmaceutical companies had a few drugs approved by the US Food and Drug Administration (FDA) for getting into the US market. Even though the approved drugs are generic and quite old, it is the right strategy to reach the door step and gather experience in navigating a very competitive market. Most non-US pharma companies with a good footing in the US market started with older generic drugs as Bangladesh is doing now. However, it is easy to get approval for an older generic drug by the FDA but getting market access, especially in the shelves of pharmacies in the US, is quite challenging.
All pharmaceutical companies in Bangladesh use the generic form of active pharmaceutical ingredients (API) to manufacture their products, and some of the APIs come from very old drugs. They do not invest in R&D to develop any innovative drugs. Rather they depend on the expiry of the patents of branded drugs in Europe and the US to manufacture their generic versions. No wonder the export earnings from pharmaceutical products to more than 130 counties bring less than $100 million. Since Bangladesh is practically a closed economy as far as pharmaceuticals are concerned, patients in the country do not have the access to so many innovative drugs available outside the country. Even though, under the TRIPS agreement, Bangladeshi companies are entitled to get licence for manufacturing lifesaving drugs for domestic need, the quality and the efficacy of the products have been questioned by many.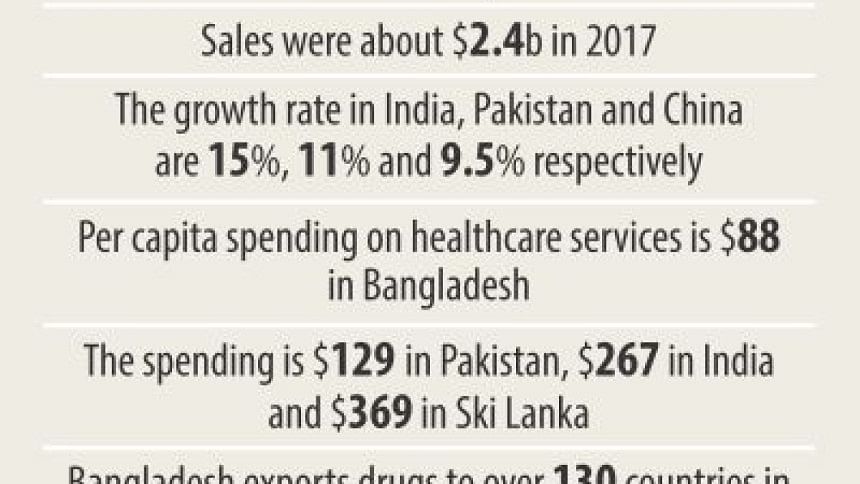 The Trade-Related Aspects of Intellectual Property Rights (TRIPS) agreement administered by the World Trade Organization provided the opportunity to low-income countries for receiving licence from high-income countries to manufacture life savings drugs for domestic consumption. However, Bangladesh is expected to become a middle-income country by 2021. In that event, Bangladesh will lose the TRIPS privileges.
Pharmaceutical is a high tech science business. While Bangladesh does not have any high tech science business yet, the conditions are perfect for promoting one. IT, telecommunications and pharmaceuticals are very promising sectors. The pharmaceutical sector is doing well but lacks innovative products. The current policy of relying on low margin generic products to grow is a low growth equilibrium trap for the country.
It is true that developing innovative products in the pharmaceuticals is a very capital-intensive and risky business. But the reward is also very high – if successful. An investor does not need to make money in every project, but one or two successful projects might outweigh the losses incurred in the failed projects. This has been the practice of the world's leading pharmaceutical companies.
Progress of the life science technology has been astounding during the last decade or so. Starting with the human genome mapping in the 1980s, and now moving into personalised medicines era, better efficacious large molecule biotech drugs, gene therapy and the market for super profitable orphan drugs, have opened up opportunities for any investor to make money.
The business model of the research-based big drug companies around the world has moved away from traditional in-house R&D infrastructure to more alliance-based R&D practice for drug development. In-house drug development is too costly and risky, so companies are forming alliances, buying licence of a molecule, or co-sharing a molecule for testing and developing a drug. Big companies are continuously looking for opportunities to form alliance with niche life science companies or buy the licence of an innovative molecule or a process. A large percentage of the drugs sold in the US are those developed through alliances between two or more institutions. My own research using the IMS data shows that one-third of all drugs approved by the US FDA between 2008 and 2018 were developed through alliances.  
Bangladesh has an abundance of English speaking scientists, and the wage rates are low compared to developed countries. Perhaps for a wage structure of one scientist in the US, a Bangladeshi investor can hire more than a dozen scientists. For any innovation, the most important factor is an "idea" that has commercial value and is patentable. Given the volume of publicly available information, innovative investors may systematically pursue "the idea" and build it into a commercial product. The product could be a new molecule, a process or new knowledge. Many pharmaceutical companies have partnerships with universities for conducting basic science research. These partnerships are breeding grounds for developing the molecules of potential therapeutic value.
The pharmaceutical industry in Bangladesh should form similar network and partnerships with the local scientists' community. 
The current market for bio-similar, a generic version of the branded biologic drug, is another opportunity for the pharmaceutical industry to move into. Unlike generic drugs, bio-similar drugs are basically a therapeutic competitor since these drugs are not quite substitutable as in the case of generics and are considered an alternative to the original biologic drug with its own patent with higher profit margin. Since the initial investment in the infrastructure in such high tech business could be high and risky, it needs support from the government to incubate the business venture. Support could come in the form of tax shelter, grant and loan or some combination of these. According to the India Brand Equity Foundation, India is investing heavily in the biotechnology industry and its size is expected to grow from the current $11 billion to $100 billion by 2025.
Developing capacity for research-based innovative companies is a long process that needs not only financial resources, but also skill manpower, appropriate regulatory framework, and proper public policies on health and education, to name a few. Towards this objective, partnership with research-based academic institutions in the country for basic life science research may produce cost-effective development of molecules or process for clinical testing of the underlying pharmaceutical product. The current practice of dependence on others for the APIs and manufacturing only generic drugs is unsustainable in the long run.   
The writer is a professor of Rutgers Business School-Newark and New Brunswick.