'Nimtoli, Tazreen tragedies eye-openers for industrial safety'
Industries minister says at Industrial Safety Forum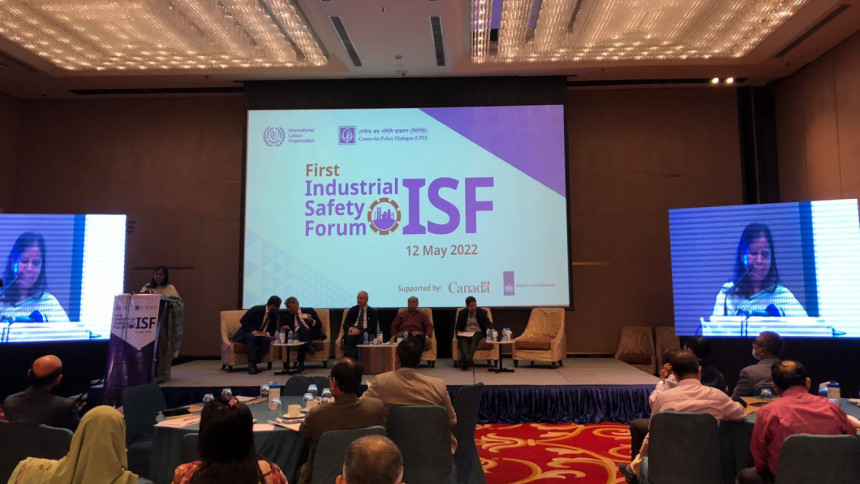 The disasters like the Nimtoli tragedy and the Tazreen Fashion fire have been eye-openers for the government to take widespread measures immediately to ensure industrial safety, Industries Minister Nurul Majid Mahmud Humayun said today.
Earlier Bangladesh economy was agro-based and now it is heading towards becoming an industry-based one, he said.
The minister said the industrial sector does not only mean the garments sector.
Other sectors, including the leather sector, also have tremendous business potential in the globe, he said.
The government is taking various steps and many laws are updated to ensure labour safety in the country, he said.
The minister made the comments at a daylong programme titled "Industrial Safety Forum (ISF) in Bangladesh" at Sheraton Dhaka.
The Centre for Policy Dialogue (CPD) and the International Labour Organisation (ILO) jointly organised the programme.
Bertrand Dagallier, principal administrator of the Organisation for Economic Co-operation and Development (OECD), delivered the keynote speech at the event.
Md Ehsan-E-Elahi, secretary for labour and employment, said the government will finish amending the existing the labour law by this year.
It will be a good law, which will help the country maintain a decent work environment in the industrial sector, he said.
Of them, Khondaker Golam Moazzem, research director of the CPD, delivered the opening remarks while and Tuomo Poutiainen, ILO's country director, chaired the programme.
Ardashir Kabir, president of Bangladesh Employers' Federation, and Shamim Ara, chairman of the National Coordination Committee for Workers' Education, were also present at the occasion.