Bangladesh-US tie is stronger now, diplomats say at envoy Miller's farewell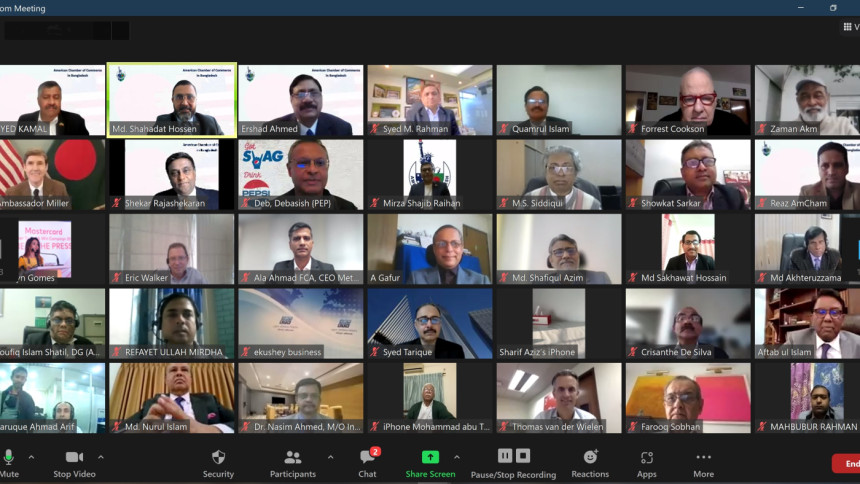 The economic and business tie between Bangladesh and the US is stronger than the previous normal time because of having a warm relationship between the two countries despite severe fallouts of the Covid-19 pandemic, said John D Dunham, economic and Indo-Pacific Affairs Unit chief of the US embassy in Bangladesh.
Both the countries have done some extraordinary business deals even during the Covid-19 time and just before the beginning of the pandemic, he said. 
Dunham spoke at the farewell of Earl Robert Miller, the US ambassador in Bangladesh, organised by the American Chamber of Commerce in Bangladesh (AmCham).
In 2018-19, the Boeing has completed sales deal of three more 787 wide body aircrafts for Biman Bangladesh Airlines, the national flag carrier, Dunham said.
A deal is in final stage with the US company to deliver 40 broad gauge for two heavy locomotive funded by the Asian Development Bank (ADB).
Bangladesh's first Bangabandhu Commercial Communicative Satellite was launched from the Kennedy Space Centre during this time. 
During the Covid -19 time, Bangladesh's first company Beximco exported critically important Personal Protective Equipment (PPE) to the US for the healthcare in the USA. The US company Covax also donated the PPE and masks to the to the global healthcare.
The American government has also donated $218 million as Covid-19 donation and the US company also signed agreement with Bangladesh for installing the under sea submarine cable with a cost of $700 million to $1 billion by 2023 to connect France via Singapore, Dunham said.
Upon completion of his three years' diplomatic tenure in Bangladesh, Miller is going back to his country.
Although the export of Bangladesh to the US has doubled in every 10 years, still it is a lot far away from other competing countries in the US markets, said A Gafur, former executive director of the AmCham.
Syed Ershad Ahmed, AmCham president, and Aftab ul Islam, Nurul Islam and Forrest E Cookson, former presidents, also spoke.