'Apparel sector can be launching platform for women in labour market'
Experts tell BIDS conference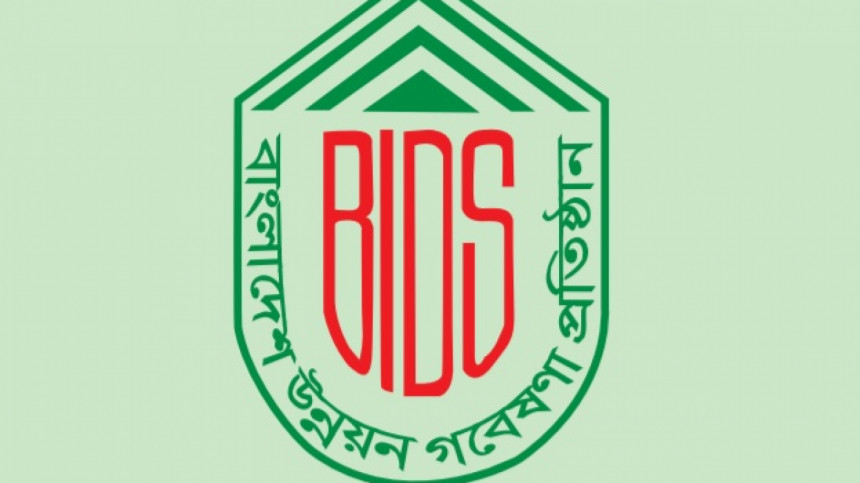 Developing countries like Bangladesh can take advantage of the apparel industry as an indirect launching platform to help women transition from jobs to careers and to bring more women into the labour markets by adopting complementary policies, experts said.
To expand female career opportunities, countries must address three barriers, including low demand for career-related occupations, in service sector due to insufficient national income, low education levels, and societal and cultural norms that inhibit women from working, they said.
Mentioning that safety concerns play a significant role in determining women's mobility and their labour market outcomes, experts emphasised establishing a safe environment for women -- providing them equal access to thrive aiming at achieving economic development.
Such observations came during the presentation of several papers on different topics at the opening session of the 3rd day of the three-day annual conference of the Bangladesh Institute of Development Studies (BIDS), reports our Chattogram staff correspondent.
Development Economics Prof SR Osmani at University of Ulster (UK) chaired the session where four papers were presented.
Mexico A Vergara, a consultant in the World Bank's Poverty and Equity Global Practice, presented a paper titled "From Jobs to Careers: Apparel Exports and Career Paths for Women in Developing Countries".
The paper focused on Bangladesh and six other countries where the female-intensive apparel industry plays an important role in the export basket.
In his paper, Vergara said low service sector demand due to insufficient national income, as well as low education levels in the developing countries, make it difficult for women to transition from jobs to careers.
The paper stated that without expanding other industries and further investing in education or skill development, apparel exports are not sufficient to induce the transition from jobs to careers for women.
Vergara also made some policy recommendations for countries like Bangladesh, including increasing participation of female production workers in apparel manufacturing and related industries, as well as increasing access to education to promote female participation in careers by expanding upper-secondary enrolment.
He also emphasized reforming legal barriers that reduce women's access to and permanence in employment opportunities.
Tanima Ahmed of World Bank presented a paper on "Women's Employment and Safety Perceptions: Evidence from Low-income neighbourhoods of Dhaka, Bangladesh".
While presenting her paper, Tanima referring to a survey conducted by ActionAid in 2016, said 84 percent of Bangladeshi women routinely experience insults or sexual comments while in public spaces.
Revealing the finding of their study on the gender gap in safety perceptions, Tanima informed that 69 percent of women they interviewed reported feeling safe while going outside of their community on their own while it was 96 percent for males.
Providing women equal access to thrive by establishing an environment in which women feel safe is necessary to achieve economic development.
She suggested some immediate measures including ensuring adequate streetlights in city thoroughfares, providing gender-sensitive training among law enforcement and security officers and establishing a city surveillance system.
Two other papers were presented at the session.
World Bank Senior Economist Maria Eugenia Genoni presented a paper, "Bangladesh Rural Income Diagnosis", and World Bank Lead Economist Maurizio Bussolo presented, "How Selling Online is Affecting Informal Firms in South Asia".