Mobile operators call for lifting VAT on internet use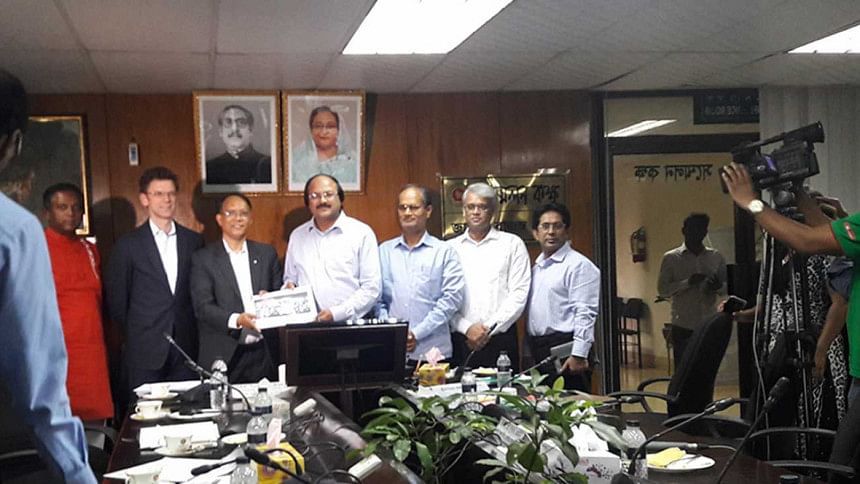 Mobile phone operators yesterday urged the government to withdraw value-added tax and other duties on the use of internet, in the upcoming national budget.
Users currently have to pay 15 percent VAT, 5 percent supplementary duty and 1 percent surcharge on internet use.
Withdrawal of the VAT from internet use is a must to build a knowledge-based society, said TIM Nurul Kabir, secretary general of the Association of Mobile Telecom Operators of Bangladesh (AMTOB), at a pre-budget meeting at the National Board of Revenue.
The association also demanded withdrawal of SIM tax, which is currently at Tk 100, to increase telecom penetration in the country.
Operators contribute 47 percent of their revenue to the state coffer. "With this huge burden of VAT and taxes, it would be tough to achieve the government's target of digitisation by 2021," said Kabir.
At present, only 18 percent of the population use the internet, while 54 percent use mobile phones, said operators.
There are about 6.72 crore internet connections and 12.97 crore active SIMs in the market. Referring to an international study in a presentation, Robi's Executive Vice President Shahed Alam said the mobile operators' contribution to the economy stands at 6.2 percent. If the government reconsiders the tax and other regulatory issues, their contribution can reach about 8 percent by 2020, he added.
The sector's contribution to the economy in India is 6.5 percent, 5 percent in Myanmar and 3.2 percent in Indonesia, he added.
The high price of mobile handsets is also a barrier to digitisation, said operators. The tax on handsets is more than 25 percent.
Of the total number of handsets in use at present, only 27 percent are smartphones, officials added.
From the start of 3G services in Bangladesh, operators have invested more than Tk 30,000 crore and covered around 65 percent of the geographical area of the country.
Because of the high price of spectrum, operators cannot purchase much spectrum; that is why service quality is declining, said Alam.
The country has spectrum of 330 MHz but the telecom regulator only allocated 182 MHz.
"Unused spectrum will not bring revenue for the government. Rather, if this spectrum is allocated or sold to the operators at a lower price, it will help improve service quality," said Alam.
Operators also want some long-pending issues with the NBR to be resolved soon, like the SIM replacement tax matter that is worth more than Tk 2,000 crore.
"These long pending disputes make the investors anxious," said Kabir.
Unless the government quickly responds to these issues, the quality of services will decline, he said.
Nojibur Rahman, chairman of the NBR, said they will take such measures that will benefit all the parties -- the government, customers and operators.
Mahtab Uddin Ahmed, managing director of Robi, and Petter-B Furberg, chief executive officer of Grameenphone, also spoke.